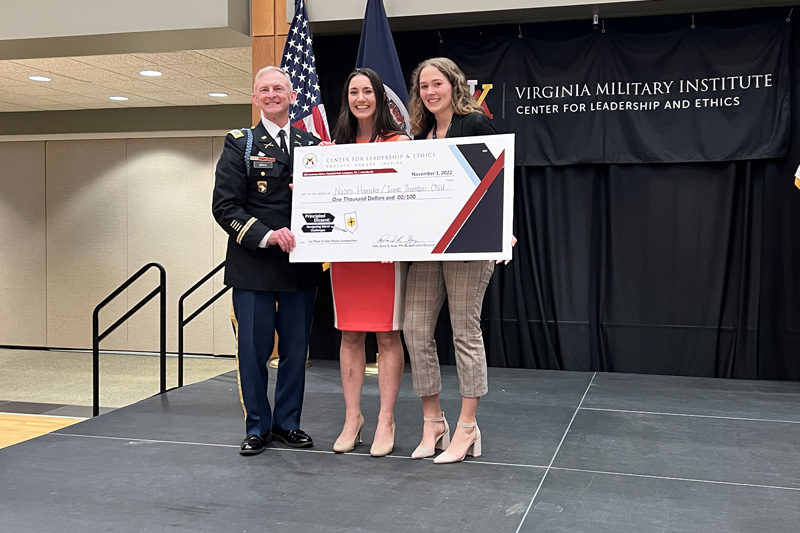 Read time:
---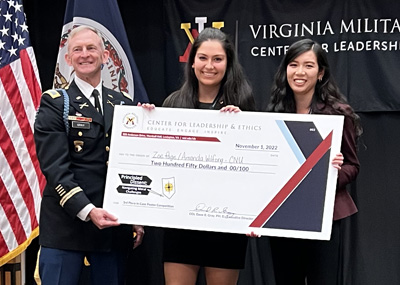 The President's Leadership Program (PLP) took first and third place at the Virginia Military Institute's (VMI) 13th annual Leadership and Ethics Conference and Case Poster Competition in late October.
The competition itself is part of a longstanding conference at VMI, where cadets, students from other institutions, faculty, and other participants discuss the qualities necessary for effective civic leadership in both military and civilian settings.
This year's conference and competition theme was Principled Dissent: Navigating Moral Challenges, and sessions focused on topics such as courageous followership, using your voice, and intelligent dissention. Featured speakers included followership scholar and author Ira Chaleff, Former Commandant of the Marine Corps Gen. Robert Neller, Theranos whistleblower Erika Cheung, and more.
Teams involved in the poster competition developed real-world case studies focused on large-scale moral challenges, learned about the systemic leadership complexities associated with the chosen social problems, and proposed realistic solutions using leadership theory as a foundation.
Irene Thornton '24 and Naomi Hamaker '25 presented a case titled "The Evolution of Police Brutality: Re-defining Leader and Follower Roles in a Contentious Society" and were awarded first place.
Amanda Wilfong '24 and Zoe Page '23 presented, "Deploying Cross Cultural Leadership to Relocate Uyghurs Detained in Xinjang" and received third place honors.
PLP Assistant Director Victoria Carrico '18, PLP fellow Faith Quel '22, and leadership studies professor Dr. Jess Hench mentored and coached the students as they prepared for the competition process.
The two teams faced tough questions from senior VMI leaders after they presented their cases.
"This competition demonstrates our students' ability to identify a challenge and to offer robust and practical solutions that are grounded in leadership concepts and theories," said PLP Director Lacey Grey H. Hunter '08. "It also demonstrates our students' ability to critically analyze the practicality of their solutions as they respond to questions from senior military leaders who often have direct experience with the challenges identified."
This has been a successful semester for PLP students in major competitions. In early October, another team of PLP students competed and earned a spot on the podium in the International Leadership Association's (ILA) Student Case Competition, which was held in Washington, D.C. The teams identified a significant contemporary social problem that they addressed by showcasing their knowledge about the leadership issues and developing strategic recommendations to address the problem. CNU's White Team, led by Ella McQuillan '24 (captain), Leighton Vermont '25, Rachel Hoefner '24, and David DeLeon '25 presented a case titled "The Effect of Subpar Medical Education on the Opioid Crisis in Nigeria" and advanced to the final round of the competition. Other PLP student participants in the ILA competition included:
Erin McCarthy '24 (captain)
Jasmine Batth '25
Noah Kennedy '23
Krystal Peerman '25
Samir Godambe '24 (captain)
Abby Haney '25
Nashara Richardson '25
Alyssa Wilkinson '24
Jessica Cruz '25 (captain)
Bronwyn Beardsley '24
Cynthia Craig '25
Summer Duba '25
This spring, PLP students will look to continue their positive momentum as they compete in the Leadership Challenge Event at Washburn University in Kansas, as well as the Collegiate Leadership Competition's US Invitational, hosted by Christopher Newport in April.
---