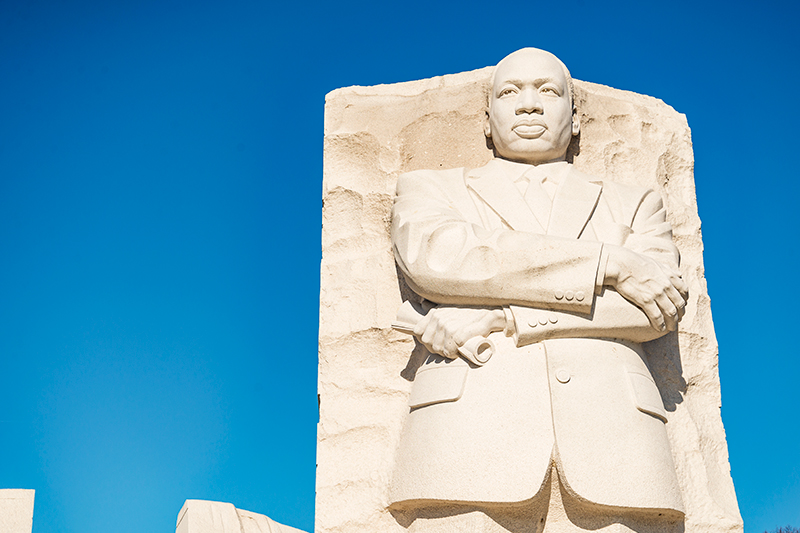 Read time:
---
Chief Diversity, Equity and Inclusion Officer Vidal Dickerson invites the campus and local community to participate in events hosted the week of January 16.
The campus community will engage in both virtual and in-person opportunities, focused on the theme, "Where Do We Go From Here: Chaos or Community, (1967)", one of King's works reflecting on the Civil Rights Movement, fighting poverty, uniting across social and political lines, and imagining a collective future.
Service Opportunities
The Center for Community Engagement is offering opportunities for next week. Students, faculty and staff are invited to take part in the MLK Service Day End of Hunger five-day challenge, which will be focused on education around food insecurity. The challenge begins January 16th. Details can be found in the email sent to campus. Learn more by visiting www.cnuengage.org.
Tuesday, January 17th
Christopher Newport students, staff and faculty will participate in "A Seat at the Table: Building Community in Times of Chaos Through Creativity," an interactive workshop facilitated by the English Department's Dr. Brooke Covington and Dr. Nicole Emmelhainz. This session will have participants tapping into their creativity and engaging in dialogue.
Later on Tuesday, the campus and local community can engage virtually with local faith leaders during "Through the Lens of Faith: Chaos or Community," scheduled for 6:30 p.m. This 90-minute panel discussion will explore key themes of Dr. King's work "Where Do We Go From Here," particularly those related to the recent chaos of the pandemic and heightened racial tensions. We will conclude by exploring what is required to move forward as a healthy, thriving, and engaged community. A Q&A portion will be included. Use this link to register https://us02web.zoom.us/webinar/register/WN_mXIBCDxmSi2Nmi011TGIIQ. This event is open to the public. Panelist info can be found on the registration form.
Wednesday, January 18th
Everyone is invited to gather in the Gaines Theatre, 3 p.m. - 4 p.m., as we hear from keynote speaker Dr. Jeffery O. Smith, the Superintendent of Hampton City Schools, who will expound on our theme. Special musical performances will include the Bethel and Phoebus High Schools Combined Choral Ensemble as well as our very own Derrick L. Pough, Jr. '23. This event is open to the public and will also be livestreamed via YouTube at https://youtu.be/38uveJD2tB0.
---