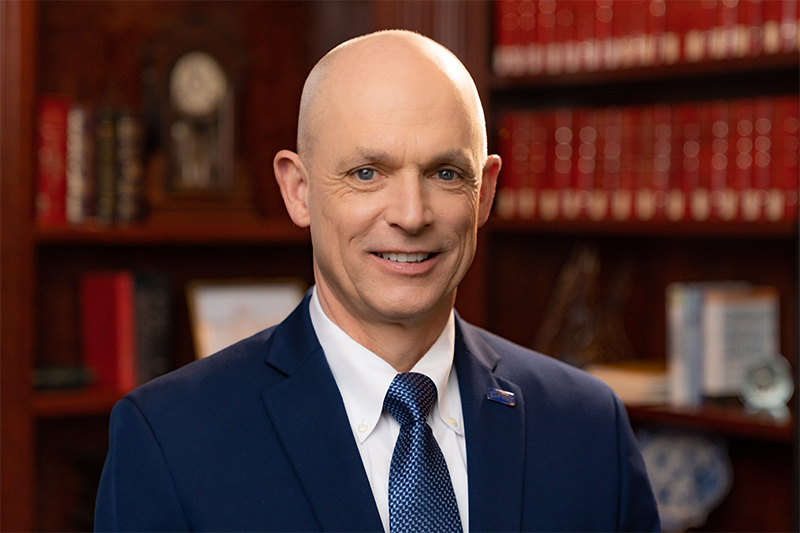 Read time:
---
Rear Admiral William G. Kelly, a nationally respected educator and military leader, has been appointed by the Christopher Newport Board of Visitors to serve as the Sixth President of the University.
Kelly was selected after a yearlong rigorous, inclusive nationwide search. The Board was unanimous in its decision, noting that Kelly's life of public service and commitment to leadership, moral character, and honor mirror those same values at the heart of Christopher Newport. Kelly will take the helm of the University on July 1.
"President Select William Kelly exemplifies a life of distinguished service," said Rector Lindsey Carney Smith, Esq. '01. "His dedication to the principles of scholarship, a life of purpose, and to student success makes him the perfect compassionate leader for Christopher Newport as the University begins its next chapter."
As Superintendent (President) of the U.S. Coast Guard Academy, one of the nation's five prestigious military service academies, Kelly is responsible for the education, development and commissioning of officers in the U.S. Coast Guard. He oversees every aspect of the academic, athletic (NCAA Div. Ⅲ), military, and civic development of a student body representing every state in the union. U.S. News and World Report ranks the U.S. Coast Guard Academy as the #1 Public College in the North. Under Kelly's engaged leadership, the current student body is the most diverse to ever attend the Academy.
I look forward to supporting and enhancing our academic, experiential, athletic and artistic excellence to ensure our students are ready for successful, consequential lives.

- William Kelly
"Rear Admiral Kelly is a selfless servant leader who continuously exemplifies the virtues of humility, integrity, insight, and inclusiveness," said First Class Cadet Kaylon Farley, the Regimental Commander of our Corps of Cadets. "His commitment to equipping cadets to confront the challenges of the future has been demonstrated by his consistent engagement in their academic, athletic, and military endeavors. His legacy will impact generations of the United States Coast Guard for years to come. We wish him well in his next endeavor; the faculty, staff and students of Christopher Newport University are fortunate to have him as their next president."
As Kelly retires from a 36-year Coast Guard career, taking the helm at Christopher Newport feels like the perfect next step in continuing his commitment to service and inspiring the next generation of great citizens and leaders.
"Christopher Newport values scholarship, leadership, compassion, service, community – these same core values have guided me throughout my life and are closely aligned with the Academy I currently have the privilege of leading," said President Select Kelly. "Like Christopher Newport, the Academy is dedicated to developing leaders of character who are well grounded in the sciences and humanities, and committed to a life of service and significance in their communities and the nation. I look forward to supporting and enhancing our academic, experiential, athletic and artistic excellence to ensure our students are ready for successful, consequential lives."
"Admiral Kelly is an inspired choice," said now Chancellor Paul S. Trible Jr., who led Christopher Newport for 26 years as President. "His life of public service embodies the principles of leadership, honor and service that define the Christopher Newport experience and I am confident that CNU's best days lie ahead."
The Board of Visitors assumed the monumental responsibility for finding Christopher Newport's next leader when President Paul S. Trible, Jr. announced in the fall of 2021 his intention to retire at the conclusion of the 2021–2022 academic year, after 26 years of transformative leadership. Since he stepped down, Adelia P. Thompson, a member of the University's administration for 12 years, most recently as the Chief of Staff, has served as Interim President. She has guided the University with grace and institutional experience, enabling the Board with ample time to conduct a thoughtful and expansive search. A Search Committee was established, comprised of faculty, staff, Board members, alumni, students, and community leaders - all of whom represent the rich diversity of Christopher Newport's constituencies.
Informed by the work of the Search Committee, the Board identified Kelly as a uniquely experienced leader who possesses not only a deep respect for Christopher Newport's rich traditions, but also an inspiring vision for its future.
"I am encouraged that the Board has actively sought to engage the faculty in this process, and create a strong partnership as we move through this time of transition. We are eager to work with the new President as he outlines his vision for Christopher Newport's direction, while continuing to provide a strong foundation of teaching excellence, " said Dr. Rachel Holland, Faculty Senate President.
"The amazing legacy crafted by President Trible and his team over the past 26 years established the strongest possible foundation for the next President," said Kelly. "Leading with a collaborative spirit, I look forward to guiding Christopher Newport into the next chapter of its wonderful story, while remaining true to the University's vision, mission and values. Together, we will lead boldly into the future."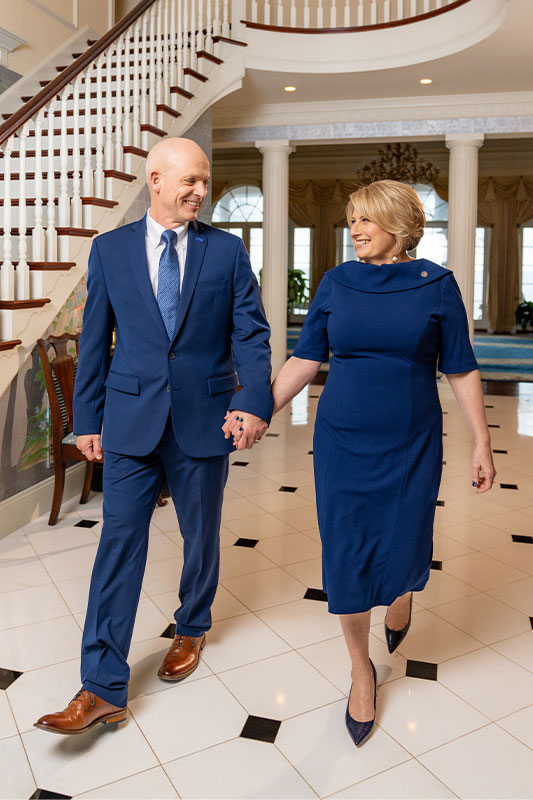 Kelly, a 1987 graduate of the U.S. Coast Guard Academy, met his wife, Angie, at an Academy social event during his junior year. Kelly says he and Angie have "been a team ever since." They will celebrate 35 years of marriage this summer. The Kellys are the proud parents of two adult sons, Patrick and Tyler, and the adoring grandparents of 9-month-old Liam Kelly. Patrick is a Coast Guard officer, and his wife, Ellen, is a Captain in the U.S. Air Force. Tyler is a teacher and coach, and his wife, Alyssa, is a scientist. The Kellys also have a goldendoodle grandpuppy named Lola, who reportedly would love nothing more than to sprint across the Great Lawn to play with students.
Bill and Angie have moved 15 times during their Coast Guard journey, which included spending three years in Newport News and six years in northern Virginia. During the early portion of Angie's career, she worked as the travel coordinator for the Science and Technology Corporation in Hampton. Since then, Angie has devoted most of her professional life to early childhood development. She also does extensive volunteer work assisting military spouses and their families. Students at the U.S. Coast Guard Academy recently recognized Angie with "The Spirit of the Bear" award, which is presented to an individual who students believe goes above and beyond to support the women and men of the Academy. During the Kellys time in Alexandria, Angie volunteered as an Arlington Lady. Arlington Ladies represent their specific Military Service at military funerals for members and their dependents at Arlington National Cemetery. Angie's warm and caring spirit was so important as families dealt with the loss of a loved one.
In their free time, the Kellys enjoy sports, music, art and theater. They can't wait to cheer our Captains on while they perform on the stage, the courts and the fields. President Select Kelly is an avid runner and has completed several marathons and sprint triathlons. The Kellys are excited about immersing themselves in the vibrancy of our campus and community.
"We are a family committed to service. Our life is centered around caring for and supporting those we are privileged to serve. We look forward to embracing the students who are entrusted to our care. When I walk the campus, it is clear that excellence is the standard here. I look forward to this incredible opportunity to serve as Christopher Newport University's Sixth President and continue its amazing legacy of service to the Commonwealth of Virginia and our nation."
---
Our Presidents
On July 1, William G. Kelly will assume his place in Christopher Newport's history alongside five other Presidents.
Photo
About

1960

H. Westcott Cunningham was Christopher Newport College's first director, and later its President. His leadership tenure began when the University was in its original location at a former public school building in downtown Newport News. Later, the city purchased a 75-acre tract of land as a permanent site for Christopher Newport.

1970

Dr. James C. Windsor was a psychology professor and dean of students. Among his many accomplishments, Windsor established the student counseling center, which was renamed in his honor in 2012.

1980

Dr. John E. Anderson began his accomplished tenure as third President of Christopher Newport. He later returned to teaching, retiring in 2003 as a distinguished professor of psychology.

1987

Dr. Anthony R. Santoro became the fourth President of Christopher Newport. Under his leadership, the college became a University in 1992. Also under Santoro's tenure, the University transitioned to a residential campus. The first residence hall was completed in 1994 and named in honor of Santoro and his beloved wife, Carol Santoro. The track and field team won the national championship. President Emeritus Santoro continues his career at Christopher Newport as a distinguished professor of history.

1996

Paul S. Trible Jr. became the fifth President. The former U.S. Senator made sweeping improvements to Christopher Newport's academic offerings, and led the stunning physical transformation of the campus into a world-class liberal arts and sciences University. Central to his vision was the creation of the President's Leadership Program (PLP) to empower students to recognize their leadership potential and develop personal and social responsibility. First Lady Rosemary Trible founded Fear 2 Freedom, an organization devoted to helping sexual assault victims in their hour of crisis and assist in their recovery. In 2007, the Paul and Rosemary Trible Library opened its doors, becoming the intellectual center of Christopher Newport University. The women's soccer team and the softball team both became national champions in academic year 2021–2022. Trible retired as President in 2022, and currently serves as Chancellor for the 2022–2023 academic year.

2023

William G. Kelly is appointed as Christopher Newport's sixth President.
---
Quick Facts:
Rear Admiral Bill Kelly, President Select of Christopher Newport
Kelly is a 1987 graduate of the U.S. Coast Guard Academy, where he earned a Bachelor of Science in Government. After earning a Bachelor of Science from the U.S. Coast Guard Academy, he earned his Master of Science Degree in Instructional Systems Design from Florida State University. He went on to a distinguished 36-year career in the Coast Guard in progressive leadership positions.
Kelly also served as an adjunct faculty member at Florida State University's graduate program, where he created and designed the first of its kind Change Management Program.
Rear Admiral Kelly assumed the duties of the 42nd Superintendent of the U.S. Coast Guard Academy in New London, Connecticut, in May of 2019.
As Superintendent, Kelly restructured the Academy's academic governance model. He also built consensus across the faculty while implementing strategies to enhance the Academy's teaching and scholarly excellence.
As Superintendent, Kelly garnered trustee and federal support for a generational transformation of the Academy designed to align the needs of the Service while enhancing the best practice of higher education.
Kelly guided the Academy through three successful self-studies, leading to full accreditation in multiple disciplines.
Kelly also spearheaded the Academy's evolution into a center of excellence for diversity and inclusion recognized by the NCAA and the American Society for Engineering Educators. He instituted a new transgender policy for students, becoming the first of the Federal Service Academies to do so.
Superintendent Kelly engaged with Senate leadership to secure $50 million in federal support for a new Coast Guard Museum.
Rear Admiral Kelly is a Cutterman with more than 10 years of service at sea, including two command tours on board the CGC Seneca and CDC Monomoy. As Executive Officer on the CGC Spencer, he prepared and successfully led the crew for deployment with the U.S. Navy's 6th Fleet in support of Operation Iraqi Freedom. Additionally, the CGC Spencer stood watch protecting the ports of New York and Boston in the days following the attacks of September 11th.
Rear Admiral Kelly's major awards include the Legion of Merit (4), Meritorious Service Medal (4) the Coast Guard Commendation Medal (6), the Coast Guard Achievement Medal and the permanent Cutterman's Pin.
A native of Yonkers, New York, Kelly was the first of five brothers to graduate from the all-boys Catholic high school, Archbishop Stepinac, where he distinguished himself academically as well as on the school's championship varsity football team as quarterback.
---