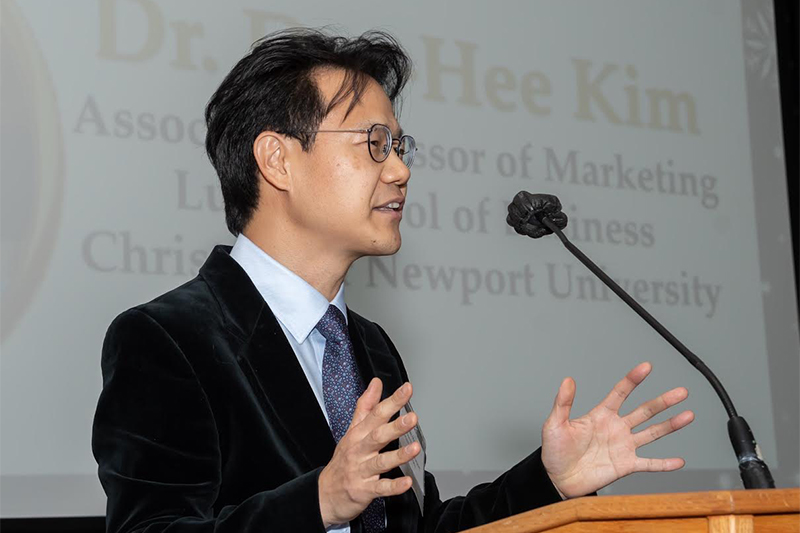 Read time:
---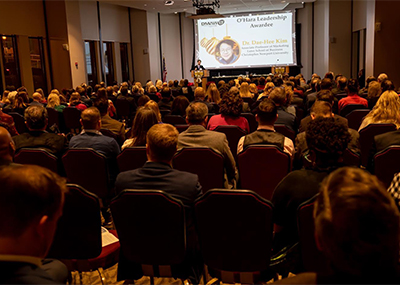 Dr. Dae-Hee Kim has received the prestigious O'Hara Leadership Award in Education from the Direct Marketing Association of Washington and its Educational Foundation (The DMAWEF).
"When I first heard the news, I thought this award could be a meaningful marker of my successful teaching at Christopher Newport University for the past decade," said Kim, associate professor of marketing. "However, I also thought this award was not only for me, but also for the Luter School of Business and its marketing faculty members who have dedicated themselves to teaching and researching direct marketing and related areas."
Kim, a marketing guru who uses his breadth of knowledge and experience in the field to ignite excitement among his students at Christopher Newport, is the third Christopher Newport marketing professor to receive the award since 2008. Dr. Lisa Spiller was given the award in 2008 and Dr. Matt Hettche in 2017.
Kim's classes at Christopher Newport focus on the principles of direct marketing. He has a plethora of experience in the field, including working on global brand accounts such as Burger King, LG Electronics, Hyundai Motors, and Guess, Inc.
His goal is to convey to students his knowledge of direct marketing and his curiosity about the ever-changing field.
"I put lots of effort into sharing my passion of marketing with my students. Passion is what drives students to learn more actively, deeply, and rigorously," Kim said. "My passion for marketing comes from the fact that marketing is a very enjoyable field of study that blends creativity, business and humanity."
Currently, Kim is working on a research project investigating how people react to a direct-to-consumer brand invading their privacy. The issue, he says, is "one of the biggest challenges in the field of direct marketing. As an alternative solution to "extensive collections of customer data," Kim is looking at the use of artificial intelligence (AI) in direct marketing.
"In specific, many machine learning algorithms can provide predictions on who will respond to a particular marketing message, replacing the targeting practices relying on personal data," he said.
The O'Hara Leadership Award in Education was created in 2008 to honor longtime DMAW and DMAW/EF leader, Michael O'Hara. O'Hara played a pioneering role in direct response fulfillment and started the AB&C Group in 1972. The award selection committee considers courses taught that focus on or include director interactive marketing, the number of years teaching marketing, average number of students in class, and why the professor believes it is important to educate college students in direct and indirect marketing. Participation in marketing competitions is also considered by the committee.
Kim, who joined the Luter School of Business faculty in 2012, was nominated for the award by his peers from colleges and universities across the Mid-Atlantic region. He was selected for the award based on published research and his innovative teaching in direct and indirect marketing, and for his mentoring of several winning student competition teams, said Hettche, associate professor of management and marketing in the Luter School of Business.
"In the classroom, Dr. Kim takes a student-centered approach and he is well known for his sense of humor and 'meticulous updates to course material,'" Hettche said. "His talents as an educator involve the ability to connect personally with his students as well as recognize their existing and emerging potential."
For Kim, his zeal for teaching is rooted in the joy of sharing his enthusiasm for the field with his students.
"I love sharing what I have learned, experienced and discovered. I believe that sharing extends the value of what one has, which can be anything from material possessions, intangible assets, personal experience, to even momentary emotions," he said. "In my case, sharing knowledge with students through teaching expands the value of my knowledge. This is the most fascinating aspect of teaching that I love."
---