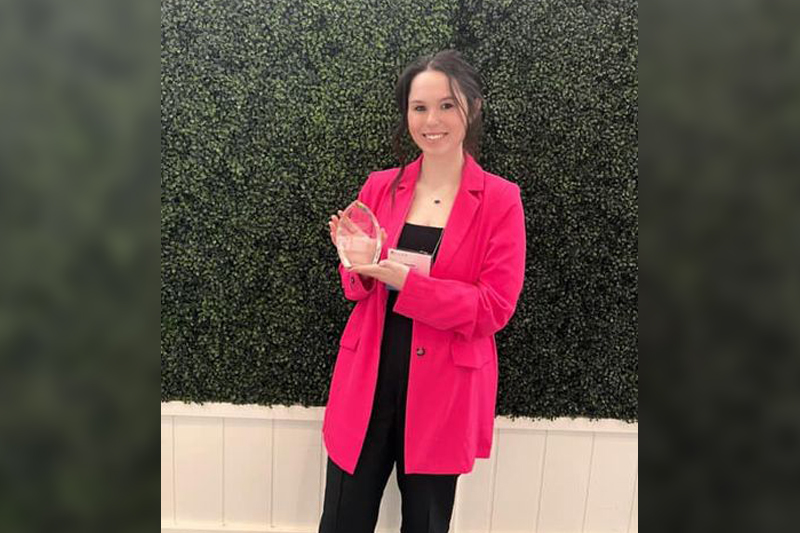 Read time:
---
Katherine Paulikonis has a big heart, a kind soul and a deep desire to change the world. And she is well on her way of fulfilling her mission to make life better for so many in need.
Paulikonis, a senior majoring in social work, has been named the Bachelor of Social Work Student of the Year by the National Association of Social Workers (NASW) Virginia Chapter. The award comes as a result of the deep passion for social work she developed at Christopher Newport, both in the classroom and in the realm of community service.
"When my professors told me they chose to nominate me, I was truly honored," she said. "Being nominated and selected for this award by NASW was such a highlight of my experience as a future social worker, and it was so inspiring to be surrounded by so many loving and supportive people who believed in me, both in NASW and at CNU in the Social Work Program."
Coming to Christopher Newport, coupled with discovering her desire to pursue social work early in her college journey, has shaped Paulikonis' work ethic and career aspirations. The two important life decisions meshed to provide her with a phenomenal setting in which to grow and in turn, determine her life path. Thriving in the social work field as an undergraduate has driven home to Paulikonis that Christopher Newport was indeed the ideal place for her to cultivate her dedication to helping others.
"As a CNU student, I desired a profession that intertwined innovation, challenge, and human connection into everyday living. Social work inspires me, providing a medium to positively impact the lives of others," she said. "CNU's rigorous, yet intimate academic setting set the stage for my career in social work at the professional level. Due to the small class sizes, and kind-hearted nature of the faculty, CNU's program was the perfect fit for me."
After Paulikonis graduates, she will attend University of Pennsylvania's School of Social Policy and Practice, where she will be part of the Master of Social Work Advanced Standing Program.
"I am extremely grateful to be entering this program knowing I have a solid foundation in social work that CNU's program gave me," she said. "At UPenn, I hope to continue my work as a social worker in the medical field, since I have cultivated a passion for the intersection of medicine and social work."
Dr. Diane Griffiths, Director of the Social Work Program at Christopher Newport, was ecstatic to learn that Paulikonis was honored with such an award of distinction.
"Katherine is incredibly deserving of this award," she said. "She embodies the values of the social work profession and has committed her time at CNU to serving others."
Debra Riggs, executive director of the NASW Virginia, agreed.
"This prestigious award is given to one of our student members annually in recognition of the work they have accomplished in the professional field of social work. Katherine's commitment to social work practice, social justice, and the many programs she is involved in, stood out from many other candidates," she said.
During her years at CNU, Paulikonis made the most of service and research opportunities to build her social work foundation. She delved deep into ways to make the community better by being innovative, compassionate and result-driven.
As a Bonner Scholar, she has worked as a team leader for the Youth Volunteer Corps of Hampton Roads, facilitating service projects for young volunteers ages 11 to 18 in diverse settings.
"The goal is to foster love for intentional service and civic engagement, so they can go forth and change the world," Paulikonis said. "This experience has solidified my desire to teach social work in the future.
"My experience as a Bonner Scholar prepared me for the field of social work. Bonner taught me the importance of building meaningful relationships with community members and that it is the highest honor and privilege to serve one's community," she said. "Bonner also helped me discover my passion for macro-based social work. In Bonner, we discuss the importance of understanding how communities are impacted by larger systems of privilege and oppression that exist within the United States."
Paulikonis dovetailed her work as a Bonner Scholar with community medical research she did as a Ferguson Fellow, finding both service opportunities helpful in defining her social work trajectory. As a Ferguson Fellow, she was one of 17 students funded by Ferguson Enterprises to engage in community-based research. Her research focused on the disparities and barriers to breast cancer treatment in Newport News and Hampton.
"This project has allowed me to share how Black women are adversely affected by breast cancer treatment access, along with discussing structural barriers to cancer education," she said. "I have used research-based programs to understand and address this critical social issue.
"Through this project, I have engaged with the population most impacted by this problem through my community partnerships," she said. "I hope to continue this research at the University of Pennsylvania. I will be pursuing a career in macro social work, meaning I hope to influence policies that impact families across the United States. I hope to be a positive agent of change and improve access to America's healthcare system."
Paulikonis' efforts have inspired her to find her calling in the social work field. She has discovered firsthand the triumph that comes with giving back to a community and helping people navigate obstacles.
"Her work as a Bonner Scholar, her research as a Ferguson Fellow on barriers to breast cancer treatment in Hampton Roads, and her fieldwork on the oncology unit at Riverside Hospital and inpatient mental health at the Pavilion in Williamsburg exemplify what it means to live a life of significance," Griffiths said.
When Paulikonis first came to CNU, she intended to major in psychology. But after taking a social work class, she quickly decided she had found what she was meant to do.
"It was a life changing experience for me. I immediately connected with the material, subsequently contributing to my love for the academic side of social work. Her sophomore year, she received an email from a professor encouraging her to apply to the social work program.
"At that moment, I realized that the social work program truly valued me as a student and a person, so I wrote my application and submitted it," Paulikonis said. "This was one of the best decisions I have ever made, as I found a career that deeply aligns with my aspirations and values."
---