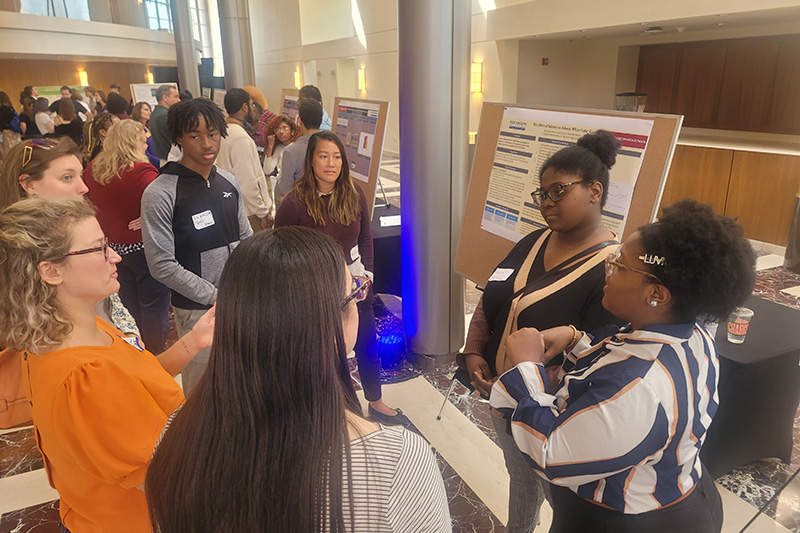 Read time:
---
As sea levels continue to rise at alarming rates in Hampton Roads, scientists are working diligently to mitigate the effects of the saltwater on cities and the environment. Christopher Newport and local high school students have come together to literally plant seeds of hope and help find solutions.
Six area high schools participated in this year's Fear to Hope project, which investigates the effects of salt water on Atlantic white cedar trees. With the guidance of CNU biology students, the teenagers embarked on experiments that focused on ways to help and ultimately save the threatened forests.
The high school students presented their results on campus at the second annual Fear to Hope Coastal Resilience Symposium in the Peebles Theatre. There was a student colloquy, during which students shared their research results with cohorts from other schools. There was also the opportunity for the students to interact with more than 30 environmental professionals from local, state and federal agencies, environmental consulting firms and conservation organizations. They were able to both talk to the professionals about their research and hear about different environmental career paths.
"The idea is to make it public science," said Dr. Linda Manning, director of the CNU Center for Sustainability in Education. "It gives students the chance to experience real things in their community, not just in the classroom."
"The goal of the program is to help people move from a space of fear and anxiety over climate change to a place of hope for the future based on science and data-driven responses," Manning said.
Each school was given 30 Atlantic white cedar seedlings early in the school year. After exposing them to different levels of salt water, they documented the impact on the plants.
Atlantic white cedar forests are becoming ghost forests as brackish water encroaches on the wetlands in which they grow, a phenomenon documented in a 2021 article published in a journal by CNU that focused on Atlantic white cedar tree rings.
Students used the seedling experiment to understand why, and what possible approaches exist to stop the problem and see Atlantic white cedars have the ability to recover from the prolonged exposure to salt. Coastal Virginia has seen the highest rate of relative sea-level rise on the Atlantic Coast, with an increase of more than 14 inches since 1930.
Fear to Hope brings high school and college students into the scientific research process so they can contribute knowledge, ideas and test results to the greater effort. It is an authentic research mentoring model that emphasizes making science engaging for students in rural and inner-city settings, while at the same time providing college students with a real-world leadership opportunity.
"While the students' data does not get published, the results definitely help guide studies in growth chambers by refining our experimental designs and raising new questions," said Dr. Rob Atkinson, a professor of biology who designed the project as a proactive way to draw attention to the problem. "This is a meaningful, authentic contribution to our research, and a show of our respect for what these students can do."
"Sometimes science can really seem like a bunch of facts and minutia, but these students are using science as a way to solve mysteries and discover solutions for local problems," Atkinson said.
And one of those mysteries is climate change and all of its environmental ramifications. By studying an issue with such regional significance, such as what happens to trees that grow locally when sea levels rise, students are far more likely to engage. It makes the topic relevant to them and their communities, and provides context for SOL-based concepts, Atkinson said.
The research the students do on climate change as part of Fear to Hope is most important and impressive, said Chesapeake Bay Foundation Virginia Student Leadership Coordinator Rick Mittler. To support Fear to Hope in future years, the Chesapeake Bay Foundation has formally sponsored a group of high school students in the program with $1,000 in funding that will provide a stipend for CNU student mentors.
"The hands-on research CNU is performing with local high school students gathers key data on how climate change threatens coastal ecosystems. It will also help build the next generation of leaders while encouraging them to consider solutions," Mittler said. "We're grateful for these efforts by CNU, Achievable Dream Academy, Newport News City Public Schools, and other partners."
Dahria Kalmbach, '22 environmental biology and a graduate student getting her master's degree in environmental science, mentored some of the high school students working with the seedlings. She went to classrooms and worked to bring science to life, helping the teenagers understand the real-life consequences of global climate change and rising sea levels.
"I loved being able to connect with the students and engage with them and see how interactive science can be. "It was very cool to give them such hands-on experience with science," Kalmbach said. "This experiment is especially important to this area."
"It gave them real-world experience," she said. "This year has been really, really special."
Watching the students talk about the experiment and their findings at the symposium "was such a rewarding experience," Kalmbach said.
Allison Burbach, '23 environmental biology, mentored a group of students at Woodside High School in Newport News.
"My passion for the environment is something I want to share," she said. "Seeing so many of them here today and answering questions about the experiment is amazing. This is a very local issue, so I think it really resonated with them."
The students' interest in the topic grew exponentially as they got more invested in the experiment. They saw the implication of the salt, and were able to garner a whole different understanding of the issue, Burbach said.
Ian Lindo, a 10th grader at I.C. Norcom High School in Portsmouth, thoroughly enjoyed the experiment and said that he came away from it having learned a lot.
"It was a very good project. It really opened my eyes to a lot of issues with the environment," he said. "I want to do more now with different plants. I would like to do it again."
Being part of the science experiment and presenting their findings at the symposium was "definitely cool," said Azrael Roulds, also a 10th grader at Norcom. Collaborating with students from other schools, she said, was empowering and rewarding.
"I am definitely excited to be here," Roulds said.
The students gained an abundance of confidence and knowledge by being involved with the experiment and seeing its results, said Heather Overkamp, a STEM teacher for Portsmouth Public Schools.
"It was just amazing," she said. "There is no better way to apply science to the real world. They really loved it."
Next year, the experiment will shift its focus to the Eastern red cedar tree and how it reacts to salt from the rising sea levels.
Caroline Dillard, '24 environmental science and organismal biology, will be a student mentor for the upcoming school year. She will work with the schools and the students to launch the next phase of the project.
"I'm so excited," she said. "We are going to compare the salt tolerance of the two species. With the sea-level rise, this is very important research for the East Coast."
---