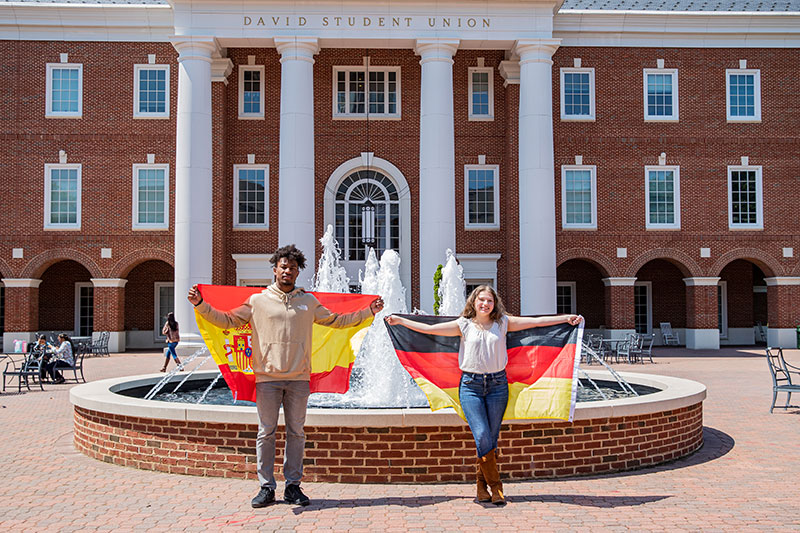 Read time:
---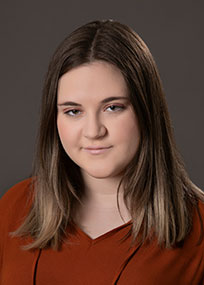 Three Christopher Newport students have received prestigious scholarships from the Fund for Education Abroad (FEA), empowering them to travel overseas this summer. CNU was the only university in the country to produce three winners.
Latrell Fomby, Cheyenne Plear and Kayse Umbaugh each were awarded a FEA scholarship. Nationwide, the FEA choses only 89 students to receive scholarships for summer, fall or year-round abroad experiences.
"That CNU has three is a really big deal," said Angela Schaffer, executive director of the Fund for Education Abroad. "I was incredibly impressed. It is awesome. I am really thrilled to have three students from CNU."
Of the applicants who apply each year to FEA, only between 4 and 8 percent are awarded scholarships. Students go through a rigorous selection process that focuses heavily on their application essays, strong letters of recommendation and an interview.
The three CNU students, Shaffer said, shined brightly during the selection process.
"It was clear that there is a real institutional belief in study abroad and dedication to making it possible," she said. "Study abroad is clearly a priority at Christopher Newport. It indicates that the Study Abroad Office is doing something right."
Study abroad is a high priority at Christopher Newport. It is one of the University's Four Pillars, along with undergraduate research, service and internships, in place to help students gain vital real-world experience as they strive to become engaged citizens and community leaders.
For Umbaugh, fall '23 psychology, getting the news was wonderful.
"I was excited and flooded with gratitude," she said. "It's an immense honor to have been selected for such an important scholarship, and I am both grateful and thrilled about the opportunity to study abroad."
It is the first time in years that a CNU student has received an FEA scholarship, said Mandi Pierce, Director of the Study Abroad Office.
"It is extremely rare to have three students selected for the scholarship. So many students apply from across the country, so it's difficult to know who the students are competing against in any given year," Pierce said.
Christopher Newport sends about 300 students abroad each year, with summer term being the most popular. When Pierce was notified that all three students had received FEA scholarships, she was both thrilled and proud.
"I was amazed they were all awarded," Pierce said. "We knew they were all great candidates, but the FEA is so selective that it put the odds against having them all win it. We were thrilled for each of the students and so happy to see their dreams of study abroad come true."
The Study Abroad Office worked diligently with the students throughout the application process, Pierce said. Ebony Majeed, Coordinator for Study Abroad Financial Operations and Advising, helped the students fine tune their essays and prepare their applications.
"Ebony likes to sit down with the students and get to know them, so they can effectively tell their story within their writing," Pierce said.
All three of the students selected are heading to Europe for their study abroad adventures. Fomby will travel to Spain, Plear to Germany and Umbaugh to Ireland. It is the first trip abroad for all three.
Fomby said he is excited to experience another culture and to work on his Spanish, which is also his minor.
"I am hoping the trip gives me plenty of opportunities to interact with people and learn about the country's culture," said Fomby, '25 neuroscience. "I'm most excited about meeting new people and getting a chance to practice speaking my second language."
Umbaugh said she chose Ireland "because of its beautiful landscapes, complex political situation, and the plethora of amazing authors and poets.
"I've always been interested in Ireland's history and culture," she said. "My hope is this experience will be both enlightening and transforming. I am looking forward to visiting the beautiful sites as well as learning more about the country's history. I want to develop a better understanding of my role in the world and how other cultures and countries operate."
Plear, '24 communication, hopes to get a firm grasp on the German language, which she feels is most important for her to do since her grandmother immigrated from Germany and she still has extended family in the country.
"I chose Germany to help me feel closer to my heritage, learn more about my ancestors, and connect with a culture that helped shape my Oma into the amazing person she is today!," she said. "My goal for the trip is to immerse myself in a new culture, while also learning about the origins of totalitarianism."
Studying abroad, she said, "has been on my bucket list since high school."
"It's a once-in-a lifetime experience, and there are so many beneficial skills you learn by studying abroad! One is developing cultural awareness, which in turn creates new perspectives. As someone who wants to have a career in human resources, I knew cultural exposure would help my future career," she said.
"I have so many things I am looking forward to," she said.
Plear said she was not only surprised when she learned she had received the FEA scholarship, but also humbled when she heard that only 7.2 percent of the applicants were chosen.
"I am beyond excited and extremely grateful," she said.
Journeying overseas, Pierce said, is an important component of the college experience, and one that can bring huge benefits to a student's way of thinking and future plans.
"Study abroad is a once-in-a-lifetime experience that any CNU student should be afforded the opportunity to participate in," she said.
Umbaugh and Fomby agree.
"I think studying abroad is a really important experience for college students," Umbaugh said. "It allows one to widen their view, gain a better understanding of various cultures, and gain a sense of independence and perseverance. This trip, I think, will not only improve my worldview, but also help me grow personally and academically."
Fomby believes that the trip will have "a significant impact on my future."
"The way that I see myself and the things that I will learn will hopefully shape me into a better person. I feel like even though I'm open minded, immersion is the best route to true comprehension," he said.
The impact of studying abroad can impact the trajectory of a student's life plan, Schaffer said. Studies have shown that the experience can have a hugely positive influence on a student's life for years to come.
"Students who study abroad are found to be more focused when they return, have a clearer sense of their career path, and more awareness of the bigger world," Schaffer said. "It tends to give them the skills employers are looking for."
Being in Germany and getting a different perspective of the world, Plear said, is likely to work in her favor when she arrives in the workforce after graduation.
"I aspire to be a vice president or director of human resources," she said. "The employee relations aspect of human resources creates a trustworthy workplace relationship and environment. One way to foster better employee relations is to become culturally aware. I will gain these valuable skills from studying abroad in Germany."
---