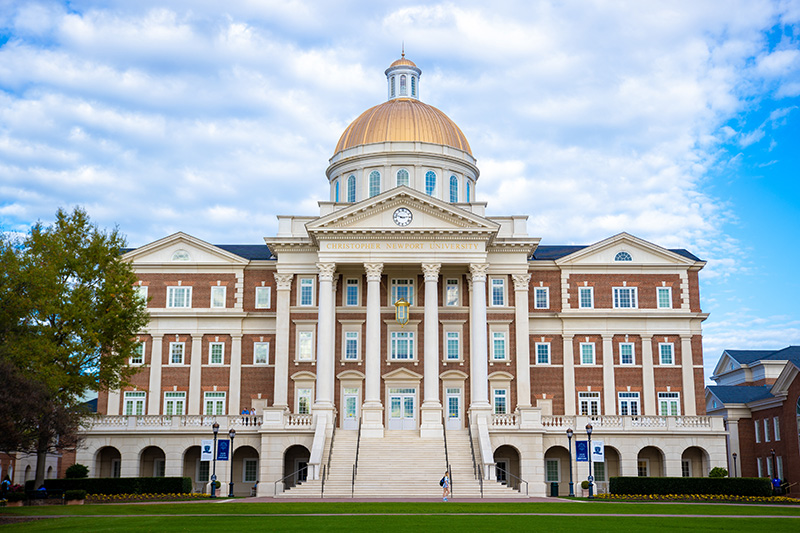 Read time:
---
Christopher Newport is among a select group of schools named to The Princeton Review's list of Best Value Colleges 2023 for providing students with a premier academic experience at an affordable cost. The University has received this ranking four of the last five years.
This ranking puts Christopher Newport in the top 8% of all colleges and universities when it comes to providing the highest quality education for students at the most affordable cost.
"I am so pleased Christopher Newport has again been recognized for its commitment to lowering financial barriers for students and families who are seeking a world-class liberal arts and sciences education," said Interim President Adelia Thompson. "We are grateful for the generosity of our donors, alumni and friends, who are helping us keep our promise of accessibility and excellence to students seeking a rigorous curriculum in a student-first environment."
The Princeton Review incorporates more than 40 data points in its return-on- investment rankings, which are tallied using information gathered from more than 650 schools. Academics, affordability, student debt, alumni support and career outcomes of graduates are all considered in the ranking system. The Princeton Review also factors in data about the starting and mid-career salaries of alumni, gathered from Payscale.com surveys.
"The schools we chose as our Best Value Colleges for 2023 are a select group comprising about 8% of the nation's undergraduate institutions," said Rob Franek, The Princeton Review's editor-in-chief. "We commend their administrators, faculties, staff, and alumni for all they are doing to educate their students and guide them to success in their careers. These colleges are also exceptional for the generous amount of financial aid they award to students with need and/or for their comparatively low cost of attendance."
Only three other Virginia public colleges made the list of the nation's Best Value Colleges: University of Virginia, William & Mary, and Virginia Tech.
---