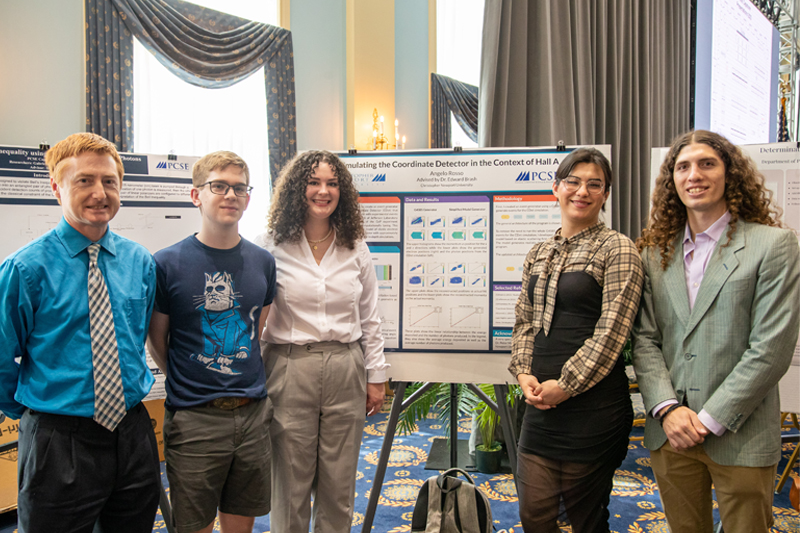 Read time:
---
Dr. Peter Monaghan, associate professor of physics, has been awarded a $542,000 National Science Foundation grant that will provide students with the opportunity to do research at the Thomas Jefferson National Accelerator Facility (Jefferson Lab), a preeminent Department of Energy lab located near campus.
"This is a tremendous opportunity for our students," Monaghan said.
The grant will allocate funding over a three-year period for five students to conduct research at Jefferson Lab. The students will work with Monaghan, whose research on nuclear physics is focused on the interaction of neutrons and protons. This award is the second large NSF grant Monaghan has received. In 2018, he was awarded a $242,000 grant.
"We are training the next generation of scientists," said Monaghan, who is also the graduate program director for the Master in Applied Physics and Computer Science Program. "This unique research opportunity can take them into the next stage of their careers."
The chance to partake in the cutting-edge research is offered to undergraduate and graduate students in the Department of Physics, Computer Science and Engineering (PCSE). Jefferson Lab is a U.S. Department of Energy Office of Science National Laboratory located in Newport News. Scientists come from across the globe to work with the lab's unique particle accelerator, known as the Continuous Electron Beam Accelerator Facility. The research programs at Jefferson Lab probe the basic building blocks of matter. Being at a national lab and playing a part in Monaghan's experiments, coupled with opportunities to interact and work with other scientists from all over the world, exposes students to high-level scientific work and research. Selected students can begin working at the lab as early as their freshman year.
"They learn skills connected to fundamental research. They will be able to ask those fundamental, deeper questions," Monaghan said. "It's a huge opportunity for our students to be able to have a paid research opportunity at a national laboratory. Students get Jefferson Lab training, a Jefferson Lab badge, and access to the lab."
Angelo Rosso, '23 physics, has been working at Jefferson Lab on Monaghan's experiments and appreciates the chance to be connected with such a prestigious lab.
"Being able to talk to people, physicists in the field, has been very valuable," he said. "It has given me a lot of high-level research experience. Most students don't get the opportunity to work at a national lab."
For Michael Lowery, '24 physics, working in the lab as a researcher has allowed him to "discover what I'm really interested in."
The grant also funds a postdoctoral researcher to work at the lab, overseeing the research program and mentoring the student researchers.
"It is rare for a predominantly undergraduate Institution, such as CNU, to receive funding to hire a postdoctoral research associate," Monaghan said.
The grant is highly competitive, and it is a huge honor for CNU to receive such an expansive grant, Monaghan said. Of the approximately 70 schools that applied, only between 20 and 25 received an NSF grant, he said.
"The Physics Department has a great track record of success," Monaghan said.
As part of an agreement with Jefferson Lab, Monaghan has a joint appointment, meaning he's both a staff scientist at the lab and a professor at CNU. He is an experimental nuclear physicist specializing in nucleon structure and hardware development. He teaches classical mechanics, electromagnetism and nuclear and particle physics and holds a PhD from Massachusetts Institute of Technology.
Monaghan's research at Jefferson Lab focuses primarily on the interaction of protons and neutrons and their internal structures. He is involved in two main projects: a theory-based effort to help improve models of nuclear structure, and an experimental effort to study nucleon structure at higher energies, using a newly developed spectrometer system called the Super Bigbite Spectrometer.
The research students conduct with Monaghan looks at the fundamental science behind nuclear structures. Basically, students "smack an electron into a proton and see what comes of it, " Monaghan said.
"We know what the building blocks are. The experiments work to discover different interactions between them. We look at the range and strength of interaction. We look at how they behave at a high energy. We depend on physics to measure and construct what happens at the interaction at the target," Monaghan said.
Students learn a great deal by seeing the science unfold in real time instead of just reading about it in a textbook, Monaghan said.
"It's always better to learn it hands-on," he said. "It definitely brings it home much more when the students can touch, feel, and see it for real."
The research, he added, is based on "pure science." Through their work on the experiments, students often discover something new, and that, in turn, can inspire them to expand their research into other areas.
Students playing a role in the research have the opportunity to publish their findings, providing a huge boost to their list of accomplishments when it comes to graduate school admissions and career placement. Student researchers bolstered by the lab experience have found great success in graduate school and in their careers, including going on to work in the U.S. Patent Office and to study at Emory University, The University of Glasgow in Scotland, and Carnegie-Mellon, among several other institutions, Monaghan said.
"I have seen their growth and what kind of confidence they get by being able to use the knowledge and skills they have developed in other projects," he said.
Erika Bilokon, '23 physics, can attest to the benefits of doing research at Jefferson Lab. Being able to showcase that experience on her graduate school applications is something she is most proud of, and something she believes helped her chances of being admitted. She will attend University of Pennsylvania in the fall.
"It was very helpful when I was applying to grad school," she said. "It opened a lot of doors."
---