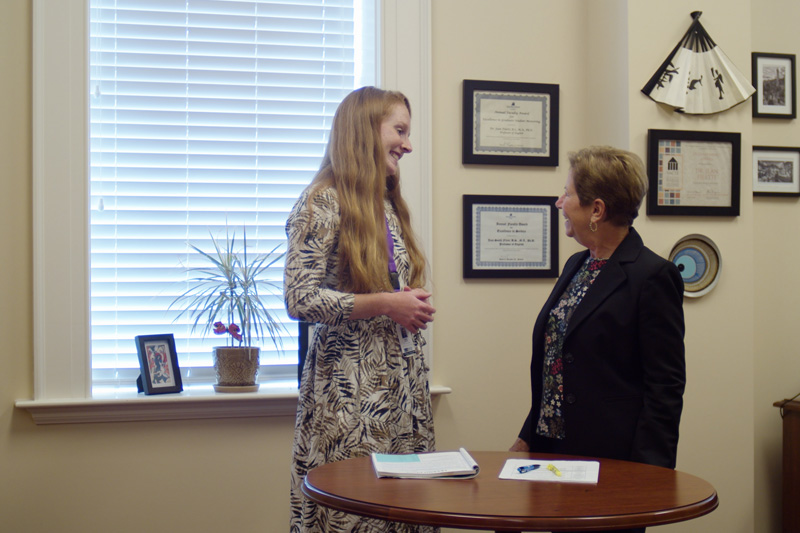 Read time:
---
Christopher Newport is among the top schools in the country when it comes to preparing the next generation of teachers to be the very best at teaching children to read.
According to a newly-released report from the National Council on Teacher Quality (NCTQ), the Master of Arts in Teaching program at CNU is one of only 48 teaching programs in the nation to earn an A+ and be designated as "exemplary" for the way it educates graduate students to effectively use scientifically-based literacy instruction methods to help students achieve success on the reading front. 
"In order to earn an A+, programs need to go above and beyond the standard of adequate coverage for all five core components of scientifically-based reading instruction (phonemic awareness, phonics, fluency, vocabulary, and comprehension) and teach no practices that have been found to inhibit students' reading progress," said Dr. Heather Peske, president of NCTQ.
"The Christopher Newport University program serves as a proof point," Peske said. "Other teacher preparation leaders and faculty across the country must take note. There are programs doing this right, ensuring that their elementary teacher candidates get the preparation in how to teach reading they both want and deserve."
The NCTQ is a national research and policy organization that regularly evaluates the core requirements and practices of programs nationwide that prepare future elementary school teachers. The new report, which evaluated 693 undergraduate and graduate teacher preparation programs, showed that CNU's MAT program exceeded standards set by literacy experts for using the most effective methods of reading instruction - often called the "science of reading." Only 23 percent of the teacher preparation programs assessed received an A.
"I am so pleased that Christopher Newport has again been recognized as one of the top schools in the country for our commitment to providing the best education possible for graduate students who will become the next generation of superb teachers," said Interim President Adelia Thompson. "Our faculty continue to set the bar high for excellence, ensuring our Master of Arts in Teaching students have the foundational skills and best practices needed to make meaningful contributions both in their classrooms and in the lives of their students."
To evaluate the quality of preparation, a team of experts at NCTQ analyzed the MAT program's syllabi, including lecture schedules and topics, background materials, class assessments, assignments and opportunities to practice instruction in required literacy courses for graduate elementary teacher candidates. The team determined that CNU's program was among the top 50 in the United States.
"Ensuring teachers have the best skill-set possible for teaching reading once they enter the classroom is critical and of highest priority in the MAT program," said Dr. Jean Filetti, Professor of English and Director of Teacher Preparation.
"The students learn these skills from some of the leading experts in science-based reading instruction," she said. "Our Teacher Preparation Program is one of the strongest in the state and, with this recognition we are now one of the strongest in the nation. Being considered one of the best nationally is truly an honor."
Ensuring teachers are best prepared in the field of reading instruction has taken on new urgency since the pandemic.
"We know that our children lost access to important reading instruction during the pandemic and many of our youngest learners (K-3) continue to struggle with literacy development after the pandemic," Filetti said. "Making sure every teacher who comes through our program enters the classroom fully equipped with evidence-based instructional approaches to teaching reading can go a long way in addressing systemic inequities and ensuring equal access to a quality education."
Nationwide, student literacy rates have fallen dramatically since COVID, with 37 percent of fourth graders scoring "below basic" in reading.
"Research has found that most children require explicit, systematic instruction grounded in the science of reading to become successful readers," Peske said. "Ultimately, studies suggest that if all students had access to teachers who use scientifically-based reading instruction, we could drastically reduce rates of reading failure, achieving literacy rates of 90 percent or higher for our children."
Literacy is a key contributor to a person's ability to succeed, so it's imperative that students gain the ability to read early under the direction of skilled teachers, said Dr. Kelly Cartwright, Professor of Psychology, Neuroscience and Teacher Preparation.
"Reading is the foundation for positive life outcomes for everyone," she said. "It underlies lifelong academic success in all subjects, career success, and health. Low literacy is associated with depression, anxiety, shame, the likelihood of criminality, and even the likelihood of incarceration."
"When CNU preservice teachers know how to teach children to read, they are quite literally setting children on a trajectory of positive outcomes, but when children struggle to read, it sets them on a trajectory of disadvantage," Cartwright said. "Understanding the scientific evidence on reading processes and instruction is thus better for society as a whole."
Students who have completed the MAT program are in demand, as they have proven that the skills they learned at Christopher Newport enable them to foster success in their classrooms.
"Our students are definitely sought after by school districts - not just in the region but throughout the state," Filetti said. "They are content experts and grounded in pedagogically sound instructional delivery."
Former MAT students who have entered the classroom as teachers often return to campus to thank faculty for the knowledge they imparted to them while at CNU.
"My former students come back to thank me, repeatedly, for helping them understand the scientific evidence behind teaching reading, for providing a scientific grounding for their instructional decisions, and for teaching them HOW to teach reading," Cartwright said. "They enter our program apprehensive about teaching something that occurs so automatically for most of us, and they leave with a clear understanding of how to make these invisible mental processes visible for students and set them on the road to reading success."
---