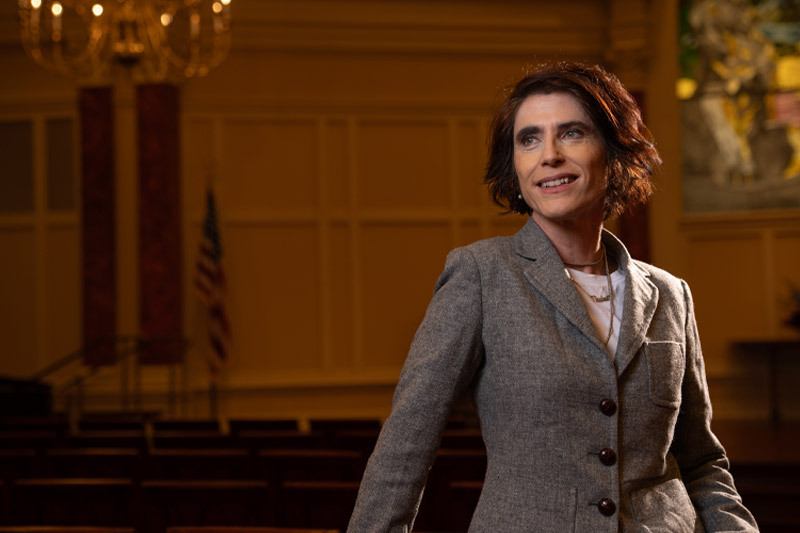 Read time:
---
It did not take long for Dr. Vered Sakal to be captivated by the positive energy she believes Christopher Newport exudes.
"It was very noticeable," she said. "People are so invested in CNU, and what goes into the institution. There is so much dedication to the students and the community. I could feel their love and devotion to CNU. I am very much looking forward to being part of the community."
Sakal will begin at Christopher Newport in the fall as the new Bertram and Gladys Aaron Professor of Jewish Studies.
"It seems like the perfect fit," said Sakal.
An ordained rabbi who holds a Ph.D. in Jewish Thought from the Hebrew University in Jerusalem, Sakal focuses much of her work and teachings on the intersection of Judaism and politics and how the two interface. She views modern challenges through the lens of Judaism, and studies how to interpret them from historical and religious standpoint.
"I look at it from a social and political point of view," she said.
Sakal grew up in Israel and raised her two grown daughters there. She has been a fellow at the Tikva Center for Law and Jewish Civilization at NYU, the Katz Center for Advanced Judaic Studies at the University of Pennsylvania and Minerva Humanities Center at Tel Aviv University, and the Bloomington Symposia, IU Institute for Advanced Study.
Selected from a pool of applicants by a University search committee, Sakal came to campus and was interviewed by the dean of the College of Arts and Humanities and by the provost. She also taught a class so students and faculty could get a sense of her teaching style and passion for the subject. Her class focused on making a connection between "The Handmaid's Tale" and Deuteronomy Chapter 21 of the Old Testament.
"Dr. Sakal's teaching demonstration was outstanding," said Dr. Elizabeth Jelinek, chair of the Department of Philosophy and Religion. "Dr. Sakal is the kind of teacher that the Department of Philosophy and Religion needs: a professor who creates an atmosphere of mutual learning and inquiry in the classroom, and challenges students to think critically and creatively. She exceeds the requirement to be a 'passionate and engaged' teacher as outlined in the job description."
"Dr. Sakal will draw students to the Department of Philosophy and Religion because of how engaging she is in the classroom," Jelinek said. "The Department strives to represent a broad spectrum of religious traditions from a global perspective. As our specialist in Jewish Studies, Dr. Sakal is uniquely qualified to contribute to this goal. Not only is she a preeminent scholar in her field, her scholarly approach is international and interdisciplinary. This type of innovative approach sets her up for making impactful contributions to course offerings."
Provost Quentin Kidd said Sakal not only possesses a vast knowledge of Jewish Studies, but also a deep love of teaching that will empower her to be a positive force on campus.
"The Aaron Professorship contributes immensely to the Department of Philosophy and Religion's course offerings and Dr. Sakal's expertise will be a valuable addition," Kidd said. "Dr. Sakal is an internationally recognized scholar whose presence on campus and within the community will be felt immediately."
The interdisciplinary teaching style that Sakal embodies will allow her to draw from "political science, LGBTQ studies, women and gender studies, philosophy and history to inform and supplement her work in Jewish Studies," Jelinek said.
A lover of learning and teaching, Sakal thrives on challenging students and engaging them in the classroom. She kindles discussion and is energized by shared learning opportunities. The more knowledge and access to different viewpoints a student has, the better, she believes. Sakal has especially liked working with American students, both teaching them and learning from their perspectives.
"I enjoy interchanging ideas with American young people," said Sakal, who comes from a long line of teachers. "So many horizons have been opened to me. It keeps me fresh. It enriches me."
"I was born this way," she said. "It's a family legacy."
The idea for the Aaron Professorship came to light in 2015. It was spearheaded by the late Joe Frank, a former mayor of Newport News, who saw the creation of the professorship as a unique academic opportunity for Christopher Newport, as only 5 percent of high education institutions at that time had a Jewish Studies program. Frank successfully asked Bertram Aaron, a retired engineer and local philanthropist, if he and his wife, Gladys, would be the lead donors for the position.
Dr. Richard Freund was the first scholar to hold the professorship. He started in 2019 and focused many of his efforts on research and the archaeology of sites with connections to Jewish history. During his time at Christopher Newport, he connected with students, sharing his passion for history with them both on campus and overseas during archaeological excursions. Freund passed away in the summer of 2022. He paved the way for Jewish Studies on campus, and Sakal is hoping to continue the work he started.
Thrilled by Sakal's selection, Gladys Aaron said she is looking forward to her arrival.
"Vered was by far the strongest applicant we had," she said. "We are excited about her joining the faculty and joining the greater Jewish community."
Sakal's teaching will encompass at least two of the Four Pillars that form the foundation of a Christopher Newport education: research and study abroad. Sakal is a former Israeli tour guide who also conducted a significant amount of research on indigenous Algerian rabbis. Jelinek is anticipating that Sakal will create an interdisciplinary study abroad program that will bring what students learn in the classroom to life.
One of Sakal's strengths lies in bringing communities together and a goal of hers is to continue building a strong connection with the greater Jewish community, something Freund had focused on during his tenure. As part of her interview process, Sakal made a presentation at the United Jewish Community of the Virginia Peninsula and "outlined specific strategies she would employ in her role as an academic liaison to the community," Jelinek said.
"She has already begun developing ideas for programming that would cultivate relationships between the community and the campus and expand the reach and reputation of the University," she said.
Eric Maurer, executive director of the UJCVP, said he is confident that Sakal's appointment will be beneficial to both CNU and the UJC, and will likely bring the two entities closer together to create positive momentum both in the community and on campus.
"We are thrilled for the investment CNU is making in bringing an excellent scholar of Jewish Studies to the University," he said. "Through CNU's process, they remained committed to engaging the Jewish Community. I applaud CNU, the Aaron family, and all those who can make this position possible for their vision of academia that can transcend the classroom and engage other communities across Hampton Roads."
---