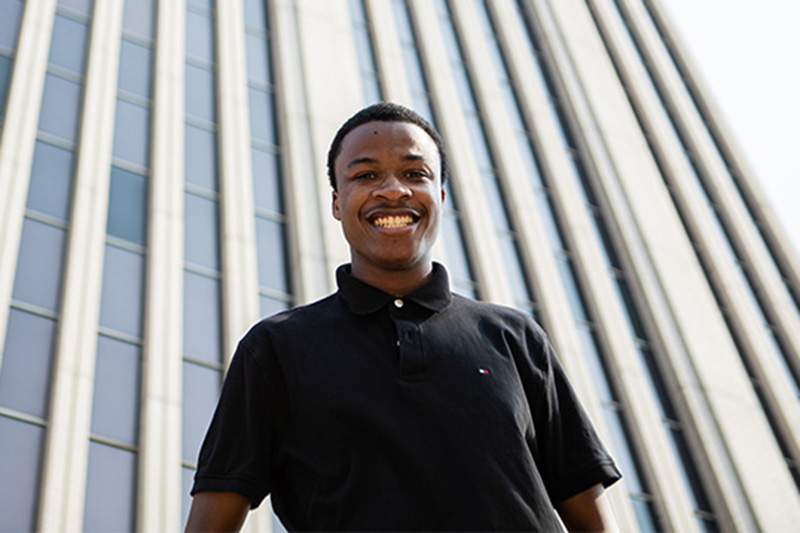 Read time:
---
Patrick Lassiter has lived in Newport News since the day he started at Christopher Newport. He experiences the city as a college student, seeing firsthand its positives and negatives. But this summer, as an intern, he gained an entirely new perspective of Newport News, its fascinating history and its hopes for development and improvement.
Lassiter, '25 marketing and management, was one of three interns who worked in both the offices of the city manager and mayor. He not only had an up-close look at how city governments operate, but he was given the opportunity to help find ways to help move Newport News forward.
"I thought it was an amazing and cool opportunity," said Lassiter, who will begin at the Joseph W. Luter, III School of Business this fall. "I was very curious to see what opportunities it would provide."
Turns out the opportunities were plentiful, as he was able to learn how cities operate, and what goes on behind the scenes to make things happen. He was involved with research and projects that provided him with knowledge and confidence. The internship also helped Lassiter to realize his passion and his future career track, enlightening him about how many avenues there are for pursuing business careers in government.
"It changed my course a lot," he said. "It opened my eyes to the different types of business I can do."
Lassiter is excited to be able to use his newly acquired expertise and knowledge in his Luter classes.
"When I start at Luter, I can take what I learned from the city and apply it to the classroom," he said. "It changed my perspective of school. I cannot wait to apply what I learned to my schoolwork and share it with my peers."
Mayor Phillip D. Jones said he was proud of the work Lassiter and other interns did, and that he was thrilled they brought fresh viewpoints to City Hall.
"Patrick has been an asset to the city this summer," Jones said. "We are proud to invest in Patrick's knowledge and skill set while benefiting from his contributions and creativity. Our interns bring innovative perspectives, boundless energy, an eagerness to learn and new ideas to our workforce. Supporting interns today ensures a brighter and more prosperous future for Newport News tomorrow."
Lassiter worked directly with Mayor Jones, and was able to speak with him about the future and hear his suggestions about options for his career and education. He was humbled that Jones, who took office this year, would take time to listen and provide input.
"I had heard so much about him. I was very excited to work with him and learn more about him," he said. "He was very genuine and very caring."
Lassiter was chosen from a pool of 41 applicants for the internship, said Tiffany Conatser, intern supervisor for the program, which began in 2010 and has since drawn students from universities throughout Virginia.
"The main goal of the Newport News Internship Program is to give college students the chance to learn and develop while jump-starting a career in local government," Conatser said. "Participants have the opportunity to build a professional network by engaging with senior-level officials while being part of the day-to-day operations in a professional office environment. We hope the relationships our interns build over their time with us will carry over into their professional careers after graduation."
Lassiter, who is from Richmond, is confident that what he learned at City Hall will help propel him in the workforce.
"It's a great honor that I can use the skills I acquired as I move forward," he said.
The interns did research, made presentations to the City Council, and were educated about the inner workings of a city. Newport News is a city of 184,000 residents that is situated on a peninsula that is 69 square miles.
"It was very exciting. I did something different every day." Lassiter said. "I loved working on the various tasks. I liked going to work and having the element of surprise."
One of Lassiter's projects was to help create a virtual map of the city so that City Council members could identify future sites for development. The idea was both for planning purposes and to garner feedback from the public.
Being at City Hall each day gave Lassiter and the other interns a chance to see Newport News from a different angle. He said that he gained a new appreciation of how much contributes to advancing a project or idea to the point of success.
"I am definitely more grateful now to the process of development," he said. "I am more appreciative of development. I had the honor of seeing firsthand what goes into it. There are a lot of bumps in the road. To be able to push past challenges and still see the goal is amazing."
The experience, Lassiter, said, resonated with him and encouraged him to set his sights on being a business consultant. He enjoyed learning about grants, internal audits and how the city can help businesses succeed.
The work Lassiter did at City Hall will enhance the research he has been conducting at Christopher Newport under the direction of Dr. William Donaldson. Lassiter is studying whether municipalities in Hampton Roads should remain separate, or whether it's possible to combine them into one municipality. The internship helped him to see municipalities and all that it takes to run them in a different light.
"We are using real-life data for research," he said. "We are very excited about it."
Lassiter, who is active with several organizations on campus, said his love of business has grown ever since he stepped foot on campus.
"I have learned so much," he said.
Christopher Newport was attractive to Lassiter in part because of the reputation of the Luter School of Business and all of the opportunities afforded to its students. Getting an internship, one of the four pillars of a Christopher Newport education, was a priority for Lassiter.
"I knew that CNU was the school for me, that it would enhance my future," he said. "Every time I tell someone I go to CNU, they think so highly of it. I feel very grateful and very appreciative to be at a school that has such a strong name that people recognize and respect. I am especially thankful to be part of Luter.
"It is a blessing to be part of it," he said. "The Luter School of Business definitely sets you up for success."
---