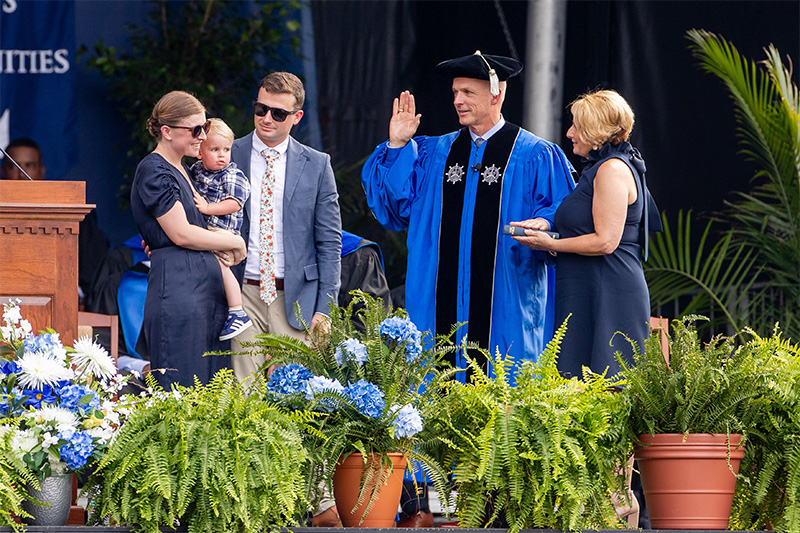 Read time:
---
A new era has begun at Christopher Newport, with the inauguration of William G. Kelly as the University's sixth president.
With his wife Angie and family at his side, President Kelly took the oath of office in a ceremony that reflected his "all in" energy. The event put the ceremonial stamp on his tenure, which officially began July 1.
Governor Glenn Youngkin, Rep. Bobby Scott and many other dignitaries attended the investiture, along with students, faculty, staff and alumni. A sea of well-wishers wearing CNU blue filled the Great Lawn, looking on under the radiant sun as the Admiral officially became a Captain.
The first ceremonious sounds came from bagpipers leading a procession of alumni, followed by the faculty dressed in full regalia. Father Dan Beeman offered the invocation, the Christopher Newport ROTC Color Guard presented the flag, and the CNU Wind Ensemble performed, accompanied by vocalists Dr. Rachel Holland, Chair of the Department of Music; Dr. John Irving, Director of Choral Studies; and Assistant Professor Colin Ruffer, Director of Musical Theater.
President Kelly thanked the Board of Visitors for their faith in him, and promised to uphold and expand on Christopher Newport's commitment as a 'student-first" university with an outstanding faculty that prioritizes inclusivity, free speech, diversity and academic excellence.
"Our goal is to be recognized as among the very best regional public universities in America," said President Kelly. "We will recruit, educate and graduate students committed to leadership, honor, service and scholarship. We will all be committed to excellence in all that we do. And above all, our students will define what it means to lead a life of significance."
Governor Youngkin had high praise for Christopher Newport students, and their desire to live a life of meaning, consequence and purpose.
"That's what Christopher Newport University is all about. Sixty three years ago, Christopher Newport College was founded and it has been impacting the Commonwealth, the nation and the world ever since. Its roughly 4,500 students shatter sports and academic records and it consistently graduates industry, political, and community leaders that greatly contribute to the Commonwealth of Virginia. Friends, this is a University that is truly soaring," said Governor Youngkin.
Board of Visitors Rector Lindsey Carney Smith, Esq. '01 led the recitation of the oath. Smith noted in her remarks that President Kelly embodies so many of the principles at the heart of Christopher Newport, and she and the Board were immediately taken by his vision for the future of her beloved University.
"President Kelly has a proven record of decision making, rooted in transparency, collaboration and empowerment. His life is one that gives to service, leadership, integrity and honor, all of which are pillars of this great University that we love so much. Christopher Newport is the phenomenal institution that it is today because it was built, fostered and sustained by great leadership who infused the moral and fundamental fabric of scholarship, leadership, compassion, service and community," Carney Smith said. "President Kelly not only embodies those core values, but is a demonstrated visionary with the skills to instill confidence in those around him to collaborate, fully immerse together, and pursue success while inspiring those that follow in our footsteps."
Student Government President Katelyn Bennett '24, delivered greetings on behalf of students.
"We hope to form a relationship of active communication with you, as you have already begun to do with us. Above all, we hope that you care for this University as we care for it," Bennett said. "We deeply appreciate that you have already begun to show us that you do. We are all eager to see what is to come, but we also recognize that this is a new experience for everyone. As you begin your term, please know that we are ready to help you navigate this campus and our community. As Captains, we work together to adapt to change and embrace opportunity. We could not be more excited to welcome you aboard this ship."
Faculty Senate President Dr. Brian Puaca brought greetings from his colleagues.
"On behalf of my colleagues, I'd like to take this opportunity to officially welcome President Kelly," Puaca said. "I would also like to offer him a few promises. President Kelly, you can always rely on my colleagues' experience, and I hope you will call on us regularly to aid your work. You can always trust that we are behind you, as your success is our success. I hope you will invite us to serve, and to lead, in the days ahead. And, finally, you should know that we will always do what is best for this place that we love."
Community Captains' Director Brandon Jones was nominated by staff members to speak on their behalf.
"I consider myself privileged to speak for those that may never be recognized in public but whose work and dedication have kept this University growing. We have some staff members in attendance today who have worked 40 years or more for this University. The pervading motivation echoed by most was that they came and remain at CNU because it still continues to feel like family," Jones said.
Alumni Society President Nate Fontaine '07, praised President Kelly's distinguished career and commitment to excellence.
"We, the alumni, are excited to join hands with you on this remarkable journey to uphold and enhance the legacy of Christopher Newport as an academic center of excellence," he said.
President Kelly delivered an inspiring inaugural address that began with thanking the Christopher Newport community for its support and warm welcome. He expressed gratitude to the leaders who came before him—three of whom shared the stage with him: President Paul Trible, Interim President Adelia Thompson and President Anthony Santoro. President Kelly recognized the challenges that lie ahead, while promising a strategic compass to propel the University into its next chapter. He promised to be "all in" for Christopher Newport.
"I am humbled and honored to stand before you and to serve as your president. I am awed by the responsibility and energized by the opportunity. I ask you to join Angie and me in the voyage ahead. Together, side by side, we will adjust the lines and set the sails and we will change the world. We are all in for the future. And as always…Go Captains!"
---