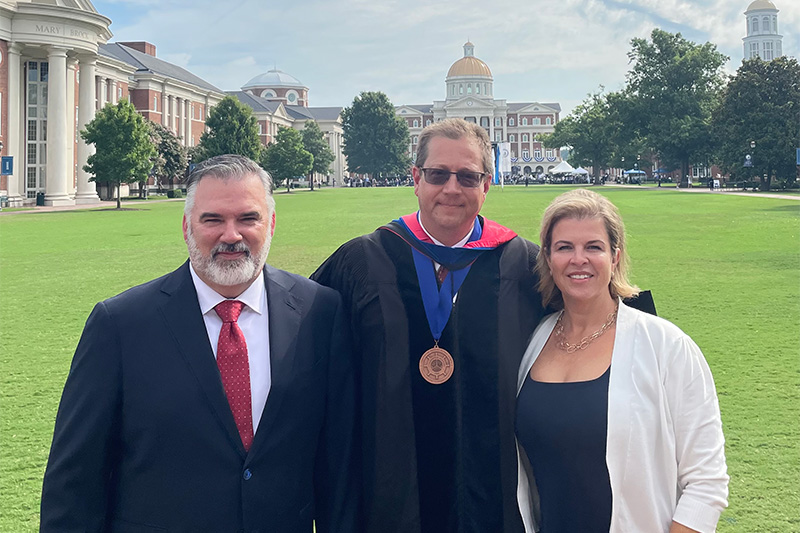 Read time:
---
A new professorship to support research and the study of U.S. national security has been established at Christopher Newport by local entrepreneurs Jim and Cynthia Crawford. The inaugural holder of the Crawford Professorship is Dr. Nathan Busch, Distinguished Professor of Political Science, Co-Director of Christopher Newport's Center for American Studies, and director of the minor in U.S. National Security Studies.
"We are delighted that the Center for American Studies has taken up the important mission of educating tomorrow's leaders on U.S. national security. Global competition is strong. America leads best when we demonstrate founding principles and free markets," the Crawfords said.
A prominent author in the area of national security, Busch has published six books and numerous articles on topics ranging from the proliferation of weapons of mass destruction to homeland security. Busch was the recipient of the 2017 Faculty Excellence Award for Scholarship and the 2017 Alumni Society Award for Excellence in Teaching and Mentoring.
"I am honored to be the inaugural holder of the James and Cynthia Crawford Professorship. The Crawfords' generous investment will prepare our students to lead in the critical area of U.S. national security. The Crawfords are firm believers in America's founding principles and the American dream. Both Christopher Newport University and the Center for American Studies will benefit tremendously from their gift. We are grateful for their support," Busch said.
The research and teaching specialization of the Crawford Professorship focuses on Department of Defense priorities, including nuclear policy, U.S. force projection, international terrorism, military policy and combat training and cybersecurity.
Jim Crawford, who has served on the Board of the Center for American Studies since 2019, studied economics at Christopher Newport before receiving a bachelor of arts degree in management from Regent University and an MBA from Texas A&M. Cynthia Crawford attended Cincinnati Bible College and Seminary.
The couple owns Threat Tec, a defense contracting company that employs 500 people. Threat Tec supports the Department of Defense and U.S. allies worldwide, providing intelligence support, wargaming, digital services, cybersecurity, and rapid-prototyping to support the warfighter.
---