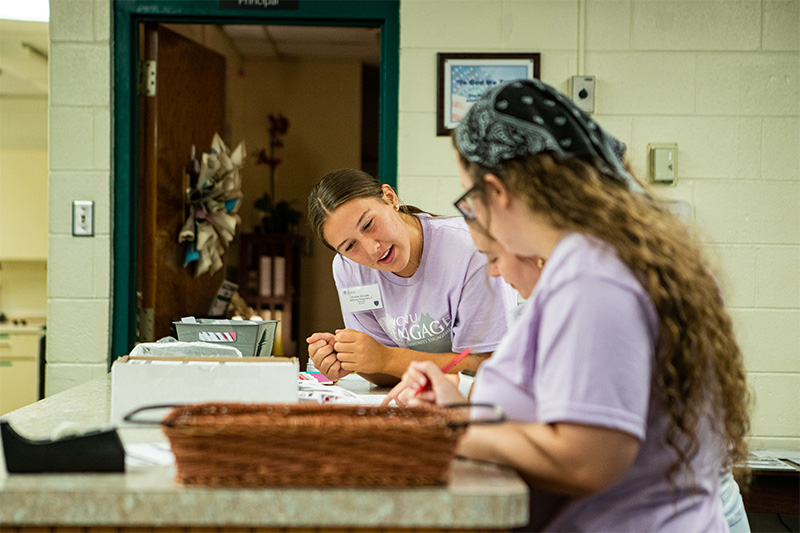 Read time:
---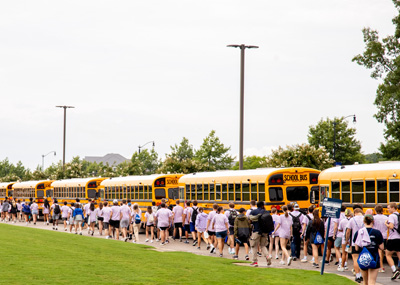 Emilie Shoults had a huge smile on her face as she worked diligently at Richneck Elementary School.
Shoults, who comes from a family of educators and is intent on being a teacher herself, was one of about 500 Christopher Newport freshmen who woke up early Thursday eager to lend a hand and get to know their new community as part of Day One of Service, a Christopher Newport Welcome Week tradition.
"I think it's awesome. It makes you feel so good to help others," said Shoults, a freshman from Syracuse, New York, who was helping organize paperwork in the school's office. "This is the perfect place for me. I was so excited to be placed here. It makes me very happy to be in this environment. This is a great start to the year."
The day started early as students gathered at the Ferguson Center for the Arts for a welcome and words of encouragement from new President Bill Kelly. Also a freshman in a sense, he was heading out with his wife, First Lady Angie Kelly, to participate alongside the students.
"It's great to begin my journey with you," President Kelly told the students. "This is such an important day. It sets the tone and the standard for what we do.This is an opportunity to make a difference in our community."
Using Kelly's words as motivation, a small army of students, faculty and administrators sporting lavender CNU Engage t-shirts poured out of the Ferguson Center with purpose and jumped on school buses to be taken to one of 55 community sites scattered throughout the Peninsula. The array of service opportunities was broad, from schools to offices to farms. Students were placed at organizations that aligned with their interests.
"Day One of Service is an important first step in the development of civic minded students," said Vanessa Buehlman, Director of the Center for Community Engagement, which organized the annual event. "We want it to be a positive introduction to the Virginia Peninsula, for our students to embrace the whole community both on- and off-campus and for our students to become excited about the many ways community engagement can amplify their education.
We encourage our students to fully engage in their new community- to know, love and serve their community wherever they live over the course of their lives."
Service is one of the four pillars of a Christopher Newport education, along with research, study abroad, and internships. Students are encouraged to engage in meaningful service on and off campus as soon as they arrive at CNU.
"This is the start of what we expect Captains to do here," said Board of Visitors Rector Lindsey Carney Smith, Esq. '01, who donned a lavender shirt and was part of the group that helped sort new math workbooks in Richneck's library. "This is just the beginning."
Not only did the students lend their talents and time to community organizations, they also got to know each other. As freshmen who are new to campus, Day One of Service fostered a bonding experience during which they got to know each other better and work together to contribute positive energy to the community.
"I love it. The community has been really nice," said Alexie Prophete, a freshman from Stafford, Virginia. "I have been having a lot of fun."
Prophete was one of a group that worked at Fear 2 Freedom, an organization that helps survivors of sexual assault. The students rolled t-shirts and sweatpants provided to survivors. As a potential sociology major, Prophete was thrilled to have been placed with an organization that does work she may one day want to do.
"It's been great to be able to see service opportunities," she said. "I think it's extremely important to get into the community. Everyone needs to help everyone."
While students were rolling t-shirts at Fear 2 Freedom and sorting books at Richneck, another group of young adults was wiping away sweat as they pushed wheelbarrows and tamped down dirt in horse stalls at Bluebird Gap Farm in Hampton.
"I'm very excited," said Dawson Richards, a freshman from Riner, Virginia. "Where I grew up, the opportunities were limited. It feels good to do this for a cause I care about. I don't know of any other college with this kind of immediate service. I chose CNU because it's a community of loving people who care. You are a person, not just a number."
The hope is that Day One of Service is just that: the first of many days in which students choose to do good in the community by giving of their time and talent.
"It all starts here," said Claire Rooney, a President's Fellow at CNU who was also part of the group at Richneck on Thursday. "Service is about showing up and doing what is needed of you. CNU sets the standard and makes service a priority."
That message was well received by Jack Brown, a freshman from Woodbridge, Virginia.
'"It's cool. Helping the community is important," he said. "The fact that we can do this as a Captain makes it very meaningful."
---