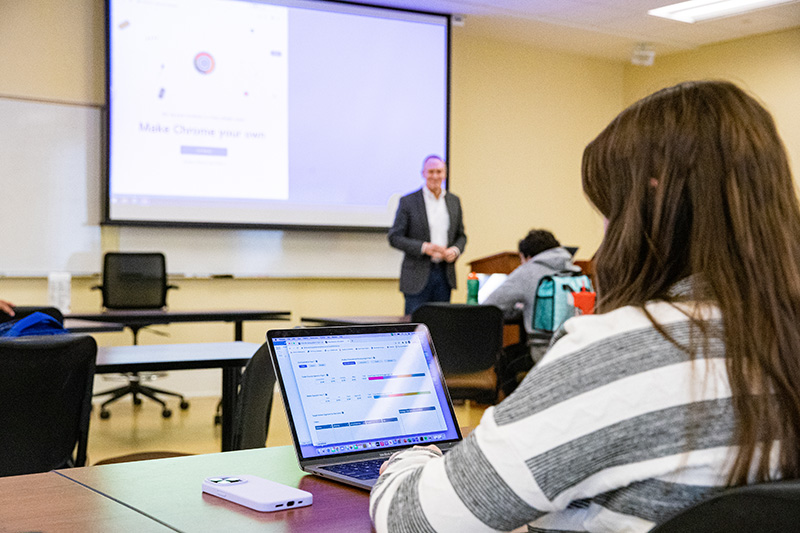 Read time:
---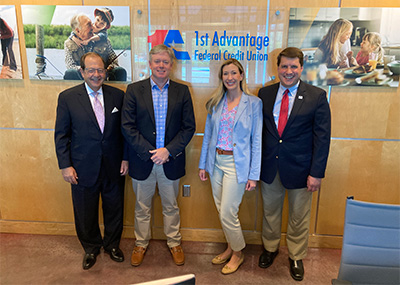 Christopher Newport's Master of Financial Analysis (MFinA) program is expanding its footprint once again as it ventures into three partnerships with financial businesses on the Peninsula, providing opportunities for employees to take their education to the next level.
The new alliances with 1st Advantage Federal Credit Union, TowneBank, and the Brown Edwards accounting firm take effect this fall, and will offer mid-career professionals a streamlined process to earn their MFinA at the Luter School of Business. Christopher Newport is the only school in Virginia to offer an MFinA degree.
"These partnerships will be great opportunities for MFinA students to be exposed to businesses, thus enhancing our students' experiences," said Dr. Susan Ji, Graduate Program Director of the MFinA program and the Richard Franklin Abbitt Professor of Finance.
The collaborations will allow employees of these businesses to bring real-world knowledge to the program to share with others, while at the same time broadening their own business acumen. The partnerships are also geared toward helping MFinA students who have not yet entered the workforce connect with local businesses when they graduate.
"We specifically developed the MFinA to reside at the intersection of accounting, finance, data analysis, and strategy so that students would develop a well-rounded worldview and set of skills to tackle a broad range of management challenges," said Alan Witt, Dean of the Luter School of Business. "The MFinA program will equip employees well to meet those challenges and advance their careers."
Brown Edwards was the first firm to enter into an agreement with CNU. It is a full-service accounting firm with more than 450 employees in 12 locations in the Mid-Atlantic region, including Newport News.
"Within the accounting industry, the number of accounting graduates has declined, while the need for accounting positions, both in public and private companies, has remained steady," said Brown Edwards Partner Hugh Barlow. "We believe our partnership with CNU will assist our firm to become more visible to the CNU community and beyond."
The partnership is expected to strengthen the already strong ties Brown Edwards has with Christopher Newport.
"Brown Edwards is one of the most respected accounting firms in Hampton Roads and already has close ties to CNU," said Sean Heuvel, Director of Graduate Recruitment and Admissions. "In fact, two Brown Edwards partners currently sit on the MFinA Advisory Council. So, it was therefore quite fitting that they became our first MFinA private sector partner."
"As the MFinA program continues to evolve, we envision having three distinct student pipelines feeding into it: those coming from CNU, those coming from other colleges and universities, and those coming from the private sector," Heuvel said. "Thus, partnerships with private sector companies such as Brown Edwards, 1st Advantage Federal Credit Union, and TowneBank allow us to attract talented employees from within their ranks into our program."
"Private industry employees enrich the classroom environment by providing valuable real-world experience," Heuvel said. "Other graduate students in the program will no doubt benefit immensely from their practical wisdom and insights."
Joining forces with Christopher Newport is a win-win, said Carrie Chi, Chief Human Resources Officer at 1st Advantage.
"This partnership will allow our colleagues to further their own growth and professional development, which in turn supports the success of our organization," Chi said. "Employee development is critical for retention, especially in this hyper-competitive talent environment, and we are pleased to be able enter into this partnership with CNU as an added benefit to our colleagues."
Bill Littreal, senior executive vice president and chief financial officer of TowneBank, agreed, as the partnership with CNU is also expected to bring positive results to the bank.
"Our success has always been built on hiring the best talent in the marketplace. We continue to explore creative opportunities to enhance our recruiting efforts while providing attractive career paths for our current teammates," he said. "By partnering with CNU, we can offer a truly unique master's curriculum from a university that understands our deep commitment to serving others and enriching lives."
The partnerships are beneficial to both the industry and the University, said Dr. William Donaldson, a CNU professor who teaches MFinA classes.
"From the University's standpoint, students and adult learners are increasingly asking about outbound success and return on investment for their time and tuition. Agreements such as this are a clear signal to students that our program is aligned with and supported by industry and not tethered to past academic models. From the employer's perspective, such agreements signal to their employees that the firm is willing to invest in their growth and development," Donaldson said. "Many industries are facing critical skill loss due to age-wave demographics and retirements. Arrangements such as this help with attraction and retainage."
---