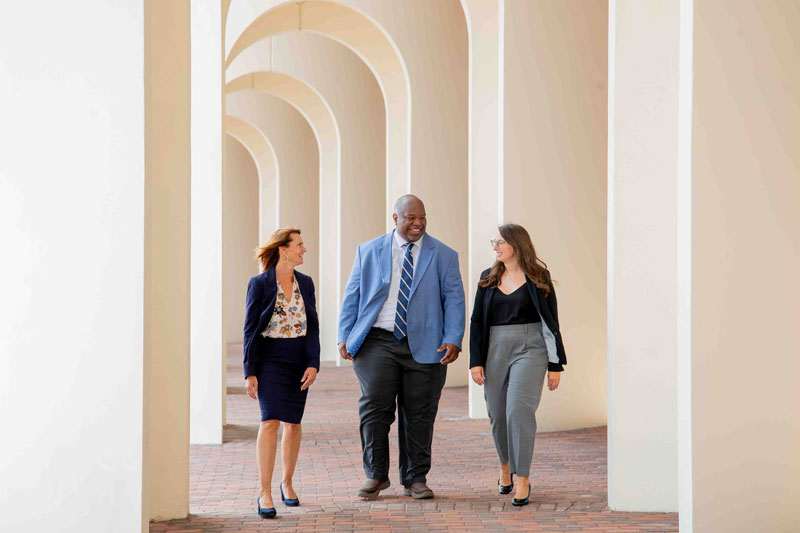 Read time:
---
Christopher Newport researchers have been awarded a grant from the National Science Foundation to study how gender, race/ethnicity, and other aspects of social identity affect the work lives of faculty in STEM (Science, Technology, Engineering, and Math).
The ADVANCE Catalyst Award will fund a self-assessment of what advances or limits the professional success of women in STEM at Christopher Newport. The NSF defines STEM as including all disciplines in the College of Natural and Behavioral Sciences as well as Economics, Political Science, Sociology, and Anthropology.
The atmosphere on campus will be studied and gauged by a survey that will be sent out to all faculty. In addition, the researchers will analyze institutional data, evaluate policies and practices and interview faculty.
"At CNU, we value people and a sense of community," said Dr. Nicole Guajardo, Dean of the College of Natural and Behavioral Sciences. "This grant will enable us to conduct a close examination of policies and practices at Christopher Newport to ensure we foster an environment that attracts and retains engaging faculty."
The $288,000 grant was awarded to Guajardo; Leslie Rollins, Associate Professor of Psychology and Neuroscience; and Vidal Dickerson, Christopher Newport's Chief Diversity, Equity Inclusion Officer. The NSF awards four Catalyst Awards to universities each year.
The study will utilize a national survey called COACHE (Collaborative on Academic Careers in Higher Education) created by the Harvard Graduate School of Education.
"This is a well-established survey and it will provide us with comparative data from other institutions, which will help us interpret our results including areas of strength and relative weakness," Guajardo said.
The survey will be used to identify themes in faculty responses that address points of strength and also areas that may warrant improvement.
"We will follow-up the survey with interviews to delve deeper into themes we identify through the survey. We will work with our Internal Advisory Board that includes President Kelly, Provost Kidd, and other Vice Presidents, as well as a committee that will include other faculty to develop a five-year strategic plan to address areas of concern," Guajardo said.
Students will be involved in the grant as they will code transcripts from interviews and gain insight into the experience of women faculty in STEM, Guajardo said.
"This research is a critical first step for identifying how CNU can support the recruitment, satisfaction, retention and promotion of faculty, which can broadly impact institutional morale, faculty productivity, the quality faculty-student interactions, and the reputation of the institution," Rollins said.
Nationwide, women account for a large proportion of undergraduate students in STEM fields. However, their representation tends to decrease with advanced educational and professional levels, Guajardo said.
"The ultimate goal of this work is to create environments to change that," she said. "The project will lead to important understanding of issues related to gender equity and intersectionality for not only faculty at Christopher Newport, but also others at primarily undergraduate universities.
"Further, the ADVANCE team will aim to begin implementing targeted changes and develop a strategic plan to address observed inequities and challenges to success, thus impacting the lives of current and future faculty at Christopher Newport," she said.
---