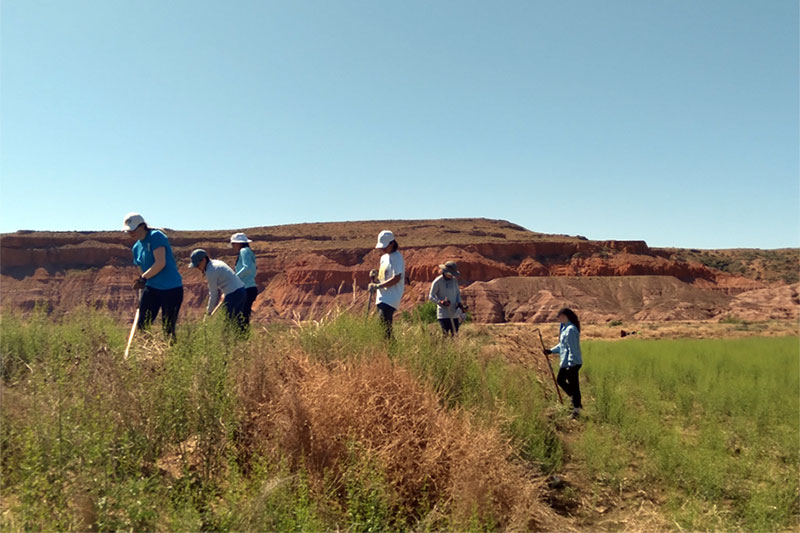 Read time:
---
Eleni Molina had never given much thought to what it would be like to live without a steady supply of safe drinking water.
Or to the idea of sharing ownership of land and homes with a government that isn't viewed as one's own.
Her perspective changed dramatically when she spent a week on the Navajo Nation reservation in Arizona in May with other Christopher Newport students doing service work. She realized how tough life can be for others, and how much adversity the Navajo people have faced during their long history. Molina was also humbled by how they truly valued the students' help in overcoming the challenges at hand.
"One of my biggest takeaways was the importance of always being grateful for what you have. I noticed that the Navajo people were very resourceful and used the items that they have in many different ways," said Molina, '25 Psychology. "A struggle the Navajo community has been facing for many years has been their lack of water supply and it is not something they have been able to greatly develop over the years. However, with every small improvement, the Navajo people take it as a victory."
Molina and nine other students, including six from the President's Leadership Program (PLP), farmed the land and worked on irrigation projects. They endured severe heat and spent the week immersed in a new culture, meeting new people and learning to navigate in a very different world.
Students said the lessons they learned during the trip will stay with them, and help them to forge a path as they move forward both in college and in the workforce.
"I would say the experience changed me in the sense that I am now more aware of the world around me. The service trip was a very humbling experience that allowed me to see from another perspective of life from those that work hard outside each and every day," Molina said. "I believe that it further solidified my career path because my love for helping people and getting to know them is even stronger now."
The trip was sponsored by PLP in partnership with the Office of Orientation and Student Involvement (OSI).
"Daily projects focused on promoting sustainable farming initiatives on the reservations," said Victoria Carrico, Assistant Director of PLP, who co-led the program with Tyler Dillon, Assistant Director of OSI. "The students helped install an irrigation system in a community garden for local Elders in Black Falls, planted over 1,000 seeds at Cameron Farm Enterprises, moved a 12,000-gallon water tank to a safer location, prepared four acres of fields for seeding in Tuba City, and helped establish a new community garden in Cameron. They were also honored to be served traditional Navajo food and were invited to assist in the food preparation. During meals, several elders shared stories of the struggles they experienced on the reservations, and students were invited to ask questions about Navajo culture and tradition."
It was an enlightening experience that called on the students to engage their leadership skills, test their physical capabilities, and widen their worldviews.
"This experience has undoubtedly changed me," said Tyler Whitman, '23 Business Administration. "It has broadened my perspective and deepened my understanding of the complexities surrounding social and economic disparities. It has also reinforced my passion for making a positive difference in the lives of others."
For Molina, a huge takeaway was "the importance and beauty of community.
"Our Christopher Newport group and the Navajo people were able to come together and create change in such a short amount of time," she said. "Through conversations and hard work, we were able to get the job done and see impactful results. When people come together, not only do visible changes occur, but also mental and spiritual changes."
To help the students understand as much as they could about the Navajo Nation and life on the reservation, the group partnered with local organizations CHOICE Humanitarian, Assist to Independence, Cameron Farm Enterprises and Little Colorado River Farms, and Rose Marie Williams's family farm in Tuba City. Students also learned from the Tribal Environmental Education Outreach Program at Northern Arizona University about how best to both work with tribal nations and be culturally responsive.
"Engaging with the Navajo people was a profoundly enriching and eye-opening experience," Whitman said. "From the moment we arrived, they warmly welcomed us into their community, allowing us to witness the vibrant tapestry of their culture. Through their stories and anecdotes, they gracefully shared the depth of their heritage, imparting upon us a sense of awe and admiration. It was truly remarkable to see how much pride they held for their traditions and their genuine enthusiasm in passing them down to future generations."
Dillon, the co-leader of the trip, said, "The most impactful part of the trip was the opportunities for education directly from the people we were serving. The Navajo people were so welcoming and willing to teach all of our students. Our students came back energized with a passion for service and making positive change in the world around us."
The students served the Navajo community by building windshield barriers in a community garden, installing irrigation systems on farmland, and constructing hoop houses. They embarked on projects that sharpened their leadership skills and tested their abilities.
"I learned more than ever how to be a follower is an important aspect of leadership and when you know when to follow, you often learn more than when you lead," said Parker Vess, '25. "The elders were the natural leaders, and so learning to follow and take their lead was an extremely valuable skill that allowed me to learn about stories, the agriculture of the area, and to serve with more benefit."
Far away from Newport News, both geographically and culturally, the reservation in northern Arizona exposed the students to a new landscape, and a society that has come together to bring about positive change.
"What drew me to this program was the ability to work hard and get to know a new community of people. A fundamental value I hold close to my heart is caring for others and this looked like an incredible opportunity to do so. Additionally, I did not know much about the Navajo community and I was eager to learn," Molina said.
And learn they did. They woke up early, worked hard, and opened their hearts and minds to the Navajo people.
"I had an eye opening experience, as I know my peers did as well," said Corynne Rittner, '25. "I saw the sheer amount of love and appreciation those people gave us. They changed my mind on service, helping me understand that it is more than the physical work. It's the willingness to put others before yourself even in the tough times. Service is selflessness and willingness."
---