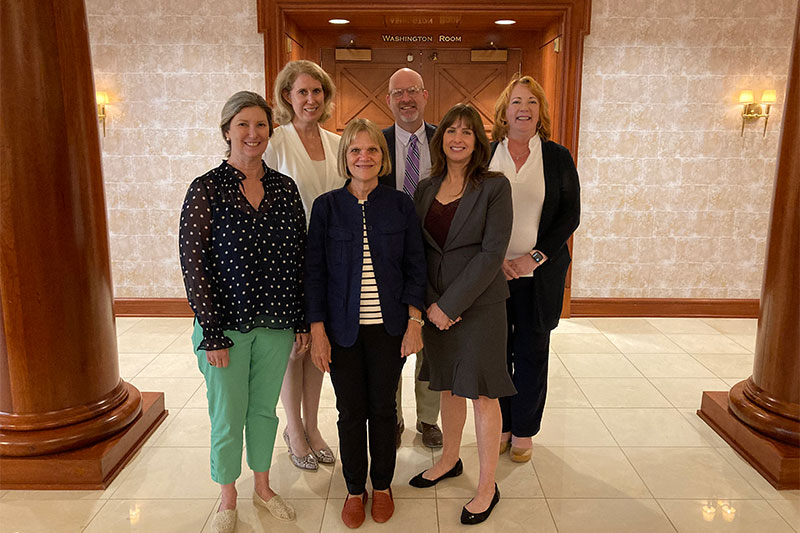 Read time:
---
Christopher Newport and The Colonial Williamsburg Foundation have joined forces to increase the number of internship and learning opportunities students will have at the world's largest living history museum.
Several departments at Christopher Newport have an existing relationship with Colonial Williamsburg, but the new agreement expands the reach to students university-wide. Being engaged in different aspects of Colonial Williamsburg will allow students to hone skills related to their majors.
"For instance, a museum studies student would be able to pursue a variety of internship options at Colonial Williamsburg and also get special access to behind-the-scenes tours of CW's world-class conservation labs and other related facilities," said Dr. Sean Heuvel, Director of Graduate Recruitment and Admission.
Dr. Michelle Erhardt, Associate Dean of College of Arts and Humanities and Chair of the Department of Fine Art and Art History, said she is excited about the potential the alliance holds for students looking for different experiences that will allow them to expand their knowledge base and acquire skills and relationships that will make them more marketable in the job market.
"Christopher Newport and Colonial Williamsburg have always been good neighbors. The new partnership between us will now help forge new pathways for collaboration and growth as we become strong educational partners," Erhardt said. "The most exciting aspect of this new partnership is the wealth of opportunities it brings for both faculty and students who will now have a direct line of access to internships and research opportunities. The educational focus and robust resources of Colonial Williamsburg create unique opportunities for students and scholars interested in public history, digital humanities, archaeology, museum studies, and American studies."
Dr. Sheri Shuck-Hall, Professor of History and Director of the Public History Center at Christopher Newport, said the expanded partnership "will allow students to apply their historical knowledge outside the classroom and gain invaluable work experience in the field of public history. We are honored to have the Colonial Williamsburg Foundation as a community partner."
Colonial Williamsburg is a 301-acre complex that includes more than 600 restored or reconstructed 18th-century buildings, 30 gardens, five hotels, three theaters and two art museums. It has world-class facilities and historical collections that provide perspective and significant educational opportunities, Heuvel said.
"The partnership provides both organizations an exciting opportunity to engage in student professional development, via internships, as well as in curricular and co-curricular collaboration on a variety of fronts, including museum studies, digital humanities and performing arts," he said. "Along with the benefits the agreement will provide for our undergraduates across multiple academic programs, we are also excited about all of the potential engagement opportunities for our graduate students."
"This partnership agreement has the potential to positively impact nearly all of Christopher Newport's academic programs," Heuvel said. "Partnerships such as this are vital to Christopher Newport as it continues its efforts to be a center of academic excellence as well as a good neighbor to other organizations here in Hampton Roads."
The Colonial Williamsburg Foundation is dedicated to expanding the partnership and working with more CNU students, according to Virginia Foster, Director of Collections Programs and Operations for the Colonial Williamsburg Foundation.
"In light of our recent experience with several successful CNU interns and new hires with CNU degrees, and CNU's strong teaching staff, we think this partnership will benefit both institutions," she said.
The Colonial Williamsburg Foundation, which has connections with other institutions regionally, nationally and globally, "seeks to expand internships and collaborate with colleges and universities in support of our educational mission so that the future may learn from the past," Foster said.
"We believe CNU students will gain valuable work experience through participating in a wide range of CW internships and other endeavors," she said. "In turn, CW will benefit from talented, qualified and engaged students who will assist in advancing our projects and public educational goals."
---