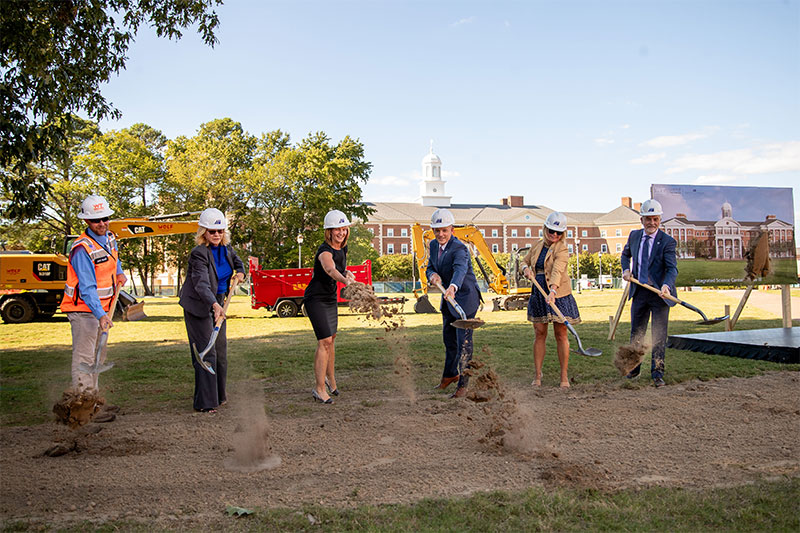 Read time:
---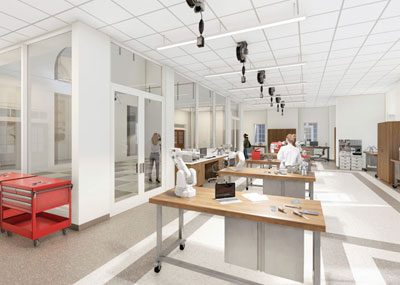 The Marching Captains set the stage with a rousing drumroll, commencing the ceremonial countdown to construction of the Integrated Science Center III. Under a clear September sky, the first scoops of dirt were shoveled to make way for the new state-of-the-art research facility that will offer students the best preparation for their future careers.
"As Captains, we strive everyday to improve the quality of the lives of people around the world. The shovels and the hard hats are humble symbols of progress toward that goal," said President William G. Kelly. "Soon the labs, robotics, simulators, computing tools, and classrooms will be the newest and among the most technologically advanced anywhere."
"This is where CNU will attract the best and brightest students from our local high schools," said Board of Visitors Rector Lindsey Carney Smith, Esq. '01, gesturing to the Center's site, located directly behind Luter Hall. "Speaking on behalf of the Board of Visitors, I want you to know how much we appreciate the hard work, the inspired thinking, and the passion to serve our Captains that has gone into making this day possible. I also want to underscore the Board's commitment to supporting and guiding this University. We believe in this place. We believe in our students."
President Kelly extended his gratitude to the many people who worked to make construction of the building a reality, including Gov. Glenn Youngkin, Virginia Secretary of Education Aimee Guidera, State Sen. Monty Mason, State Del. Shelly Simonds, State Del. Mike Mullin, and former Rector Bobby Hatten. He also paid tribute to former President Paul Trible, whose vision set the project in motion several years ago.
Students will be able to conduct research alongside faculty in expansive labs that offer unparalleled opportunities for career preparation, including in the vital and growing field of kinesiology.
"The new Integrated Science Center will expand our learning facilities and allow for more room to explore and research. I am beyond excited to hopefully spend my last year at CNU in this new building full of new opportunities!" said Mya Lee, '27 Kinesiology.
The new building will also include a makerspace for students and faculty to bring their innovative ideas to life.
"The makerspace in the new Integrated Science Center will be pivotal in strengthening existing engineering programs. I believe it will inspire students from different majors to come together, brainstorm ideas and work on projects where they turn theoretical knowledge from coursework into practical applications," said Darryle Logan, '24 Computer Engineering.
Dr. Nicole Guajardo, Dean of the College of Natural and Behavioral Sciences, said the new space will provide critical teaching and research space for the departments of Physics, Computer Science and Engineering and Mathematics, as well as for Kinesiology and Neuroscience. Once it's complete, Guajardo said Christopher Newport students will have access to the most modern, innovative science facility in Virginia.
"The themes you will keep hearing about with this building are collaboration, innovation, interdisciplinarity, and partnerships with the community – themes that reflect the mission of Christopher Newport. The completion of the center will enable us to elevate scientific training and preparation at Christopher Newport, preparing our students for their future careers," Guajardo said.
Features of the Center include:
A state-of-the-art 100 seat demonstration classroom for chemistry, physics and engineering experiments and research.
Specialized classroom space, an exercise science lab, and a biomechanics lab for kinesiology.
A two-story lab to develop and test unmanned aircraft systems and other robotics.
A makerspace, including 3D printing and space to foster a culture of entrepreneurship and connect with the professional community.
The new Integrated Science Center III was designed by Glavé & Holmes Architecture and will be constructed by Whiting-Turner Contracting Company. It is scheduled to be complete in the fall of 2025.
---