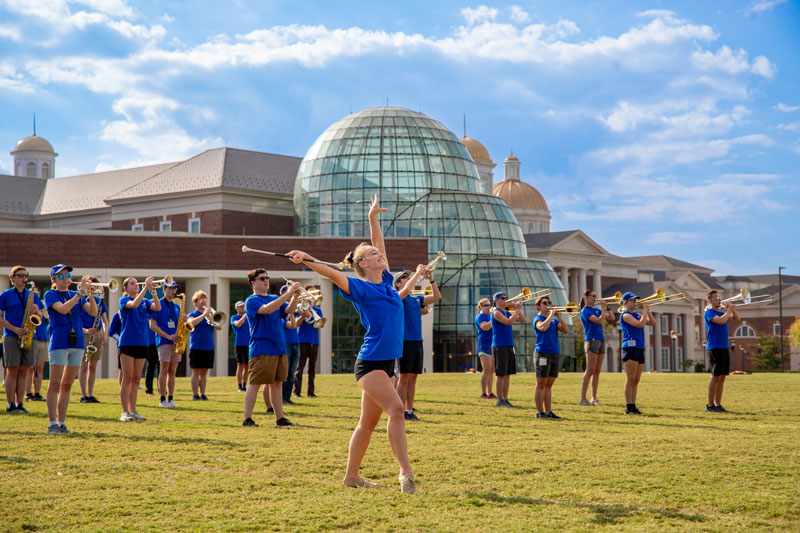 Read time:
---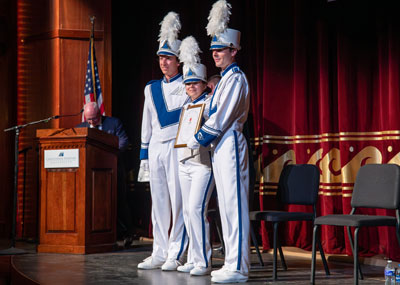 An exuberant cheer rocketed through Peebles Theatre when organizers formally invited the Marching Captains to perform in the New Year's Day Parade, one of London's most iconic events. Band members and President Bill Kelly enthusiastically accepted the London delegation's invitation for the Marching Captains to join some 8,000 performers representing 23 countries on New Year's Day, 2025.
"We don't have anything like you in the United Kingdom," parade co-founder Robert Bone told the crowd. "We've got plenty of very, very good military bands. And a few so-so community and brass bands. But we do not have spectacular, brilliantly attired, superbly choreographed marching bands like the Marching Captains."
"We are so honored by this invitation to join you in your great nation for New Year's Day, 2025," President Kelly told the London delegation. "Marching Captains – congratulations. You are the energy of this campus, and bring so much joy and happiness. We can't wait for you to showcase your talent and hard work to a global audience!"
The parade will be carried on almost every PBS station in the United States, according to Bone, and beamed into 340 million homes around the world.
"That's just the TV viewing," Bone said. "There'll also be over a half million people lining the streets of London to watch you perform in-person."
No pressure, right?
"Nope, not at all," says Donovan Claybrooks, '27 Music. "I'm a music major, so I'll just be doing something I love, somewhere else!"
"I'm also a music major – performing is what I do," said Sarah Webel,'27, Music. "It's a big stage, but I can't wait to do it in London!"
"I cried when I found out we would be performing in London," said Elizabeth Bailey, '26 History. "We are going to bring happiness and lots of fun."
"This really is a once-in-a-lifetime opportunity for our students and will definitely be a life-changing moment," said Dr. Mark Johnson, conductor of the Marching Captains. "Over the next 15 months, we will select and prepare multiple songs to be played as we march through London. The parade route is about two miles, so students will need to build up their endurance to march and play for that long of a distance."
Feature Twirler Colby Topping is up for the challenge. " We are all so excited," said Colby. "Sure, it will be a little cold, but we're going to bring so much positive energy and put on a great show!"
"We are used to performing in front of crowds. We are organized chaos and energy, and that's a good thing!" said Hades Hardy, '25, History.
In addition to marching in the parade, students will spend 10 days in the city, visiting museums, historic sites and enjoying everything London has to offer.
"Our students will have the chance to see history that they have only read about in textbooks," Johnson said. "They'll get to interact with the melting pot of cultures throughout London—all while making music and representing Christopher Newport and all of America!"
It's not the first time the Marching Captains have been invited to perform abroad. In 2016, the band traveled to Dublin, Ireland, to play in the St. Patrick's Day Parade. And in 2012, they played for the very first time in London, at the New Year's Day Parade.
---