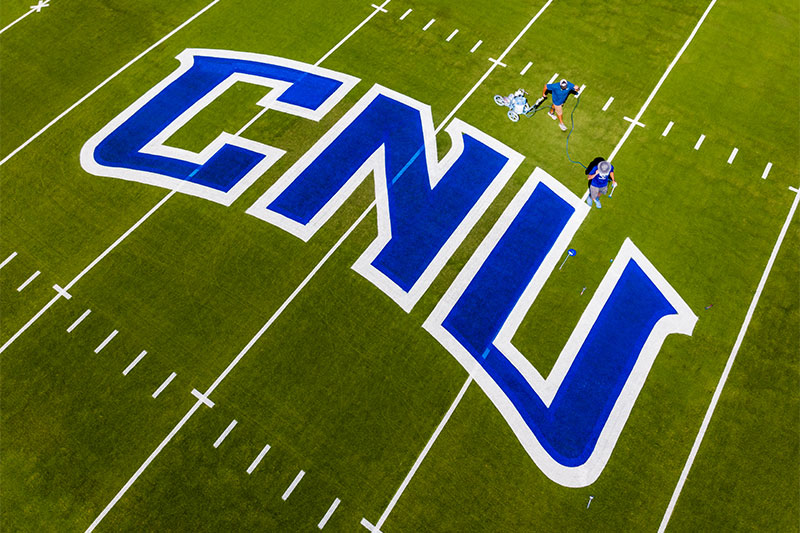 Read time:
---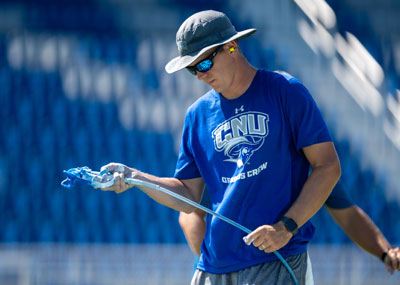 Chris Webb is fond of saying "It's our athletes and coaches who make the magic happen on the field on game day."
While that is certainly true, long before the Captains take the field and the fans fill the stands, Webb and his dedicated team are working tirelessly to ensure Christopher Newport's fields are as well-conditioned as its athletes.
"It's a process that starts months in advance. We put a lot of work into making sure the fields are in the best shape possible before each respective sports season begins," Webb said.
Some of the best student-athletes in the country choose Christopher Newport because they know they'll have the chance to compete at the highest level. Few schools can lay claim to three national championships in three sports in just two years. Webb knows the bar is high.
"Every athlete wants to play on a field that they can be proud of. Our fields reflect the pride and commitment that CNU has in the student-athlete experience," he said. "We make sure that when someone sets foot on our fields, there is no doubt in their mind that CNU is serious about its athletics programs."
Battling Mother Nature, along with daily wear and tear from competitive games, is all part of the challenge.
"No two days are ever the same. There's always something that needs to be addressed. Each season brings unique challenges that we have to overcome. And we do. I jokingly say that we work in the shadows. Most, if not all, of our work is complete by the time people show up. Which means most folks likely have no idea what our ground crew does to keep these fields in top shape," he said.
That work is almost never done: the fields need to be aerated to soften the soil and allow better water infiltration. The fertilizer has to constantly be evaluated and adjusted to make sure the grass always has the right nutrients. When a sport isn't in season, Webb and his crew take advantage of the time to make improvements to the field. Webb says all this attention to detail is worth the effort.
"As game days draw near we carefully monitor the weather and adjust our irrigation to have the perfect playing conditions, set our mowing patterns, lay out where our logos go, and then carefully paint every line - sparing no detail for our Captains," Webb says proudly. "After the game we roll our field to make sure that they stay smooth, hand fill every single divot and ball mark, and start the whole process over again."
"I think one of the things that makes CNU such a special place is that from the top to the bottom, everyone cares about our community. I'm also grateful for feedback from our fans and coaches. They see so many venues throughout the season. They always go out of their way to compliment us on our fields and that means a lot to all of us."
That level of dedication and hard work have not gone unnoticed. Webb, who holds degrees from Virginia Tech in Crop & Soil Sciences and Horticulture and has been at CNU for eleven years, has been honored by the Sport Field Managers Association two times as one of the nation's "Field of the Year" winners. The SFMA award is considered the highest honor in the industry at the collegiate level.
"The awards mean a great deal to me. I have been so blessed to have a great team to work with here. Being recognized by our peers and the community for the hard work means a lot," he said. "I can't say enough about the amazing team we have in the Grounds department."
---