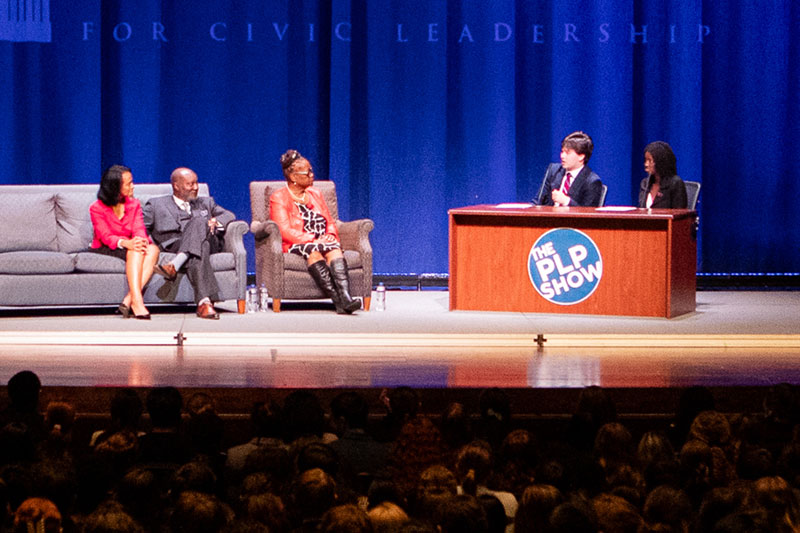 Read time:
---
A producer with a focus on inclusive films, a straight-talking State Senate leader, and a prominent attorney headline the Wason Center's Fall 2023 cohort of Distinguished Virginians.
The three honorees were introduced to students at a President's Leadership Program event. As they demonstrated that evening, these Distinguished Virginians will inspire and inform students and contribute to the effectiveness of the Wason Center for Civic Leadership at Christopher Newport University:
BK Fulton, p.g.a., is the Chairman & CEO of Soulidifly Productions, a feature film and media investment company that promotes a more inclusive narrative in contemporary media. Films produced by Fulton have earned major awards, including three IndiFEST Awards (2020), one AMAA Award (Best Diaspora Narrative Feature 2020), and several film festival best narrative honors. His latest film, "The Kill Room," was released in September. Featuring Samuel L. Jackson and Uma Thurman, the film was screened in 500 theaters. Fulton has also produced Tony Award-winning Broadway shows and authored 16 books. Prior to becoming a full-time author and media entrepreneur, Fulton was a senior executive for Verizon Communications.
Sen. Mamie Locke (D-Hampton) is beginning her twentieth year in the Senate of Virginia, after serving on the Hampton City Council and as mayor of the city. Locke has been a strong advocate for education, women's rights, affordable housing, an increased minimum wage, and equity in the criminal justice system. Locke is Chair of the Senate Rules Committee and Chair of the Senate Democratic Caucus. She is well known nationally for her pugnacious social media presence. Locke earned her PhD from Atlanta University and has authored numerous publications on race and gender. She serves as Professor of Political Science at Hampton University.
Jacquelyn E. Stone is Partner in the McGuireWoods law practice. She has decades of experience advising clients on government relations, regulatory and immigration matters. A graduate of Harvard Law School, Stone is former chair of the firm's Diversity and Inclusion Committee and is a former member of the firm's Board of Partners. She also served as the firmwide hiring partner for more than 20 years. Her areas of expertise include legislative issues before the Virginia General Assembly, regulatory matters before the Virginia State Corporation Commission, and business immigration and worksite enforcement as a member of the firm's Corporate Securities Department. In 1994, Stone was elected Partner at McGuireWoods LLP, becoming the first African American woman partner in a major law firm in Virginia.
This is the third cohort of Distinguished Virginians, and all the honorees are highly regarded civic leaders from across the Commonwealth who share a commitment to service, collaboration and improving the quality of life of the people they serve.
In addition to the President's Leadership Program event, they also participate in small discussion groups with CNU students who are members of the Wason Scholars Program over the course of the academic year.
Previous Distinguished Virginians include Virginia Supreme Court Justice Bill Mims, former State Senator and current Congresswoman Jennifer McClellan, Hampton City Treasurer Molly Ward, and former Congresswoman Barbara Comstock.
---