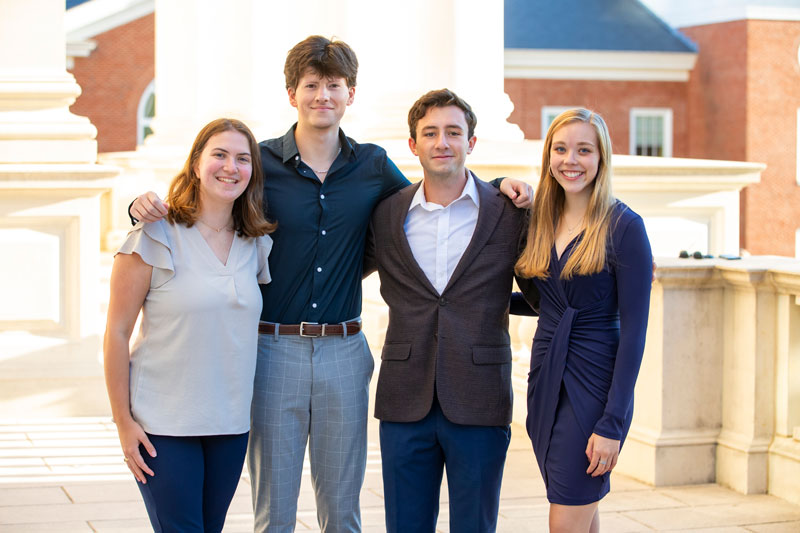 Read time:
---
A team of Christopher Newport students won first place at the International Leadership Association Case Study Competition in Vancouver, Canada, defeating teams from across the country and adding to the University's streak of leadership victories.
It is the fourth time since 2018 that a Christopher Newport team has placed first in the annual competition and the ninth consecutive time the Captains have been in the final three since the competition began in 2008.
"No other university has as many wins as CNU," said Lacey Grey Hunter, director of the President's Leadership Program (PLP).
Dubbed the "Silver Team," the four-member crew was led by Katie Bowersox, '24 Neuroscience, and included Ben Jones, '26 Political Science and International Affairs; Mary Semerling, '25 Criminology; and Calvin Smith, '24 Political Science and American Studies. All of the students are members of PLP, a program that combines academic study, experiential learning and personal development to help prepare them for a life of leadership, service and civic responsibility.
For the competition, each team identified a contemporary socio-political-economic problem on the global or national level and proposed a leadership-based solution. The Silver Team's focus was on ways to reduce neonatal and maternal deaths in Mali.
Bringing home the victory was thrilling for team members, who had worked for months preparing for the competition. "Winning felt very validating," Jones said. "It was satisfying to know that the hours we put into the case study were valued and appreciated by experts in the field which we were studying and applying to a real-world issue."
Bowersox said winning was "a big relief."
"A lot of time and energy went into this, and knowing that after my team and I poured so many hours into this competition, having it all pay off was a very gratifying experience," she said.
For Semerling, the win made all of the effort preparing worthwhile.
"It felt great to win. We had worked really hard and dedicated a lot of time to the competition," she said. "It was a relief to have all of the hard work pay off as well as see all of my other teammates' hard work pay off."
The team's triumph is the latest in CNU's stretch of top finishes at the competition.
"I believe we are in a rare era where Christopher Newport is now solidly making its presence and excellence in leadership education and practice known among the elite leadership schools, such as Gonzaga, Washburn, Kansas State, and Claremont McKenna, to name a few," Hunter said.
At CNU, we develop leaders with the capacity and demonstrated skills to actually do leadership. This success demonstrates that CNU has clearly made our presence known as a top tier leadership school."
The team, given several options, decided to take on Mali's problem with neonatal and maternal deaths as its case study.
"We chose it because the deaths largely stem from preventable and treatable causes, which left a window open for us to apply leadership theory and give recommendations on how to improve the situation," Bowersox said.
The first round of the competition came in the form of a two-page executive summary that focused on how the team planned to apply leadership theory to the issue to reduce its negative impact. The second round was a five-minute virtual poster presentation that showcased the executive summary. After the first two rounds, which did not require travel, they learned they had advanced to the final round, which meant they were going to Canada for the global conference. There, they expanded on their case study by incorporating what they learned at the conference into their work and then creating a 15-minute presentation.
The students used both a global and local (also known as "glocal") hybrid leadership framework to incorporate systems thinking, African Unbuntu leadership, and Islamic leadership as they worked to solve the problem of neonatal and maternal deaths in Mali, Hunter said.
Working as a team taught the students lessons they said they will take with them when they enter their career fields.
"I will certainly take this experience with me for the rest of my time at CNU and apply it to additional leadership competitions and leadership courses," Bowersox said. "After CNU, I will utilize this experience in the workplace as an example of how to use time effectively and efficiently, and how to perform in stressful situations."
The team is selected by Leadership faculty and PLP staff, said Dr. Brent Cusher, Associate Professor and Chair of the Leadership and American Studies Department.
"What is amazing about our students is that once the teams have been established, they develop their research projects independently, without a major amount of coaching- a major testament to the high quality of students we have at CNU and the strength of the Leadership curriculum," Cusher said.
"The Leadership faculty are tremendously proud of the CNU Silver Team for taking home first place in the ILA case study event. The competition was once again stiff," he said. "But the fact that CNU has won first place honors in this competition four times over the past six years (and placed teams in the final round in the other two years) demonstrates how skilled our students are at applying what they learn in the class. Next year's ILA conference is in Chicago, and we hope to continue the victory streaks with another fantastic group of students."
---