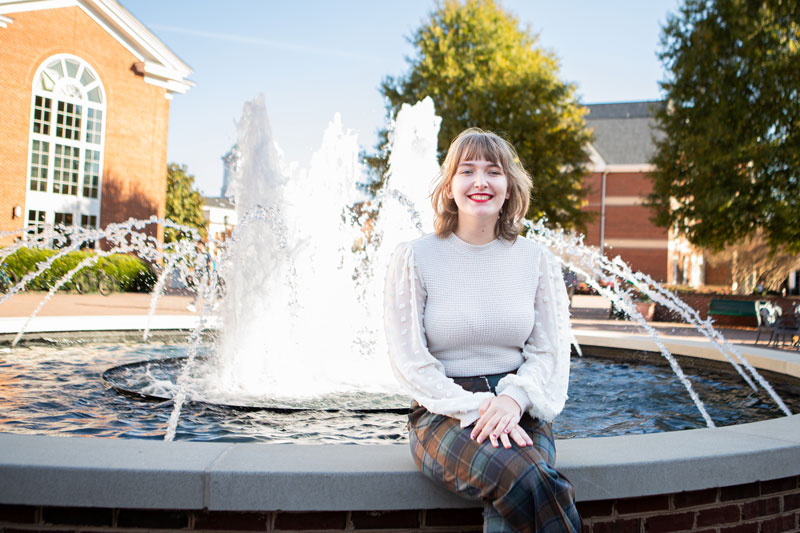 Read time:
---
Abi Sloniker remembers well the competing feelings of exhilaration and confusion when she stepped onto campus as a freshman.
As a first-generation student, the experience was at times overwhelming. Her family was supportive, but as the first to go to college, Sloniker was navigating uncharted territory.
With the guidance of faculty, she eventually found her way and solid footing, but it took time, patience, and a lot of searching for the right resources.
Now more comfortable with all things college, she has immersed herself in a project that she hopes will keep other students from feeling the way she did when she arrived at Christopher Newport.
Sloniker has launched First-generation Captains, a club focused on fostering community, acceptance and knowledge. She wants first-generation students to feel welcomed and grounded from day one of their college journey. She has involved faculty members and University offices to provide input and ideas to bolster the club's reach and effectiveness.
"I want to pull together as many different resources as I can to support first-generation students," said Sloniker, '26 Sociology.
The response so far has been extremely positive, with both faculty and students energized about getting the club off the ground. Already, the club has attracted members. Approximately 20 percent of students at CNU are first-generation.
"It's so exciting to me," she said. "All of these people want to do this. It's great."
Sloniker lived the first-generation experience, but she began to realize she was not alone when she was offered a chance to do research on the topic as a Summer Scholar. She conducted the research under the direction of Dr. Linda Waldron, Associate Professor of Sociology and Director of the Center for Education Research and Policy (CERP). Her assignment was analyzing data provided by first-generation students at Christopher Newport. The research looked for similarities in first-generation stories and ways a college could apply the findings to make positive changes.
Undergraduate research, along with internships, study abroad and service, is one of the four pillars of a Christopher Newport education. Summer Scholars is a program that encourages students to embrace research projects. It is an eight-week, in-residence program that brings students and faculty together to work collaboratively to answer a research question.
As Sloniker embarked on the Summer Scholars research, the narratives she read from other first-generation students hit home, describing feelings and thoughts that were very familiar to her.
"I started to notice a lot of patterns as I went through them," said Sloniker, who is from Chesapeake. Va., and the oldest of four sisters. "After listening to them, I went back to my dorm and asked my suitemate about it. We decided that we had the same type of problems here and some of them need to be fixed."
As Sloniker worked to bring improvement, she built self-confidence and developed a passion that paved the way for her to make the campus a more welcoming and engaging place for those who are the first in their family to forge the path of college.
"I love what she's doing," said Waldron, Sloniker's core advisor. "Abi has completely initiated this."
Waldron, who also was a first-generation student when she began college, believes the club has the potential to have a huge impact on student success.
"Student organizations help create a sense of belonging, and play a role in helping retain students and having them graduate on time," Waldron said.
First-generation Captains is a club that Sloniker and Waldron would like to see grow and prosper for years to come.
"There's a benefit to having students with a range of experiences," Sloniker said. "I am hopeful this club is really going to enhance the community and just provide a space where students can go and feel free to ask questions, even if they feel like they're stupid questions."
As Sloniker's mentor and friend, Waldron has been critical in providing her with guidance and support.
"I didn't come to college expecting a core advisor," Sloniker said. "I figured I would just be thrown into the deep end of the pool and I thought, 'OK, I'll just learn how to swim.' But when I got here, I was told I needed to meet with Dr. Waldron. She was so approachable, and always has been. Sometimes I would just drop by, and if her door was open, I'd be like, 'Hey, I might need some help.' She is always helpful and it's just really nice."
Together, using research and their common bond of being first-generation students as their foundation, they are working toward establishing more visibility for first-generation students. Sloniker envisions the club becoming part of the fabric of campus life.
"As a sociologist, what is really important is that it be institutionalized as opposed to just doing an event here or there. And we really needed a student to take the lead," Waldron said. "I think students are really surprised that one in five students here are first generation. For me, it's kind of like allowing students to kind of have a language to better understand their experience, but also to get the right resources that they need."
Sloniker is hoping the First-generation Captains Club takes hold and develops into her legacy.
"I want it to have a stable foundation so that it stays here long after I leave," Sloniker said. "For that to happen, there's going to be a lot of work that needs to go into it. But it's worth it because it's for the betterment of the community on campus. I want to create something that is going to outlast me."
---