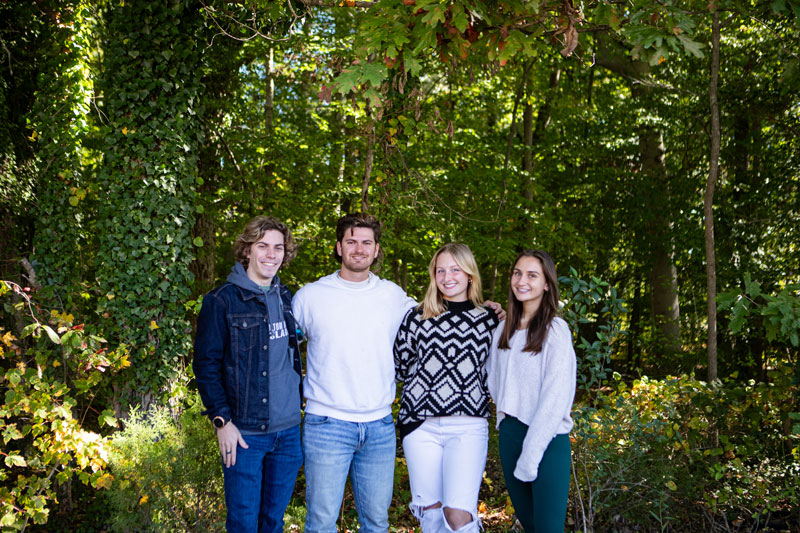 Read time:
---
Imagine having a plot of empty green space and the freedom to transform it into something special.
For students in Dr. Joe Balay's Environmental Ethics class, the assignment is equivalent to an art student being provided with a blank canvas, ready to transform into a masterpiece.
The class was broken into seven teams, and each was assigned a property owned by the Newport News Green Foundation (NNGF), a non-profit organization that maintains an inventory of green spaces in the city. The objective is for the students to develop feasible, creative, and neighborhood-approved plans for their assigned plots of land by the end of the semester.
"I have three main goals for my students in this class. First, I want them to become more informed about the environmental challenges we face today. Second, I want them to be able to draw on the theories we learned to help advocate for the environment and support those who suffer most from environmental injustice," Balay said. "Finally, I hope that they come to appreciate the significance of local non profits like the NNGF and the extremely valuable work they do in our communities."
Balay was awarded a Tidewater Faculty Fellowship from CNU's Center for Community Engagement (CCE) that helped make the class possible. The fellows program is a yearlong opportunity that supports faculty in creating or modifying courses to incorporate community-engaged learning. It is funded by a $20,000 grant awarded by the Bonner Foundation in 2023.
Working with each piece of land's natural features, which often includes grass and trees, the students have the freedom to design their outdoor spaces any way they choose, as long as they follow a few guidelines: the plot must be enticing to neighbors, beneficial to citizens, and easy on the eyes of passersby.
For the NNGF, the collaboration with Christopher Newport provides a way to bring renewed vitality to the properties.
"The partnership allows us to harness the innovative thinking, fresh perspectives, and academic expertise that students bring to the table," said Tami Farinholt, NNGF's executive director. "The energy and enthusiasm of these young minds are invaluable in approaching the development plans for our properties with a renewed sense of creativity and ingenuity."
The teams have embraced the project and the challenge of making their spaces shine.
"I've been excited about this project since the beginning," said Rachel Freeman, '25 Political Science. "It's been a challenge working through new obstacles. It's definitely a learning curve."
"The biggest challenge," she said, "is catering to what will be most supported by the surrounding community and ensuring that we preserve as much of the existing wildlife as possible."
Freeman and her teammates are focused on a five-acre parcel behind a shopping center in Newport News. The team sent out surveys to neighbors to gauge their reaction to potential improvements.
To make the land more user-friendly, the team has proposed mapping out a walking trail and then adding benches, birdhouses, and signage about the wildlife that makes its home on the plot. However, after listening to public opinion, the team has had to adjust its plan.
"What we have found is that most residents do not want any construction at all. They would prefer a few birdhouses, and the possibility of a walking trail, but no benches," said team member Shane Kelleher, '24 Environmental Studies. "Our key takeaway so far is that there is a lot of space to make use of, and that we want to benefit the community as a whole and obey their wishes since they are ones who basically live on the property."
Listening to residents' concerns and incorporating them into the plan for the property is important, Freeman said.
"I've started to realize how important it is to do your research on properties under this kind of development consideration," Freeman said. "While our ideas for the project seemed favorable, we've gotten survey responses that express concern about it becoming a more well-known/used area, and the negative impact that it might have on the environment as well."
Freeman hopes to attend law school and start a career in environmental consulting.
"I think this is a great experience for the research into regulations and policies, outreach to local communities and writing proposals and recommendations aspects of that field," she said. "It's also just nice to get out into the community and make an impact outside of CNU."
At the end of the semester each team will present its report and recommendations to the Newport New Green Foundation Board.
"It gives us the chance to nurture the next generation of environmental stewards and conservationists," Farinholt said. "Our hope is that this will inspire them to become advocates for sustainable practices and play a vital role in the future of our environment."
---