Alan Witt
Department of Accounting and Finance - Luter School of Business
---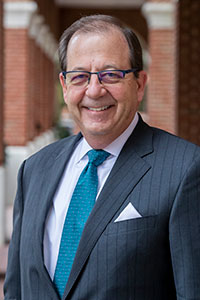 Alan Witt
Dean, Luter School of Business; Silas O. and Myrtle S. Jennings Professor of Business
Luter Hall 114A
(757) 594-8181
alan.witt@cnu.edu

Education
BS in Business Administration, Christopher Newport University
Biography
After graduating from Christopher Newport in 1976, Alan Witt began his accounting career with Eggleston Smith before starting his own firm in 1979. Under his leadership, PBMares has grown into one of the top 100 accounting and business consulting firms in the nation with clients both nationally and internationally. On December 31, 2020 Alan Witt retired as the CEO of PBMares and subsequently joined CNU as an Executive in Residence at the Luter School of Business. On July 12, 2021, Alan was appointed Dean of the Luter School of Business.

Witt has served on the Christopher Newport Board of Visitors and as rector. Witt and his wife Debbie, also a CNU graduate, spearheaded the fundraising for the Marcus Cooper Trading Room in the Luter School of Business. The Witts have supported the university in many ways with the gift of their time, talents and treasure.

Witt is the chair-elect of the Virginia Chamber of Commerce and serves on the board of TowneBank and as chairman of the board of directors for the Riverside Health System. He has been recognized by the Daily Press as the Citizen of the Year in honor of his leadership and service to our community.