Andria Timmer
Center for Crime, Equity, and Justice Research and Policy - Department of Sociology, Social Work and Anthropology - Honors Program - Center for Sustainability in Education
---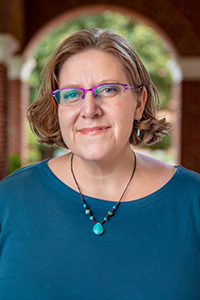 Associate Professor
Luter Hall 144a
(757) 594-8543
andria.timmer@cnu.edu

Education
Ph D in Anthropology, University of Iowa
MPH in Community Health, University of Iowa
MA in Anthropology, University of Iowa
BA in Anthropology, University of North Texas
Teaching
Cultural Anthropology, Human Adaption, Health and Healing, Food and Culture, Life of the Roma (Gypsies), Qualitative Methods, The Refugee Experience
Research
Social change and action, nongovernmental organizations, humanitarianism, migration and refugee issues. Regional specializations in the European Union (specifically, Hungary) and the United States.
Biography
I am an applied cultural anthropologist with research specializations in political and legal anthropology and teaching expertise in medical and nutritional anthropology. Broadly my research concerns how individuals and groups identify problems and enact social change. In order to address this research focus, I look specifically at the actions and activities of civil sector and nongovernmental organization. This interest has led me to research humanitarian efforts to alleviate childhood malnutrition in Nicaragua and to desegregate the educational system for the Roma in Hungary as well as efforts on the part of mothers in Virginia to alter food pathways. My current research explores the humanitarian response to the "refugee crisis" in Hungary and refugee resettlement in Hampton Roads
Selected Accomplishments
Book, Chapter in Scholarly Book-New
(2022). Introduction: Is Female to Male as NGO is to State?. Berghahn Books.
Book, Scholarly-New
(2022). Gender, Power, and Non-Governance: Is Female to Male as NGO is the State?. Berghahn Books.
Book, Chapter in Scholarly Book-New
(2021). The Duality of Education: The Wish to Learn and Not to Learn. Springer.
Journal Article, Academic Journal
(2019). Religious Neoliberalism 'On the Ground:' Nonprofit Authorities' Views on Religiousity, Devolution, and Remoralization in Poverty Relief. Administrative Theory and Praxis.
Book, Chapter in Scholarly Book-New
(2018). Decentralization, Centralization, and Minority Education in Hungary. Sense Publishers.
Journal Article, Academic Journal
(2018). Enemies of the Nation: Understanding the Hungarian State's Relationship to Humanitarian NGOs. Journal of International and Global Studies. Volume, 9. Issue, 2.
Journal Article, Professional Journal
(2018). A Tale of Two Paranoids: A Critical Analysis of the Use of the Paranoid Style by Donald Trump and Viktor Orban. Secrecy and Society. Volume, 1. Issue, 2. Pages, 47.
Research Report
(2017). Ethnographic Overview and Assessment: Antietam National Battlefield. National Park Service. Pages, 270.
Andria Timmer, Christopher Loy, John Finn, Talks on Tap, "The Battle of Antietam: Then and Now," Suffolk, VA. (2019)
Christopher Loy, Andria Timmer, Society for Applied Anthropology Annual Meeting, "When History Bleeds Through: Addressing Affective Connections to Antietam National Battlefield," Pittsburgh, PA. (2015)