Chelsey Hamm
---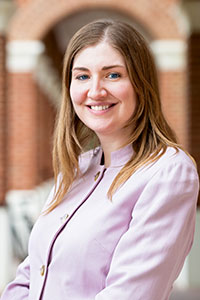 Assistant Professor - Music Theory
Director of Music Theory and Aural Skills
Ferguson Ctr A150
(757) 594-8790
chelsey.hamm@cnu.edu

Education
Ph D in Music Theory, Indiana University
MM in Music Theory and Composition, Florida State University
BM in Music Theory, Ithaca College
Teaching
Music theory, aural skills, form and analysis, 20th- and 21st-century music theory, counterpoint, music theory pedagogy, text and musical relationships.
Research
Music and meaning, text and musical relationships, popular music timbre, Kesha, medieval music theory, performance and analysis, music theory pedagogy, musical borrowings, Schenkerian analysis, popular music analysis, 20th-century music, the music of Charles Ives.
Biography
Dr. Chelsey Hamm received her Ph.D. in Music Theory from Indiana University, where she completed her dissertation titled "Charles Ives and Democracy: Association, Borrowing, and Treatment of Dissonance in His Music" in 2016. Dr. Hamm also holds a M.M. in Music Theory and Composition from Florida State University and B.M.s in Music Education, Horn Performance, and Music Theory from Ithaca College. Her research, much of which intersects both music theory and musicology, focuses on theories of musical meaning and criticism, text and musical relationships, and twentieth-century music, especially that of Charles Ives. She also has several additional areas of scholarly expertise, including the history of music theory, especially with regards to medieval music theory documents, music theory pedagogy, and theoretical investigations that examine questions of listener experiences, whether they are expressive, hermeneutic, or phenomenological.

Dr. Hamm has essays published in a variety of journals including the "Indiana Theory Review," "The Horn Call," and "Revista di Analisi e Teoria Musicale," as well as in a collection of essays titled "Histories and Narratives of Music Analysis." Her most recent works have appeared in the "Routledge Companion to Music Theory Pedagogy" and the "Indiana Theory Review." She has also presented at numerous national, international, and regional conferences including EuroMAC, the Society for Music Theory's Annual Conference, the annual Pedagogy into Practice conference, Music Theory Midwest, and the New England Conference of Music Theorists' Annual Meeting. Dr. Hamm is also the author of the "Fundamentals" chapters in Open Music Theory, https://viva.pressbooks.pub/openmusictheory/ .

At Christopher Newport University, Dr. Hamm teaches music theory, aural skills, 20th-and 21st-century analytical techniques, and counterpoint. Previously she taught at Missouri Western State University and Kenyon College.