David Conner
Department of Physics, Computer Science and Engineering
---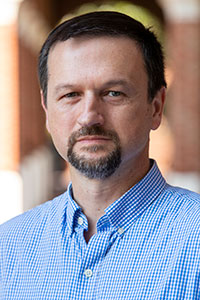 Associate Professor
Luter Hall 329
(757) 594-7360
david.conner@cnu.edu

Education
Ph D in Robotics, Carnegie Mellon University
MS in Robotics, Carnegie Mellon University
MS in Mechanical Engineering, Virginia Polytechnic Institute and State University
BS in Mechanical Engineering, Virginia Polytechnic Institute and State University
Teaching
Artificial intelligence, robotics, machine learning, programming, algorithms, and parallel processing
Research
Robotics, behavior synthesis, planning, control, machine learning, perception, humanitarian robotics, and autonomous systems
Biography
David C. Conner directs CHRISLab, the Capable Humanitarian Robotics and Intelligent Systems Lab, where they focus on the autonomous control of mechanical systems that are commonly called "robots". This is accomplished using a mix of computer algorithms for planning and logical reasoning, control theory, reactive finite state machines, and specially designed hardware. Example applications include removing humans from harm's way during rescue operations and developing assistive technologies that enable increased levels of independence for human users.

Dr. Conner's specific interests are in defining the overall system behaviors by composing well defined system capabilities. Dr. Conner and his students have developed or contributed to several open-source software packages for the Robot Operating System (ROS). Specifically, his research group focuses the use of hierarchical finite state machines and behavior trees to generate robot system behaviors. Long term research includes formalizing component capabilities in a way that enables automatic and verifiable synthesis of high-level behaviors based on user defined task specifications, with the goal of simplifying the problem of deploying robotic systems, and enable non-engineers to re-task a system to take on changing responsibilities consistent with the system's specific capabilities.

Dr. Conner earned his PhD in Robotics from Carnegie Mellon University in December 2007 with his thesis entitled "Integrating Planning and Control for Constrained Dynamical Systems". He has an undergraduate degree in Mechanical Engineering from Virginia Tech (BS 1991) and Master of Science degrees from Virginia Tech (Mech Engr 2000) and Carnegie Mellon (Robotics, 2004).

Dr. Conner was formerly Senior Research Scientist at TORC Robotics, where he worked on planning, perception, and prediction systems for unmanned ground vehicles. From 2012 to 2015, he was Principal Investigator for Team ViGIR, which competed in the DARPA Robotics Challenge using a Boston Dynamics Atlas humanoid robot.

Prior to returning to graduate school, he worked for TRAX Corporation developing computer simulations of thermal and electrical systems for power and process industries.

Faculty Excellence Award for Graduate Student Mentoring, CNU. (2021)
Conference Proceeding
(2022). ROS 2-Based Flexible Behavior Engine for Flexible Navigation. IEEE SoutheastCon 2022. Issue, 2022. Pages, 674-681.
Working Paper
Flexible Behavior Trees: In search of the mythical HFSMBTH for Collaborative Autonomy in Robotics.
Conference Proceeding
(2020). Revisiting Uncertainty Propagation in Robotics. IEEE SouthEastCon 2020.
Conference Proceeding
(2019). Integrating Git into CS1/2. The Journal of Computing Sciences in Colleges. Volume, 35. Issue, 3. Pages, 112-121.
Conference Proceeding
(2018). Modifiable Intuitive Robot Controller: computer vision-based controller for various robotic designs. IEEE SouthEastCon 2018.
Book, Chapter in Scholarly Book-New
(2018). Collaborative Autonomy Between High-level Behaviors and Human Operators for Control of Complex Tasks with Different Humanoid Robots. Springer Tracts in Advanced Robotics. Issue, 1. Pages, 429-494.
Conference Proceeding
(2017). Flexible Navigation: Finite state machine-based integrated navigation and control for ROS enabled robots. IEEE SoutheastCon.
Journal Article, Academic Journal
(2016). A Comprehensive Software Framework for Complex Locomotion and Manipulation Tasks Applicable to Different Types of Humanoid Robots. Frontiers in Robotics and AI. Volume, 3. Issue, 31.
Conference Proceeding
(2016). Reactive High-level Behavior Synthesis for an Atlas Humanoid Robot. IEEE. Pages, 4192-4199.