Greg Henry
Department of Fine Art and Art History
---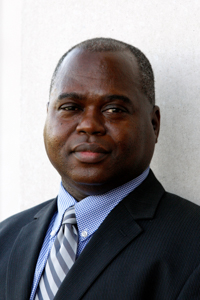 Associate Professor
Torggler Fine Arts Center 315
(757) 594-7090
ghenry@cnu.edu

Education
MFA in Sculpture, Maryland Institute College of Art
BFA in Studio Art, Ohio University
Teaching
My current area of focus is 3D Design, Principles of 3D Design and Printmaking. However, I'm interested in all aspects of instruction in studio art. Therefore, I incorporate materials, methods and concepts into my teaching regardless of the subject. I feel that these three components are the foundation of art making and are integral to effectively instructing students on the creative process and development of artwork.
Research
My research interests fall under the following three categories: concepts, art making and new media. As my artwork has evolved, there are standard concepts and themes that remain present. Conceptually, I focus on 3rd-world iconography specifically, rural, Guyanese material culture and universal connectivity. To communicate this, I create artwork through the media of sculpture, painting and printmaking. Each medium has its own spirit and can express and illustrate the specific concept that I'm working toward. As my work progresses, I plan to continue my new research into creating art through technology and new media using 3D digital capabilities.
Biography
I earned a BFA in studio art from Ohio University in 1985. In 1987, I completed my MFA in sculpture from the Rhinehart School of Sculpture at the Maryland Institute College of Art.