Joanna Eleftheriou
Department of English - Center for Sustainability in Education
---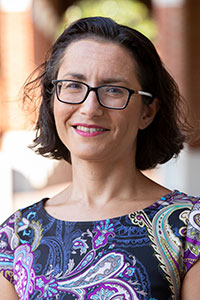 Assistant Professor
McMurran Hall 227
(757) 594-7685
joanna.eleftheriou@cnu.edu
www.joannaeleftheriou.com/
Education
Ph D in Literature and Creative Writing, University of Missouri
MFA in Creative Writing - Nonfiction, Old Dominion University
BA in English, Cornell University
Teaching
Creative Nonfiction
Memoir
Travel Writing
The Essay as Literature
Craft of Nonfiction
World Literature
American Literature
Contemporary Literature
Creative Writing Pedagogy
Research
Essay
Memoir
Creative Nonfiction
Modern Greek Studies
History of the Essay
History of Criticism on the Essay
Biography
Joanna Eleftheriou is an assistant professor of English at Christopher Newport University, a contributing editor of Assay: A Journal of Nonfiction Studies and a faculty member at the Writing Workshops in Greece. Her essays, short stories, and translations appear regularly in journals including Apalachee Review, Chautauqua, CutBank, Arts and Letters, and The Common. Based in Hampton Roads, Virgina, she regularly spends time in New York, Cyprus, and Greece.

From a review of my book:
She's a New Yorker who's still deeply connected to Cyprus, where her father grew up and where she spent much of her childhood. She's Greek but formed by American culture, especially books by writers like Laura Ingalls Wilder. She's an out lesbian but still bearing the weight of religious and cultural dictates that kept her closeted for years. In one essay, she finds an effective metaphor for this split in Cyprus itself, which remains divided into Greek and Turkish sections; taking a road trip into the Turkish north, she considers questions of betrayal, history, secrets, and grudges
Journal Article, Academic Journal
(2021). Inter-Review of Celeste Holm Syndrome by David Lazar. Fourth Genre. Volume, 23. Issue, 2. Pages, 17.
Journal Article, Academic Journal
(2021). SPANA-KOTA. Bellingham Review. Volume, 81. Pages, 1,487 words.
Book, Scholarly-New
(2020). THIS WAY BACK. West Virginia University Press. Volume, 1. Issue, 1. Pages, 262.
Nonfiction - Print Journal
"Darwin's Suicides". Rock and Sling: A Journal of Witness. Spokane, WA, USA.
Nonfiction - Anthology
"Cyprus Pride". Sweeter Voices Still: AN LGBTQ ANTHOLOGY FROM MIDDLE AMERICA. Cleveland, OH.
Other
""Cyprus of the Senses": An Interview and Reading with Dr. Gonda van Steen and Dr. Joanna Eleftheriou". High Commission of Cyprus to the UK. Cyprus at 60: Festival for the Anniversary of the birth of The Republic of. London, UK.
Other
"This Way Back: An Interview with Joanna Eleftheriou and CAMERON FINCH". THE COMMON. Amherst, MA.