Kathryn Cole
Department of Molecular Biology and Chemistry - Pre-Med and Pre-Health Program
---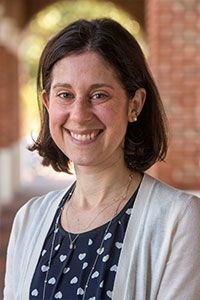 Associate Professor
Forbes Hall 3030
(757) 594-8195
kathryn.cole@cnu.edu

Education
Ph D in Chemistry, Yale University
BS in Chemistry, Fairfield University
Teaching
General Chemistry, Biochemistry, Investigating the Chemical Literature (WI)
Research
Research in my lab uses molecular modeling and protein crystallography to study the structure-function relationships of polysaccharide deacetylases, histone deacetylases, and tubulin for the development of antibacterial and anticancer therapeutics, respectively.
Biography
I am originally from Connecticut. I earned my B.S. in Chemistry from Fairfield University, my Ph.D. from Yale University under Dr. Ann Valentine, and was a postdoctoral researcher under Dr. David Christianson at the University of Pennsylvania. My graduate training focused on the bioinspired mineralization of titanium micro- and nanoparticles. This work included traditional techniques in molecular biology and protein chemistry, as well as methods in materials chemistry, including SEM and TEM. My postdoctoral work used X-ray crystallography to investigate the structure-function relationships of deacetylase enzyme-inhibitor complexes. My independent career has continued to study structure-function relationships of histone deacetylase (HDAC8) and polysaccharide deacetylase enzymes using X-ray crystallography, enzyme activity assays, and molecular modeling.
Selected Accomplishments
Provost's Excellence in Teaching Writing Award, Christopher Newport University. (2019)
Class of 2013 Faculty Development Fund, Christopher Newport University. (2019)
Journal Article, Academic Journal
(2020). Synthesis and Biological Evaluation of a Depsipeptidic Histone Deacetylase Inhibitor via a Generalizable Approach Using an Optimized Latent Thioester Solid-Phase Linker. Journal of Organic Chemistry. Volume, 85. Issue, 12. Pages, 8253–8260.
Book, Chapter in Scholarly Book-New
(2018). Biocatalysis: Nature's Chemical Toolbox. Elsevier. Pages, 471-512.
Journal Article, Academic Journal
(2016). Structure of 'Linkerless' Hydroxamic Acid Inhibitor-HDAC8 Complex Confirms the Formation of an Isoform-Specific Subpocket. Journal of Structural Biology. Volume, 195. Pages, 373-378.
Journal Article, Academic Journal
Structural Studies of Geosmin Synthase, a Bifunctional Sesquiterpene Synthase that Catalyzes a Unique Cyclization-Fragmentation Reaction Sequence. Biochemistry. Volume, 54. Pages, 7142-7155.
Journal Article, Academic Journal
(2014). Structure Determination of BA0150, a Polysaccharide Deactylase from Bacillus anthracis. Acta Crystallographica F: Structural Biology, Crystallization Communications. Volume, 70. Pages, 156-159.
Journal Article, Academic Journal
(2013). FT-IR Spectroscopy and Density Functional Theory Calculations of 13C Isotopologues of the Helical Peptide Z-Aib6-OtBu. Journal of Physical Chemistry B. Volume, 118. Pages, 58-68.
Journal Article, Academic Journal
(2013). Implementing a Grant Proposal Writing Exercise in Undergraduate Science Courses To Incorporate Real-World Applications and Critical Analysis of Current Literature. Journal of Chemical Education. Volume, 90. Pages, 1316-1319.
Journal Article, Academic Journal
(2013). Titanium Mineralization in Ferritin: A Room Temperature Non-Photochemical Preparation and Biophysical Characterization. Journal of Biological Inorganic Chemistry.
Journal Article, Academic Journal
(2012). HDAC8 Mutations in Cornelia de Lange Syndrome Refine the Cohesin Acetylation. Nature.
Kathryn Cole, "Structure and Function of HDAC 8-Depsipeptide Complexes for Anticancer Drug Design," Sponsored by Commonwealth Health Research Board
Kathryn Cole, "Activity Measurements and Structure Determination of Histone Deacetylase 8-Depsipeptide Complexes," Sponsored by Virginia Academy of Sciences