Bob Hasbrouck
Department of Management and Marketing - Luter School of Business
---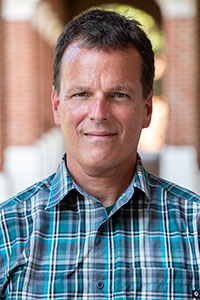 Associate Professor
Department Chair
Luter Hall 118
(757) 594-7265
rhasbro@cnu.edu

Education
Ph D in Industrial Management, Clemson University
MS in Industrial Management, Clemson University
BA in Marketing, Marshall University
Teaching
Statistics, Operations Management, Management Science, Simulation Modeling, Pedagogy Research
Research
methodologies using statistical methods, operations management, simulation, inventory modeling and analysis
Biography
Dr. Hasbrouck holds a BA in Marketing from Marshall University and a Master's in Science and PhD from Clemson University in Industrial Management. He is an Associate Professor of Management at the Luter School of Business has been a member of the CNU faculty since spring 2003. His current research interests include supply chain management, simulation modelling and statistics pedagogy.
Conference Proceeding
(2020). Examining Student Approaches and Performance in Experimental Learning Enivornments. Southeast Decision Sciences Institute. Volume, 50.
Journal Article, Academic Journal
(2019). From Order-to-Cash to Wall-to-Wall: Four SAP Implementations at Smithfield Foods. Journal of Information Technology Teaching Cases. Volume, 9. Issue, 1. Pages, 13-25.
Working Paper
Assessing Experiential Learning using Kolb's LSI Metrics. Northeast Decision Sciences Annual Meeting.
Journal Article, Academic Journal
Team Size as a Factor in Overall Performance in a Business Simulation.
Working Paper
Tale of Two Cities: Examining the Marketing and Operations of Two Tour Companies in Europe.
Working Paper
York County Schools Bus System: Finding the Best Routes.
Journal Article, Academic Journal
(2016). Factors affecting a perishable supply chain's transaction costs and service. International Journal of Applied Management Science. Volume, 8. Issue, 2. Pages, 114-131.
Conference Proceeding
(2013). A PRELIMINARY EXAMINATION OF STUDENT RESPONSES TOWARD STATISTICAL THINKING BASED COURSEWORK: A EXPLORATORY FACTOR ANALYSIS. Northeast Decision Sciences Institute. Volume, 42. Pages, 369-373.
Conference Proceeding
(2007). Undergraduate Student Awareness of 2006 Business/Economics Current Events: A Survey. Small Business Institute, Eastern Bloc.
Journal Article, Academic Journal
(2005). "The Franchise 500© as a Research Tool: How Objective and Reliable is it?". Journal of Small Business and Enterprise Development.
Robert Hasbrouck, Scott Walker, 50th Meeting of the Southeast Decision Sciences Institute, "Group Size in Business Simulations as a Factor in Determining Performance and Learning Outcomes," Charleston, SC. (2020)
Robert Hasbrouck, Matthew Hettche, Michael Clayton, Association of Marketing Theory and Practice, "Message Strategies of North American For-Profit Colleges and Universities: A Qualitative Analysis," Charleston, SC. (2019)
Robert Hasbrouck, Scott Walker, 48th Meeting of the Southeast Decision Sciences Institute, "Group Size in Business Simulations as a Factor in Determining Performance and Learning Outcomes," Newport News. (2018)
Annie Cecil, Matthew Hettche, Robert Hasbrouck, Northeast Decision Sciences Institute Annual Conference, "The Metrics of Innovation: A Case Study of the Outdoor Power Tool Industry and the Sustainability Initiatives of STIHL Inc," Alexandria, VA. (2016)