Anton Riedl
Department of Physics, Computer Science and Engineering
---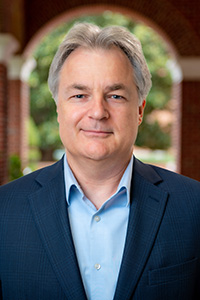 Associate Professor
Department Chair
Luter Hall 313A
(757) 594-7829
riedl@cnu.edu

Education
Dr.-Ing in Electrical Engineering, Munich University of Technology (Germany)
Dipl.-Ing in Electrical Engineering, Munich University of Technology (Germany)
MS in Electrical Engineering, Purdue University
Teaching
Data Communication Systems and Networking, Cryptography and Network Security, Engineering Design, Engineering Math
Research
Network Optimization, Sensor Networking and Sensor Webs, Robotics
Biography
Dr. Anton Riedl is an Associate Professor of Electrical and Computer Engineering at Christopher Newport University and Chair of the Department of Physics, Computer Science and Engineering. He enjoys teaching undergraduate and graduate classes, mostly in computer networking and engineering fundamentals, and supervising capstone design projects and Master's theses. Anton's research interests include applications of networking (such as IoT, sensor networks, SDN), network planning and optimization, and autonomous systems.
Before joining CNU in 2003, Anton was a research assistant and Ph.D. candidate at the Institute of Communication Networks at Munich University of Technology (Technische Universität München), working in the field of network design and traffic engineering for IP networks. Anton holds an M.S. degree in Electrical Engineering from Purdue University, and Dipl.-Ing. and Dr.-Ing. degrees both in Electrical Engineering and Information Technology from Munich University of Technology.
Anton is an active member of the IEEE, a Program Evaluator for ABET, and an enthusiastic supporter of FIRST Robotics.
Selected Accomplishments
2018 Faculty Excellence Award in Service, Christopher Newport University. (2018)
Conference Proceeding
(2021). Optimal Service Provisioning Schemes for Multi-Layer Fog Networks. IEEE Globecom 2021.
Conference Proceeding
(2021). Network Simulator for Large Low Earth Orbit Satellite Networks. ICC 2021 - IEEE International Conference on Communications.
Conference Proceeding
(2018). Modifiable Intuitive Robot Controller: computer vision-based controller for various robotic designs. IEEE SouthEastCon 2018.
Conference Proceeding
(2016). Improving student retention through a redesigned first-year engineering class. 2016 ASEE Annual Conference. Pages, 7.
Conference Proceeding
(2013). On the Development of Voter Transition Models for Social Choice Markov Decision Processes. IEEE International Conference on Tools with Artificial Intelligence.
Anton Riedl, Luncheon of the AFCEA Tidewater Chapter, "Promoting STE(A)M: A Collaborative Approach," Hampton, VA. (2013)
Anton Riedl, The 2011 International Conference on Frontiers in Education: Computer Science and Computer Engineering (FECS'11), "Mobile Robotics as a Platform for Capstone Projects," Las Vegas. (2011)
Anton Riedl, Brian Lamprecht, Robert Atkinson, The 2010 International Conference on Wireless Networks (ICWN'10), "A Wireless Data Collection and Integrity Assurance System for Wetland Monitoring Projects," Las Vegas, NV. (2010)
Roberto Flores, Ryan Fisher, Lynn Lambert, Anton Riedl, "EPIIC: Developing Emerging Technology Ecosystem Partnerships for Primarily Undergraduate Institutions," Sponsored by National Science Foundation