Science and Engineering Research Center
Innovation In Progress
Watch this space. Livestream of construction coming soon.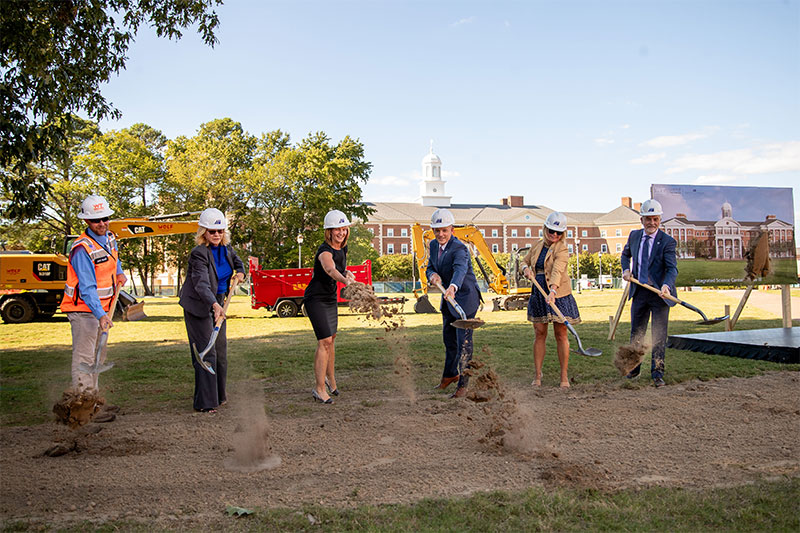 Renderings
Courtesy Glavé and Holmes Architecture
About
Slated for completion in the spring of 2026, the Science and Engineering Research Center will include critical teaching and research space for the departments of Physics, Computer Science and Engineering and Mathematics, as well as for our programs in kinesiology and neuroscience. Bringing these areas together in one building will provide new and expanded opportunities for innovative interdisciplinary collaboration. Our Department of Health and Safety that provides essential support to the sciences and the campus as a whole also has designated space in the building. Students will have exceptional study and collaboration spaces as well.
Features include:
A state-of-the-art 100 seat demonstration classroom that will provide opportunities for active demonstrations of chemistry, physics, and engineering phenomena. Instead of being given examples about what happens when sugar and potassium chlorate interact, students will see the bright light during the Flaming Gummy Bear demonstration. This space will also be an excellent venue for community outreach programs to enhance public interest in STEM.
Specialized classroom space, an exercise science lab and a biomechanics lab to support our growing major in kinesiology in both teaching and research
A two-story lab to develop and test unmanned aircraft systems and other robotics, enhancing opportunities for students in computer science and engineering to prepare for work in the high demand technology sector.
A maker space incorporating various fabrication methods, including 3D printing and other computer numerical control (CNC) machines, that will provide opportunities for collaboration and innovation. This space will foster a culture of entrepreneurship at CNU by devoting a space to connect and collaborate with the professional community.