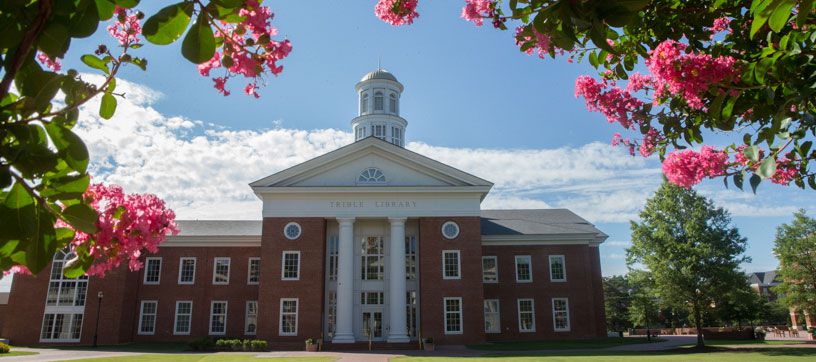 Trible Library
The Trible Library is the intellectual center of Christopher Newport University. We help students develop research skills and support the scholarly and personal growth essential to the study of the liberal arts and sciences. We combine the best of a traditional library with modern technology to create an interactive learning experience for the 21st century.
Collections
The book collection, with over 780,000 volumes, is built to support the undergraduate curriculum. The journal collections, found in print and in full-text databases, provide the most current research in all the disciplines of the university's curriculum.
The Media Center houses a wide and varied collection of music CDs and DVDs as well as multimedia equipment for the creation of electronic projects.
Special collections and archives are available by request and include the history of the institution as well as an extensive sheet music collection.
As a founding member of the Virtual Library of Virginia, students have access to collections on the level of a major research university. Local university collections are also available through the Virginia Tidewater Consortium.
Services
In addition to the full array of circulation and reference services, we offer individual research consultations and extensive library instruction with professional librarians.
Students, faculty and staff can request resources from around the world through our interlibrary loan network, and are encouraged to make suggestions for library purchases to strengthen our collection.
The Media Center can help you with a multitude of creative endeavors. The latest software in scanning, printing and video editing is available, as well as instruction in the use of these resources.
Various study rooms are located throughout the library and are available for reservation.