Opera CNU
General Rehearsal / Performance Schedule
September, October, November
MWF, 3 - 5 p.m.
October
T-TH, 7 - 9 p.m.
November 1 - 7
Tech week and performances (evenings)
Performances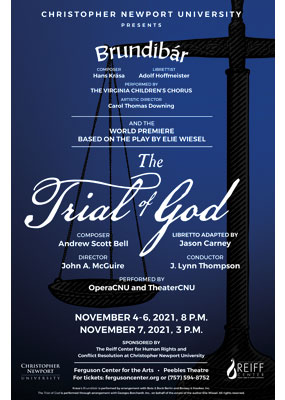 Presented by TheaterCNU and the Department of Music
Directed by John A. McGuire
Muscial Direction by J. Lynn Thompson
Brunidbár
Composed by Hans Krása
Libretto by Adolf Hoffmeister
Performed by The Virginia Children's Chorus
VCC Artistic Director, Carol Thomas Downing
The Trial of God
Composed by Andrew Scott Bell
Libretto by Jason Carney
Based on the original play by Elie Wiesel
November 4-6 at 8 p.m.
November 7 at 3 p.m.
The innocence of youth and the emotional desolation that comes from suffering come together in this pair of operas that celebrate Jewish culture and spirit, while memorializing and honoring their experience during the Holocaust. Brundibár, written by Hans Krása in 1938 and premiering in 1942 in Prague, just before the transport of Jewish families to Theresienstadt, is the story of a brother and sister banding together with the children of their village to triumph over the evil organ grinder Brundibár. The Trial of God, the world-premiere opera adapted from the play of the same title by Elie Wiesel, asks "Where is God in our suffering and pain?" The innkeeper Berish and his daughter Hanna are the only survivors of a pogrom in their 17-century Ukrainian village and must cope with the destruction, rape and torture they experienced. Inspired by actual events in Wiesel's own life as a boy in Auschwitz: "Three rabbis – all erudite and pious men – decided one evening to indict God for allowing His children to be massacred. I remember: I was there, and I felt like crying. But there nobody cried."
For mature audiences only.
Krása's Brundibár is performed by arrangement with Bote & Bock Berlin and Boosey & Hawkes, Inc.
The Trial of God is performed through arrangement with Georges Borchardt, Inc., on behalf of the author Elie Wiesel. All rights reserved.
This is a free, ticketed event. For tickets please call the Ferguson Ticket Office at (757) 594-8752.
Prior Performances