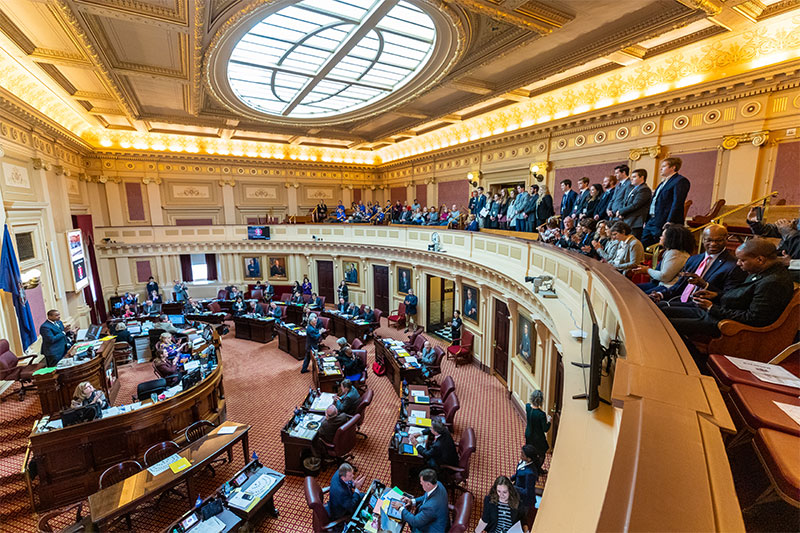 Read time:
---
The key to thriving in politics and government is making connections, a host of elected officials told dozens of Christopher Newport students in Richmond.
The annual Captains in the Capital event allowed students to deepen their understanding of complex policy issues facing Virginia and witness the government at work through one-on-one meetings with lawmakers and state officials.
Gov. Ralph Northam greeted the group, offering praise for President Paul Trible and his leadership. Trible, in turn, thanked Northam for his devotion to serving the commonwealth.
Northam appreciated the students' desire to advocate for higher education and to be involved in the policymaking process.
One student asked the governor how he manages to accomplish his goals in a state that is deeply divided politically. "We have to make relationships and understand that we're not always going to disagree – we have to agree to disagree and understand that at the end of the day this is the best thing for Virginia," Northam said.
Secretary of Education Atif Qarni and House Speaker Eileen Filler-Corn echoed those thoughts during subsequent meetings, as did alumni and friends of the university during a discussion panel.
Del. Mike Mullin '04 welcomed the group on the House floor, while Sen. Monty Mason did the same in the Senate.
"The Captains in the Capital program is just another example of Christopher Newport's continued growth since my time there," Mullin told his fellow delegates. "If you haven't had a chance to be able to come back to my neck of the woods and visit this beautiful campus, I would highly encourage you to do so."
The Captains, many of whom are members of the President's Leadership Program, visited the offices of many delegates and senators, speaking with them and their legislative assistants about the issues that impact students and the university.
For example, Del. Shelly Simonds, whose district includes Christopher Newport's campus, welcomed an invitation to attend an Earth Day event from junior James Duffy. He spoke to her about his passion for environmental issues.
Senior Patrick Dealey met with Rep. Hala Ayala. She represents his hometown of Manassas. The two discussed the importance of addressing mental health issues on college campuses.
"She was really welcoming and open" said Dealey. He is double majoring in political science and American studies with minors in leadership studies and U.S. national security. "There was a great conversation between the two of us not only about the things that we're trying to do but also, how it has impacted both of us."
---