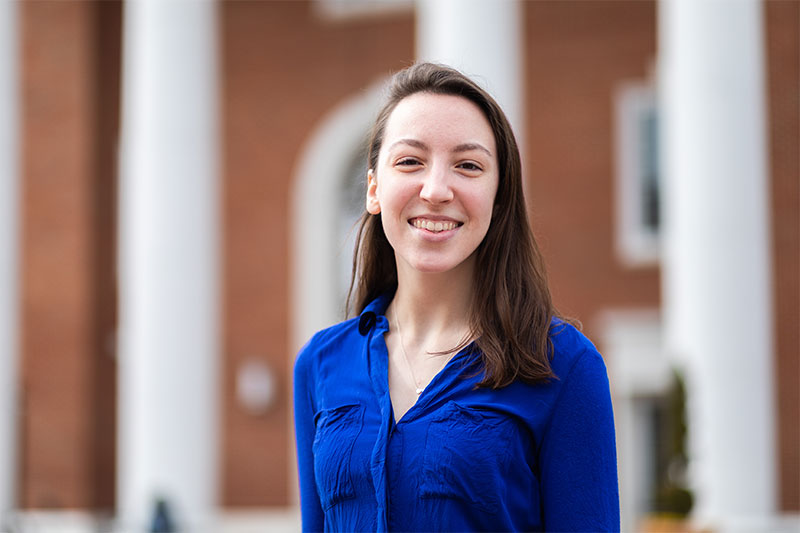 Read time:
---
In recognition of her leadership skills and hundreds of hours of community service, senior Emily Knowles has been named the Virginia Chapter of the National Association of Social Workers 2020 Student of the Year.
Knowles' nomination, prepared by Dr. Jill Russett and other Christopher Newport social work faculty, paints a picture of a student who contributes in countless ways to the campus and the community: "Emily possesses a high level of integrity, professionalism, and an overall kind and unassuming disposition."
The letter of nomination spelled out Knowles' many accomplishments:
Honors student in the classroom as she majors in social work with a minor in leadership studies, while participating in the rigorous President's Leadership Program
Volunteer and intern at Riverside Regional Medical Center and the Newport News Department of Human Services
Serving a field work assignment in the Riverside Mother Baby Unit/NICU and the oncology department, she streamlined procedures, trained nurses and assisted patients and families in need of shelters, food banks and other support
Member of coordinating team for Virginia's annual undergraduate social work conference, Rally in the Valley – nearly 300 students from many colleges attend the conference and Knowles organized activities and communications
Knowles credits the support of the Christopher Newport faculty:
"The faculty created a safe environment where we could grow, make mistakes and learn from each other without the pressure of perfection."
"Finally, the award serves as a reminder that each step in the journey came with insecurities and fears that pushed me out of my comfort zone and allowed me to build confidence, ask for help and recognize the importance of self-care."
After earning a bachelor's degree in social work, Knowles plans to pursue a graduate degree and then launch her career. She will receive her "Student of the Year" award at the Association's conference in Williamsburg.
---