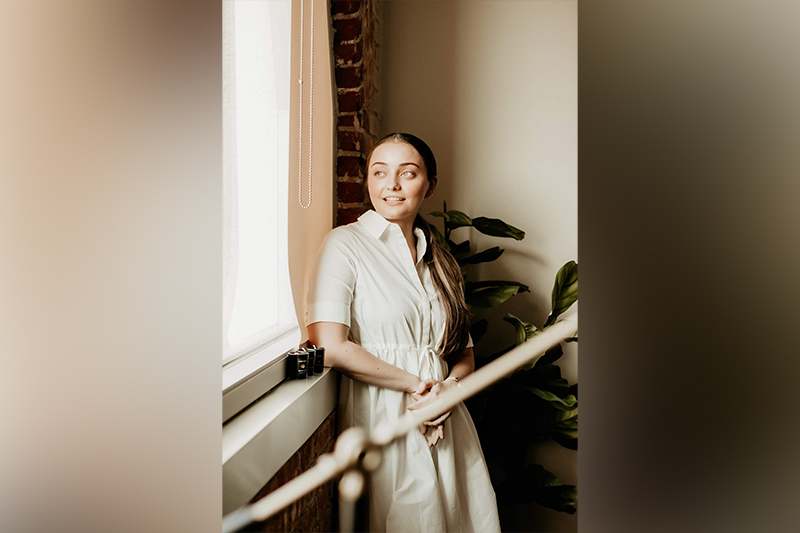 Read time:
---
Erica Rome '16 carefully planned out her life during her time at Christopher Newport.
She worked out a course sequence to graduate in three years on the second day of her freshman year. Armed with ambition and spreadsheets, she prepared for a job in management in a corporate office. It felt like her most direct path as a business major and sociology minor.
Shortly after graduation came the part she didn't plan for: she quickly learned that a normal 9-5 job wasn't right for her.
Seeing her misery, her husband Shane hatched the idea of selling candles the couple made. They are enthusiastic about natural, additive-free scents and thought customers might be, too.
They founded River Birch Candles in 2018 and, as the company grew, Rome was able to quit the job that made her miserable and dedicate her time to the business that brought her joy.
Within six months, River Birch began fulfilling one of its key objectives of giving back to the surrounding Dallas community. For every candle sold, a meal is given to a homeless person in Dallas.
They partnered with The Stewpot, a Dallas-based organization that provides resources and opportunities for the homeless. The connection has remained strong throughout the COVID-19 pandemic.
"Support for the Stewpot Meal Service program is always so important and makes a huge impact, but it is especially critical during the difficult times that our entire community is facing right now," said Adrienne Nicholson, manager of volunteer services for The Stewpot. "We are so appreciative whenever businesses, both big and small, partner with us so that together we can help our neighbors in need. With the support of businesses, we are able to continue to serve three nutritious meals a day, every single day of the year."
The journey to selling candles and donating thousands of meals wasn't easy. Their original notions were quickly disproven – Rome says she laughs now at their initial plan of "let's just sell candles and hope it works."
As the company has grown, they've had to make adjustments to candle sizes and labels to be attractive in a crowded market. Their bold label designs stand out among a sea of competitors, and small sizes sell better than the giant, three-wick candles they initially thought customers wanted. Natural scents – bright lemon, airy cotton and citrusy mimosa – are bestsellers.
She got a firsthand look at some of those realities of running a small business during a business simulation class with Dr. William Donaldson.
"Most people did terrible, including my group," Rome said with a laugh. "We didn't know what we were doing. You kind of have to guess, which is really a lot of life and business. At the end you have to present whether you did bad or well and the lessons you learned. It was really a good example for life."
Donaldson said that feedback is common – the course is designed to provide those experiences in the classroom setting to help students after graduation. "I created this class to give students an experience as close to reality as possible, including the part of not 'knowing what we were doing' precisely because most small business people are overwhelmed by the multiplicity of decisions. I believe this is what students are really looking for, the application of the theory," he said.
It must have helped – River Birch continues to scale up both its sales and donations. New scents (blackcurrant rose, jasmine and gardenia joined the botanical line) are available via Amazon, and sales have been such that River Birch has been able to continue to support the Stewpot in addition to a new partnership with Feeding America to also donate meals across the country.
The goal this year is a donation of 10,000 meals.
"The pandemic made our mission feel more important than ever with so many people out of work and struggling to make ends meet," she said. "We were happy to continue to find success through the pandemic and are grateful for the privilege to help those most affected by working with Feeding America."
---