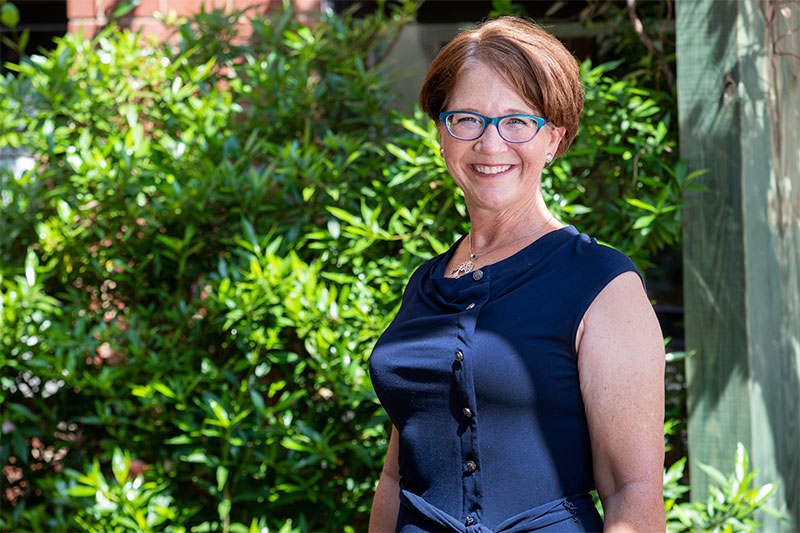 Read time:
---
Sustainability at Christopher Newport is about more than recycling.
It's about creating systems to help people and the planet thrive together. According to the Office for Sustainability, it means designing operations that are based on creating a positive impact and solutions, cultivating a community based on well-being for all, and providing everyone at Christopher Newport with the knowledge and skills to create a more sustainable world.
To further those goals, the new Center for Sustainability in Education (CSE) will work to embed sustainable practices in the academic lives of Christopher Newport students, faculty and staff. The CSE will serve as a hub for the campus and the community to discuss the intersection of human and ecological well-being, serving as an outlet to learn about and create solutions to sustainability challenges.
Associate Professor of Communication Dr. Linda Manning will direct its work, which will include faculty resources, internship opportunities and workshops.
"Climate crisis is upon us. Thankfully, many at Christopher Newport have a heart for sustainability. Engaging our passions, intellectual talents and our critical-thinking skills to forge a more just, equitable and sustainable world is a vital component of living a life of significance. The Center for Sustainability in Education creates a space for us to do this," said Manning, whose research and teaching interests are in sustainability, higher education and family communication.
Initial funding for the CSE comes from the Redekop Family Endowment, a charitable fund established in honor of Freda and Calvin Redekop, the parents of leadership studies Professor Dr. Benjamin Redekop. The fund supports a variety of causes including environmental sustainability, gender equality and social/economic justice.
"We are happy to be able to support this important new initiative at Christopher Newport, and applaud the university for its commitment to sustainability," said Redekop.
The CSE's initial goals cover a broad scope of academic programming, including:
A faculty learning community to discuss and share best practices for infusing sustainability into the curriculum
The Tidewater Project, a two-day faculty workshop to guide the incorporation of sustainability into new and existing courses
A student internship program
An affiliate faculty program that highlights faculty expertise and serves as a liaison for interested students and community members
The first year's work is focused on capacity building; long-term goals include regional outreach to the myriad local organizations whose work touch on sustainability.
The CSE's work will exist alongside the mission and goals of the Office for Sustainability, a key to its success.
"Opening the CSE creates space to use our campus as a living lab, to take what our students learn in class and find opportunities to apply that knowledge right here," said Jen Jones, sustainability coordinator. "Adding that experience to their resumes gives our students an advantage in the job market in that they have already played a role in executing sustainability. We can't wait to see how this partnership can expand on the work we're doing."
---