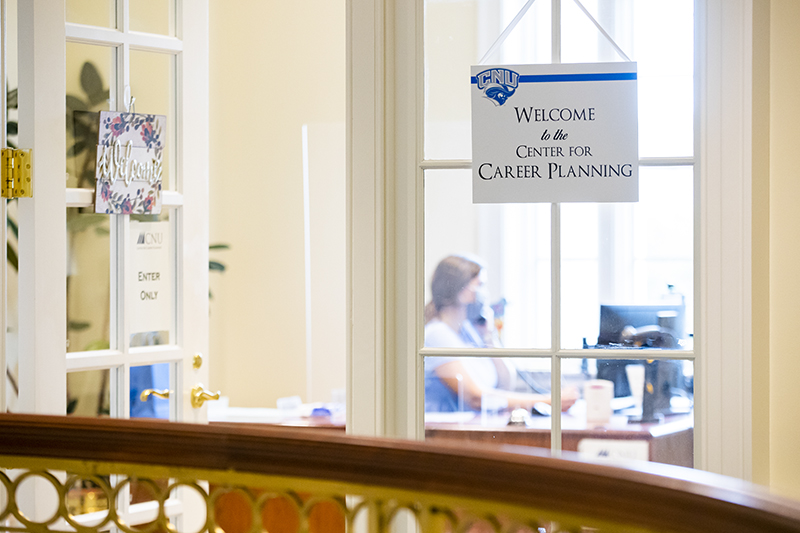 Read time:
---
Junior Virginia Anderson is in constant contact with the experts at Christopher Newport's Center for Career Planning (CCP). The accounting major is working to stay on track to her goal of getting her master's and CPA and becoming an accountant.
A recent transfer from John Tyler Community College, she used the CCP's digital resources to help prepare for the presentation and conversations she will hold on upcoming Accounting Days. That's when she'll meet virtually with top accounting firms.
Anderson is among the many Captains getting new forms of assistance from the CCP in order to meet employers who are recruiting in new ways. Libby Westley, director of the CCP, said the center's goal is to reach every student in any area they need help. Right now that includes a series of virtual career fairs to connect organizations looking for talent.
The first fair highlights career and internship opportunities, with one focused on graduate studies to come the following week. Other specialty virtual discussions and meetings with companies are also available.
Students fill out their profiles in Handshake, the digital tool that hosts the fairs, in advance, demonstrating their academic and co-curricular achievements and interests. In both fairs, participants can sign up for 30-minute group sessions with businesses, or opt for 10-minute one-on-one conversations.
"We want students to know that we're still working hard in the CCP – we want to meet with them," said Westley. "There's a lot that everyone is trying to manage and handle, but the career piece is going to be more and more important now. A lot of times it's easy to procrastinate on the stuff you don't know how to do in the immediacy of what I have to get done today. I'd really encourage students to make an appointment with us."
---