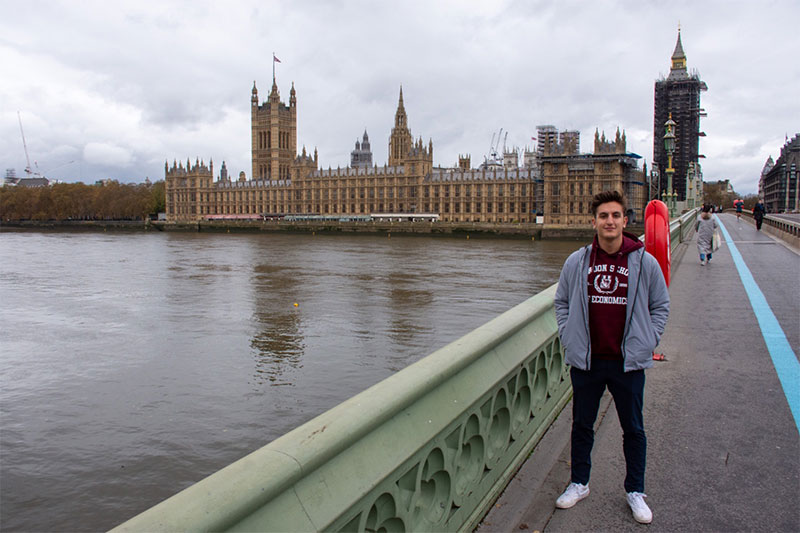 Read time:
---
The COVID-19 pandemic could not derail Cliff Painter's goals.
The economics and political science major and American studies minor was determined to study abroad before graduating in 2021. With dedication and help from faculty and staff, he made that happen.
He's overseas this semester, studying for the year at the London School of Economics and Political Science (LSE).
"I tell people I've been able to fit as much in three years at CNU as I would in six years at any other school, and so I really wanted to challenge myself," Painter said from his apartment overlooking the River Thames. "Before I go on to get my master's, I wanted to see how far I could stretch myself academically."
The LSE's General Course is a top program that accepts international students for a full academic year. Dr. George Zestos, professor of economics and Jean Monnet Chair of European Integration, described it as "one of the best schools in the world," noting that Painter is "among the best in the world. There's no second class there. They work very hard and they have something to show."
A few months in, Painter said his coursework is living up to those expectations.
"I'm working with global leaders in economics and finance, not only in academia but in the professional world. You have previous monetary chairs of different government agencies,central and private bank leaders, and we get to hear from them all the time," Painter said.
The course structure is different than at Christopher Newport; students take four main courses with weekly one-hour lectures and some in-class participation. Painter is taking public economics, economics of public policy, econometrics and international political economy. Each course has one exam at the end of the year.
"[At the LSE] they're very heavy on critical thinking. I think that was one great thing about the political science and economics departments at CNU – they really encouraged me to not only know the material but to be able to critically think about it and answer questions along that same line. It's stretching and challenging some of the tools I was able to develop at CNU," he said.
A walk-in meeting with Mandi Pierce, director of study abroad, helped narrow his search to London. Pierce spent hours working with Painter to discuss possible programs, complete the application process and figure out his options as the COVID-19 pandemic began cancelling other study abroad programs.
After receiving permission, Painter proceeded with his plans. He quarantined for 14 days once he landed in England and continues to follow all guidelines and mandates.
"When I meet with a student like Cliff who is trying to sort out the best programs, I ask a lot of questions. I want to know what is the most important factor for the student in choosing a program," Pierce said. "Some students will prioritize being with a group of CNU students, some want a specific location or need to take specific courses. There are many reasons that contribute to the selection of the program.
"I think Cliff is a great match for LSE, because he is a serious student who has the maturity to attend a top university in the world. His focus was on academics and graduate school, so we were looking at top universities during his search."
Painter's determination is evident in his resume at Christopher Newport. He served as president of the Kappa Sigma fraternity, forging relationships that he says help keep him accountable to his goals. He also served as director of programming for Campus Advocates and as a delegate to the Student Assembly.
He conducted research as both a junior fellow in the Center for American Studies and as a summer scholar with Zestos.
Zestos said Painter is an excellent student who wanted to learn more outside of the classroom. He suggested they work together through summer scholars, in which students work with professors as full-time, paid research assistants.
The two collaborated virtually and wrote about the turbulence of export growth in Germany and Japan. Zestos expects the paper to be published in an academic journal soon.
"What was a great thing is he was able to perform very well despite the fact we were not meeting in person. He contributed very, very much. Anything I asked him to do he would do it and he would go beyond my expectations," Zestos said.
After his time in London, Painter plans to return for one final semester at Christopher Newport to complete his degree requirements. Following graduate school, he knows he wants to go into politics or public policy. But he's not too quick to define a career path; he didn't even begin his studies in economics until his sophomore year.
"It's a very broad stance. It opens it up for different things I want to do," Painter said. "I think that's what CNU has taught me – you want to keep yourself open to new things."
---