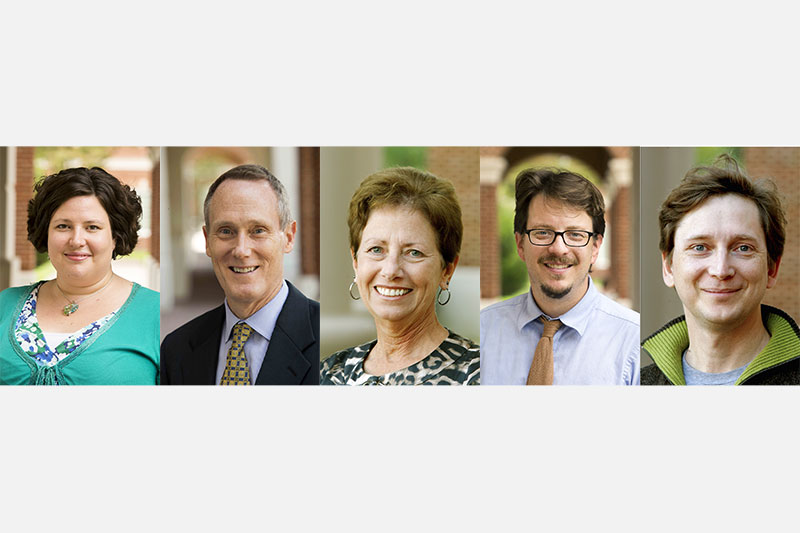 Read time:
---
Five Christopher Newport professors received 2020 Faculty Excellence Awards, including a new recognition for mentoring graduate students.
The ninth annual awards recognize exceptional achievements in teaching, scholarship, service, thinking beyond academic boundaries and graduate mentoring. A rigorous application process, including a dean's review and ranking by the Faculty Senate, determines the winners. Each receives a certificate and a monetary award.
"Given that Christopher Newport faculty already set the performance bar so high, the accomplishments of these award winners are truly outstanding," said Provost Dr. Dave Doughty.
This year's winners:
Dr. Charlotte Cartwright, Faculty Excellence Award in Teaching
Department of History
Cartwright earned praise for her excellence in the classroom, significant work with refining and innovating course materials for the master of arts in teaching (MAT) program, and work mentoring students in research.
Dr. William Donaldson, Faculty Excellence Award in Interdisciplinarity
Luter School of Business
Donaldson's research and teaching draw from at least four different disciplines within business, management and leadership studies. His work in the biotechnology and management program bridges various fields of high-tech business with fields in the natural sciences. He has co-taught and co-published with leadership studies faculty on several projects related to systems thinking and systems engineering.
Dr. Jean Filetti, Faculty Excellence Award in Graduate Mentoring
Department of English, Office of Teacher Preparation
Filetti was honored for mentoring graduate students, a personal and caring approach to guiding all MAT students through the program, a high standard for professional training, and tireless efforts to provide funding and job opportunities for all MAT students.
Dr. John Finn, Faculty Excellence Award in Scholarship
Department of Sociology, Social Work and Anthropology
Finn has a record of scholarship that involves a book under contract, over $40,000 in grant-funded research, a role as editor-in-chief of a top geography journal and six peer-reviewed articles, many in geography journals. His research work nearly always involves students.
Dr. John Nichols, Faculty Excellence Award in Service
Department of English
Nichols' service is wide-ranging and impactful, including efforts in advancing the university's Phi Beta Kappa application, directing the Center for Effective Teaching, the film studies minor and in serving in the community.
---