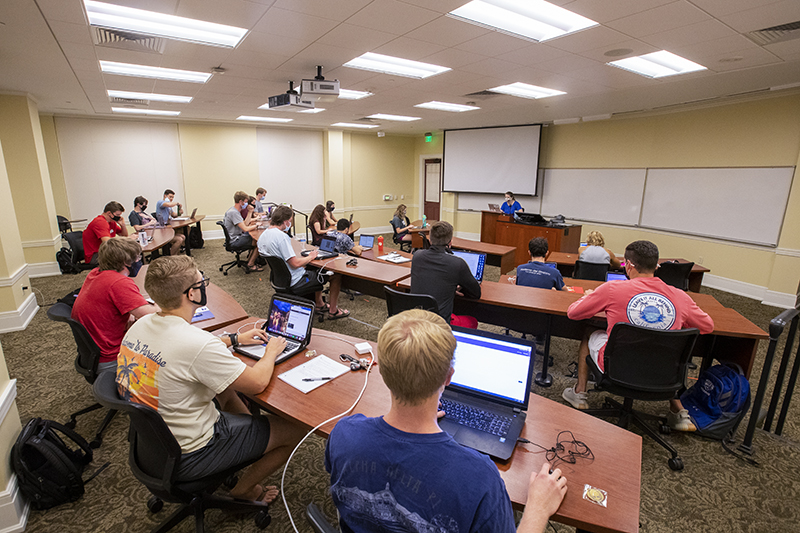 Read time:
---
Current students and prominent employers are embracing Christopher Newport's new master of financial analysis (MFinA) program, the first of its kind in Virginia.
Already, eight students in the inaugural class have received job offers from employers including PricewaterhouseCoopers, Ernst & Young, the Department of Defense, Brown Edwards, Kearny and Company, and PBMares.
The one-year program in the Luter School of Business launched this fall with its first class of 20 graduate students enrolled, more than expected. With a mix of classes and professional development activities, they've begun mastering the range of technical and soft skills needed to integrate data analytics into financial decision-making and auditing.
Through the Luter School's innovative core curriculum, the students are well on their way to start their careers in accounting firms, investment and wealth management firms, financial institutions, and corporations.
"I am very pleased with the course offerings and the opportunity to become a data expert," said student Mitchell Copeland. "I am learning the precise skills sought by my prospective employers and I know that I am going to use these tools in my future career."
By graduation day, MFinA students will be ready for regulatory and professional environments that are ever-changing, especially in the face of a pandemic. They will be equipped with advanced knowledge of data analytics software such as Python and Tableau, and new technologies such as artificial intelligence and blockchain, and their applications in analyzing and communicating complex financial information.
Graduates of the program will be able to command higher salaries and quicker advancement than their counterparts in master of accountancy, master of finance, and MBA programs, predicted MFinA director Dr. Reza Espahbodi.
"Traditional finance and accounting fields are changing rapidly in this digital age, labeled as the fourth industrial revolution," Espahbodi said. "There is a strong demand for financial analysts with robust data skills; certified public accountants that are well-versed in data analysis, emerging technologies, and systems implications; and leaders with more sophisticated advanced financial planning, analysis, and forecasting skills. Employers/markets also demand enhanced soft skills and professional perspective. Our program equips students with the contents, skills and exposure necessary for success in today's changing environment."
The program also prepares students to sit for the certifications required for advancement in their careers. These certifications include the Chartered Financial Analyst, the Certified Financial Planner and the Certified Public Accountant.
While the students complete their first semester courses, the challenge of the second and final semester awaits. As part of the Integrated Financial Analysis and Strategy Course, the students will work in teams to complete a semester-long consulting project for a Partners Council firm that integrates technical knowledge, data analytics tools, and professional skills to address existing and emerging issues in financial analysis.
The topics selected by the first class of MFinA students demonstrate the range of the program and its value in accelerating careers:
Billing and RPA automation
Cost accounting structures redesign
Process mapping and dashboards
Data collections and analysis strategies implementation
Process impact and improvement
To learn more, visit cnu.edu/mfina.
---