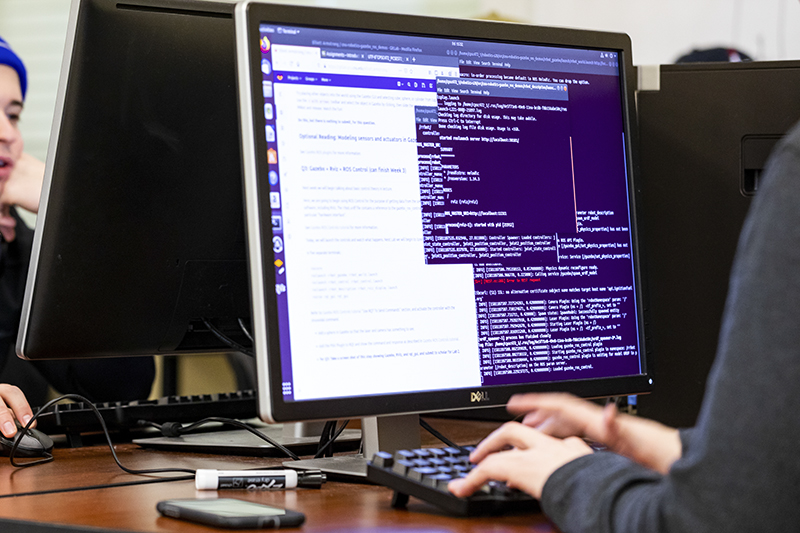 Read time:
---
A new partnership between Christopher Newport University and Virginia Tech will position students for high-demand high-tech careers.
The new agreement provides undergraduates at Christopher Newport with an accelerated option to earn a bachelor's degree from Christopher Newport and a master of engineering either in computer science or computer engineering from Virginia Tech in just five years. The program targets students in computer science, computer engineering and related disciplines, but also provides a road map for other majors.
Students will apply for admission to Virginia Tech in the spring of their junior year, and if accepted, start taking selected graduate courses at Christopher Newport in their senior year. After completing their undergraduate degree at CNU, students continue their graduate studies at VT at either the Innovation Campus in Northern Virginia or at the Blacksburg campus, potentially completing the degree with only one additional year of coursework.
By the time students graduate, they will have the know-how needed for mid-level and advanced industry positions, including in-depth knowledge in software development, communication skills and understanding of ethical issues related to computing technology.
"It opens a new door for our undergraduates," said Dr. Peter Monaghan, an associate professor in the Department of Physics, Computer Science and Engineering (PCSE). "Our students can pursue our own master of science program here at CNU, which is a research- and thesis-based program. Or they have the opportunity to pursue the master of engineering program at VT, which is a fully taught (coursework-based) program."
"I very much like the agreement's extended accessibility, providing a broad range of majors the possibility to move into the computer science and engineering fields at the graduate level," added Dr. Anton Riedl, chair of the PCSE Department. "Furthermore, the agreement works well for students who plan to continue their graduate studies full-time as well as those who would like to study part-time while working. The location of VT in Northern Virginia is ideal and being able to transfer up to 12 credit hours from Christopher Newport will accelerate time to degree completion either way. I really think all of our undergraduate majors should take a hard look at this program."
More than 70 Christopher Newport students recently attended a virtual information session outlining the new options created with the Virginia Tech partnership. Undergraduates could begin the accelerated program with Virginia Tech as early as this spring.
The purpose of the partnership is to meet the goals of the state's Tech Talent Investment Program. Christopher Newport, Virginia Tech and other universities have committed to graduate about 31,000 new computer scientists and engineers over 20 years to help fill a critical workforce need in Virginia.
Christopher Newport is one of five Virginia universities collaborating with Virginia Tech, joining James Madison University, the University of Mary Washington, Radford University and Hollins University.
"Virginia Tech is committed to creating pathways that will increase access to our degree programs at the Innovation Campus and produce graduates in computer science and computer engineering who have the breadth, depth and context to quickly become leaders in the evolving digital economy," said Lance Collins, vice president and executive director of the Innovation Campus. "We are excited to team up with these five schools, and we will continue to pursue opportunities with other universities as we work to build the most diverse graduate tech campus in the nation."
This story was prepared in collaboration with Virginia Tech.
---