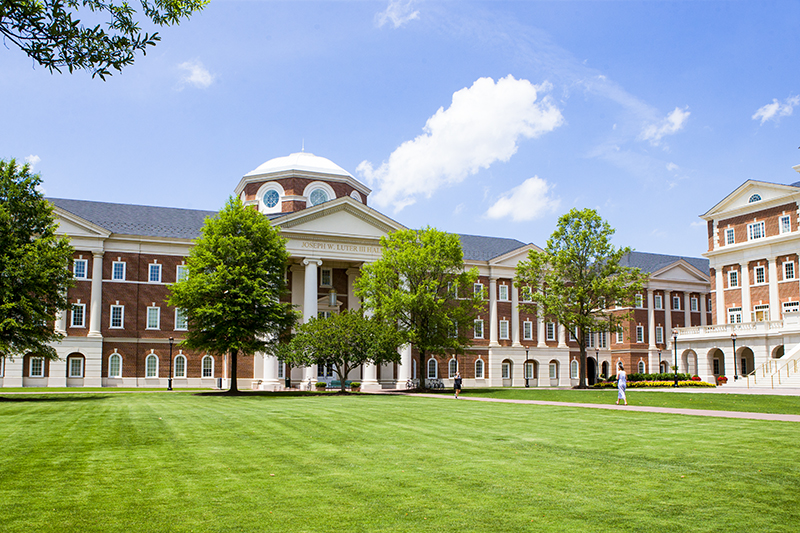 Read time:
---
A new ranking places the Joseph W. Luter, III School of Business solidly among the top 100 in the nation and credits the outstanding academic experience enjoyed by students.
The business education news outlet Poets & Quants ranks Luter's undergraduate degree program No. 63 and among the top four in Virginia. Luter is ranked higher than such noteworthy institutions as Rutgers, the University of Kentucky and North Carolina State University.
The rankings, considered the most comprehensive assessment of undergraduate business schools, are based on employment and admissions data, as well as an extensive survey of alumni.
One aspect of that survey stands out: Luter alumni were enthusiastic about their coursework and interactions with their professors. Luter ranked No. 36 nationally in that category, as well placing No. 39 for the quality of career outcomes. That assessment is based on the percentage of students with internships before graduation and with full-time jobs within three months of graduation. Their average salary and signing bonus is also a factor.
"At Luter, everyone is focused on student success," said Luter Dean George H. Ebbs. "Faculty and staff are committed to preparing each student for immediate and lasting career success. Excellent academics, leadership-driven co-curricular activities, expansive professional development programs, and personal advice and counsel – these characterize the Luter experience. We are gratified to hear from our alumni that it works."
The Luter School features a Liberal Learning Core Curriculum that requires 40 semester hours of coursework from every student, in addition to 30 credit hours of pre-business preparatory work before being admitted as a business major.
Among Virginia schools, the University of Virginia, the College of William & Mary, and the University of Richmond joined Christopher Newport in the top 65 rankings.
"This years' ranking assesses three core values of an undergraduate business education: the quality of the admits, what a school does to grow those students over four years and finally how the marketplace responds to those graduates," said Nathan Allen, project manager, Poets&Quants for Undergrads. "In other words, what's the quality of the incoming students, how do they view their academic experience and what career outcomes are achieved by the graduating class."
---