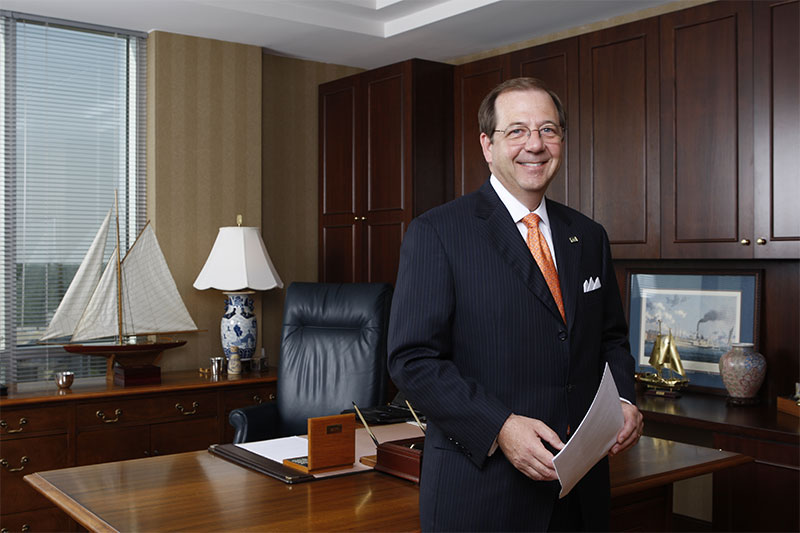 Read time:
---
Alan Witt '76 has been appointed executive in residence in the Joseph W. Luter, III School of Business. Witt's appointment was announced by President Paul Trible, Provost Dave Doughty and Luter Dean George Ebbs.
Witt is one of Christopher Newport's most accomplished graduates. After graduating from Christopher Newport in 1976, he began his accounting career with Eggleston Smith before starting his own firm in 1979. Under his leadership, PBMares has grown into one of the top 100 accounting and business consulting firms in the nation with clients both nationally and internationally. On December 31, 2020 Alan Witt retired as the CEO of PBMares.
Witt has served on the Christopher Newport Board of Visitors and as rector. Witt and his wife Debbie, also a CNU graduate, spearheaded the fundraising for the Marcus Cooper Trading Room in the Luter School of Business. The Witts have supported the university in many ways with the gift of their time, talents and treasure.
Witt is the chair-elect of the Virginia Chamber of Commerce and serves on the board of TowneBank and as chairman of the board of directors for the Riverside Health System. He has been recognized by the Daily Press as the Citizen of the Year in honor of his leadership and service to our community.
"We are delighted that, after his retirement from PBMares, Alan will now help us enhance the reach and reputation of the Luter School of Business and link top business and financial institutions to our school, faculty and our students," Trible said. Witt will teach an accounting class, chair the Master of Financial Analysis Partners Council, and work with Ebbs in enhancing alumni relations and fundraising.
---