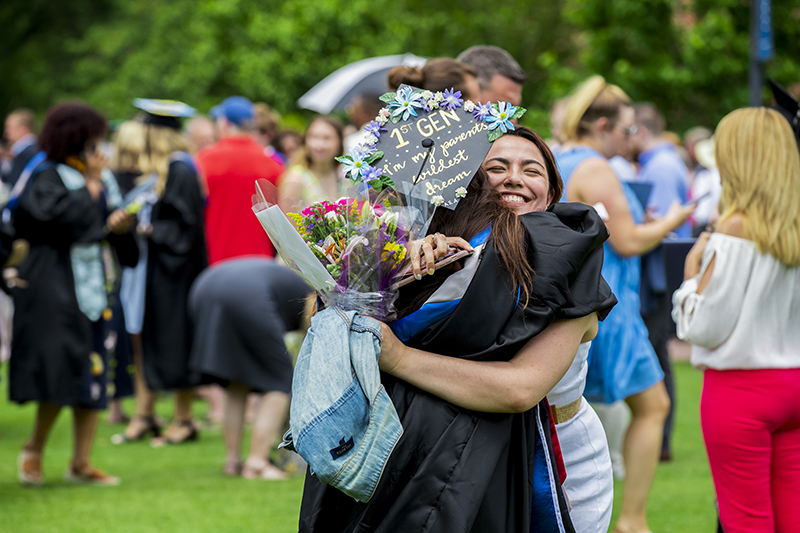 Read time:
---
Christopher Newport is demonstrating its commitment to serve students who are the first in their family to pursue higher education or who come from a low-income household.
The university has been recognized in nonprofit Strive for College's 2021 I'm First! Guide to College, a comprehensive college guidebook designed to help low-income, first-generation students make college a reality.
The U.S. Department of Education's Institute of Education Sciences found that while over 80 percent of "first-generation" college students have expectations for college in the 10th grade, only 20 percent will earn a bachelor's degree by the time they're 25.
Christopher Newport's profile in I'm First! references the university's unique Community Captains program. That program brings dozens of high-achieving first-gen and low-income household high school students from Newport News to campus for two years of college preparatory activities. The profile also notes CNU's expanding efforts to help all students find a community of peers on campus, despite the limitations imposed by the pandemic.
"Christopher Newport is committed to offering programs and services that can help all of our students reach their full potential," said Rob Lange, dean of admission. "The I'm First! Guide to College is the kind of information families and prospective students need to know when considering which college is right for them."
The 2021 I'm First! Guide to College features:
164 colleges and universities highlighted for their outreach efforts, financial aid and support services
Articles and advice from experts and college students
An interactive college planning curriculum for students, teachers and counselors
Valuable information for parents and mentors, including a Spanish-language section
---